Asian Store Owner Pepper-Sprayed by California Teen in Surveillance Video
Surveillance video footage captured the moment a teenager entered a store in San Francisco's Chinatown and allegedly pepper-sprayed the Asian owner.
Fanly Chen told KPIX-TV the suspected teenager stole several iPhone Max cases from GoApple, her phone repair store on Grant Avenue, on Saturday.
He returned to the store shortly afterwards and claimed he wanted to exchange them for different ones, Chen said. She said she asked to see a receipt and threatened to call police on the boy for theft.
She followed him out of the store and said he hit her in the face. Two bystanders helped her and one was hit in the eye during the encounter, KPIX-TV reported on Monday. But they managed to help Chen recover the stolen items.
Then, at around 6 p.m. local time, Chen said the teenager returned to the store.
The footage obtained by KPIX-TV showed the suspect, dressed in a yellow shirt, pepper-spraying Chen in the face while she was speaking with a customer.
"It was very painful," Chen told the station. "Immediately you feel like, blind. You can't open your eyes; your whole face is like burning... You feel like you cannot breathe very well."
Other customers in the store called 911, Chen said, and she went to the hospital for treatment.
Chen told the station that she is familiar with the suspect, who she claimed has stolen from her store and other businesses in Chinatown before.
"The police cannot do anything about it because it's like 50 dollars, 20 dollars every time," she said.
A spokesperson for the San Fransisco Police Department told Newsweek that police would increase patrols in the area.
"On May 15, 2021, at approximately 12:00 p.m., a merchant on the 900 block of Grant Ave was assaulted when she attempted to stop a suspect from shoplifting," the spokesperson sad in a statement.
"The merchant received minor injuries and the suspect fled. The same suspect returned to the shop at approximately 5.40 p.m. and sprayed the victim with something that caused irritation to her eyes and face. The suspect fled. The victim was transported to a local hospital for treatment."
Newsweek has contacted Chen for additional comment.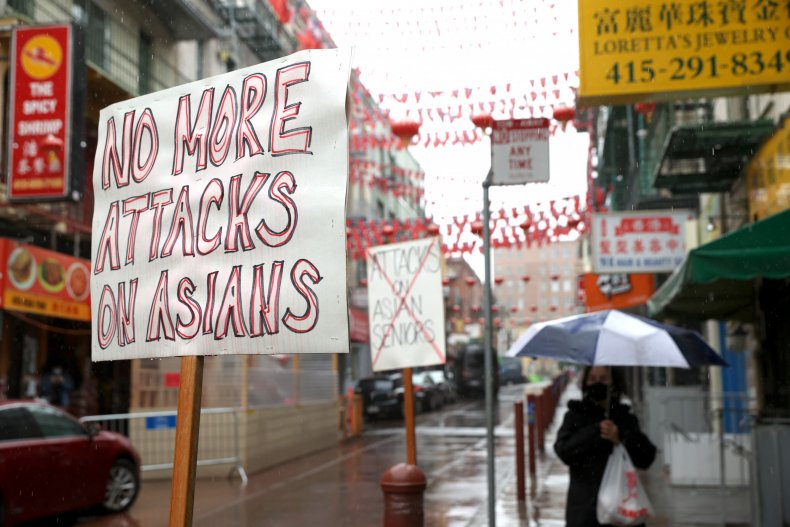 The incident is the latest in a rising number of attacks on Asians and Asian Americans in California and around the country during the coronavirus pandemic.
Earlier in May, two elderly Asian women were stabbed in an unprovoked attack while waiting for a bus in downtown San Francisco.
Rob Bonta, California's attorney general, has promised an increased focus on hate crimes due to the reported rise in attacks against the Asian American Pacific Islander community.
Bonta announced a new Racial Justice Bureau within the California Department of Justice on May 11, and said he will hold a virtual meeting with the mayors of the state's 13 largest cities later in May to discuss hate crime.
A report by nonprofit Stop AAPI Hate included over 6,600 anti-Asian hate incidents that took place between March 19, 2020 and March 31, 2021. The nonprofit said more than 2,800 of those incidents were reported in March this year.
"Verbal harassment (65.2%) and shunning (18.1%)— i.e., the deliberate avoidance of Asian Americans and Pacific Islanders— continue to make up the two largest proportions of the total incidents reported," said the report. "Physical assault (12.6%) comprises the third largest category of total reported incidents."
On March 16, eight people—six of them women of Asian descent—were killed in shootings at three Atlanta-area spas, casting a spotlight on the surge in hate crimes targeting Asians and Asian Americans.
Update 19/5: This article has been updated with a police statement.