More Asians voted in the 2020 presidential race than in any other election in history, according to a new report released Thursday by the U.S. Census Bureau.
The agency confirmed that, despite the coronavirus pandemic, the contest between Joe Biden and Donald Trump saw the highest voter turnout of the 21st century. Nearly 67 percent of Americans 18 and older cast their ballots.
Another record-breaking milestone was the number of Asian Americans who participated in the general election. Turnout among the demographic was at an all-time high of 59.7 percent.
The finding comes as Asian Americans, the fastest-growing racial or ethnic group in the United States, push for more political representation. Between 2000 and 2019, the Asian population grew 81 percent.
The group played a role in Biden's victory, according to exit polls conducted by the Asian American Legal Defense and Education Fund. The organization found Asian voters overwhelmingly supported Biden over Trump last November: 68 percent backed the Democratic nominee, while 29 percent supported Trump in his run for reelection.
In key swing states—such as Georgia, Pennsylvania, Michigan and Nevada—Asian voters all supported Biden over Trump.
"Asian Americans, especially new voters, were part of the record turnout of communities of color in the 2020 elections," Margaret Fung, the fund's executive director, said at the time. "Asian American voters played an important role in close races in several battleground states, and our voices must not be overlooked in the political process."
In the end, Biden defeated Trump in the popular vote by roughly 7 million. In the final Electoral College count, which was certified by Congress in January, Biden won by 306 votes to Trump's 232.
Biden's running mate, Kamala Harris, made history as the first South Asian, Black and female vice president.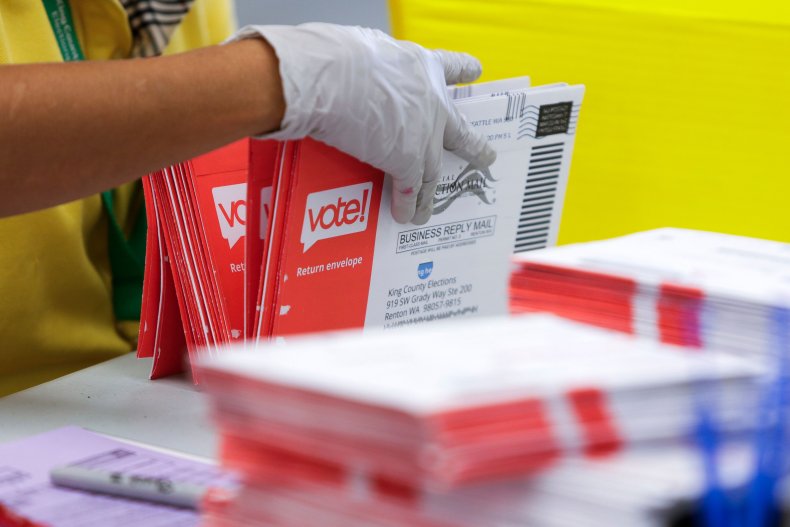 Amid the coronavirus pandemic, hate crimes against Asian Americans have soared. Attacks on Asians in 16 of the nation's largest cities increased by an unprecedented 150 percent during the first quarter of 2021, according to police data compiled by the Center for the Study of Hate and Extremism at California State University, San Bernardino,
The Biden-Harris administration has expressed solidarity with the Asian American community in the wake of these incidents. After a series of shootings in the Atlanta area left six Asian women dead, Harris said that "none of us should ever be silent in the face of any form of hate."
During his joint address to Congress on Wednesday, Biden thanked lawmakers for passing the COVID-19 Hate Crimes Act to "protect Asian Americans and Pacific Islanders from the vicious hate crimes we've seen this past year—and for too long."
Newsweek reached out to the Census Bureau for additional information but did not receive a response before publication.