Two Asian Women Ordered to 'Take Off Your Mask,' One Attacked With Hammer
A video of two Asian women being harassed by a stranger before one was struck with a hammer was released Tuesday by the New York Police Department's Hate Crime Task Force.
Before the unnamed individual, who is still at large, attacked the woman, she shouted, "Take off your f***ing mask."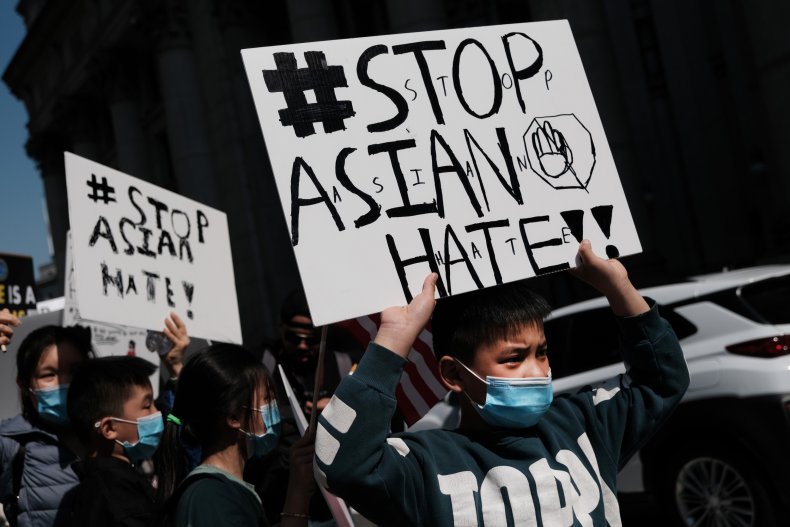 The NYPD Hate Crimes unit posted a video clip of the incident on its official Twitter account on Monday night. According to a statement posted with the video, the two Asian women, aged 31 and 29, were walking in midtown Manhattan on Sunday night when a stranger approached them. The person demanded that the victims remove their masks before striking the 31-year-old woman in the head with a hammer.
The NYPD also later tweeted out close-up photos of the suspect. Anyone with information is asked to call the NYPD's Crime Stoppers Hotline at 1-800-577-TIPS (8477).
As can be seen on the video, the victim dropped a bottle of wine she was carrying during the assault, and it broke on the sidewalk. One of the women managed to disarm the attacker before they both left the scene.
The woman who was struck suffered a laceration to her head and had to be taken to a hospital, where she received seven stitches to close the wound. She later spoke to CeFaan Kim from local station WABC and identified herself only as "Theresa." After coming to New York in 2019 for her master's degree, she told Kim, she recently graduated from the Fashion Institute of Technology.
"When I passed through her, she saw us and said, 'Take off your f***ing mask,' which is shocking.... Suddenly, I felt my head get hit by something," Theresa told ABC7.
Kim later tweeted about the incident, writing that Theresa's mother had recently expressed concern to her about being in the city because of the rise in anti-Asian attacks. He also wrote that Theresa was walking her friend to the subway because of the attacks, and "that's when she became the latest victim."
Graphic photos of Theresa's injuries were shared by Kim on his Twitter account Monday night.
On Monday, the NYPD released figures that show the city recorded 180 hate crimes from January 1 through May 2 this year, an increase of 73 percent from 104 hate crimes during the same period last year.
Asians were targeted in 80 hate crimes from January 1 through April 4 in New York City, which is up from 16 in the same period in 2020. In all of 2020, the department recorded 28 hate crimes against Asians, up from three in 2019. In an effort to curb these crimes, the NYPD started the Asian Hate Crimes Task Force last fall.
Newsweek contacted the NYPD for further comment but did not hear back before publication.