Facing Censorship and Stigma, Asia's #MeToo Movement Fights for Change | Opinion
When Luo Qianqian posted about how she was sexually assaulted by her PhD supervisor on Chinese social networking site Sina Weibo, she could have hardly imagined the response. She had suffered in silence for 15 years since the attack, finally coming forward in January this year. "[There's] no longer any need to be afraid," she wrote. "we need to stand up bravely and say 'No!'" She ended with the hashtag # 我也是 (#WoYeShi or #MeToo). Within weeks, thousands had shared her post, other students had come forward to tell their own tales of abuse, and the professor responsible was allegedly dismissed.
Sadly, stories like Luo Qianiqian's have been the exception rather than the norm in China, and across Asia as a whole. #MeToo has—by and large—been a slow starter across the continent. From Beijing to Kuala Lumpur, women have faced many of the same hurdles—the social stigma that comes with sharing experiences of abuse, a lack of trust in authorities to take claims seriously, and male-dominated societies that reinforce a code of silence.
In China, the #MeToo movement has largely been confined to universities, where sexual harassment is a serious issue. But the Communist Party's tight control over public debate means that only a few victims' voices have been heard. Government censors have moved to block online debate about sexual harassment and silence in the state-controlled media has been deafening, where any mention of abuse by government officials has remained taboo. To avoid censorship, some Chinese internet users started posting their stories of abuse using rice and rabbit emojis, whose pronunciations together sound similar to "me too".
In other parts of Asia where media and internet are less controlled, women face other challenges. Traditional social norms mean that many fear speaking up, given the social stigma associated with sexual abuse. In Vietnam, a government survey last year revealed that victims would rather stay silent, feeling "ashamed and even discriminated against" if their stories were exposed.
In some countries women are facing an even more basic struggle—to ensure that sexual harassment is even explicitly recognised as a crime. In Malaysia, women's rights activists have for more than a decade campaigned for a sexual harassment law. In neighbouring Indonesia, a law criminalising sexual harassment was tabled last year but has since stalled in parliament.
Street harassment of women is rampant but rarely reported to the police, not least because of ingrained sexism in the police force. Last year, the National Police Chief General Tito Karnavian drew ire when said his officers sometimes had to ask women rape survivors "intimate" questions, including if they felt "comfortable" during the assault. "If I was comfortable, it's not a rape... such information is valuable to me," he helpfully explained.
It is no wonder that what has been called Indonesia's own "#MeToo moment" was sparked by police ignoring one victim's story. In January this year, a 22-year-old woman was groped by a man on a motorcycle in broad daylight on a Jakarta street. She tracked down CCTV footage of the incident, but after police refused to listen she posted it online through a popular Instagram account. The footage promptly went viral, leading another police unit to take up the case and eventually track down the abuser. The story illustrates both the power of social media and the considerable obstacles Indonesian women face in reporting abuse, let alone obtaining justice.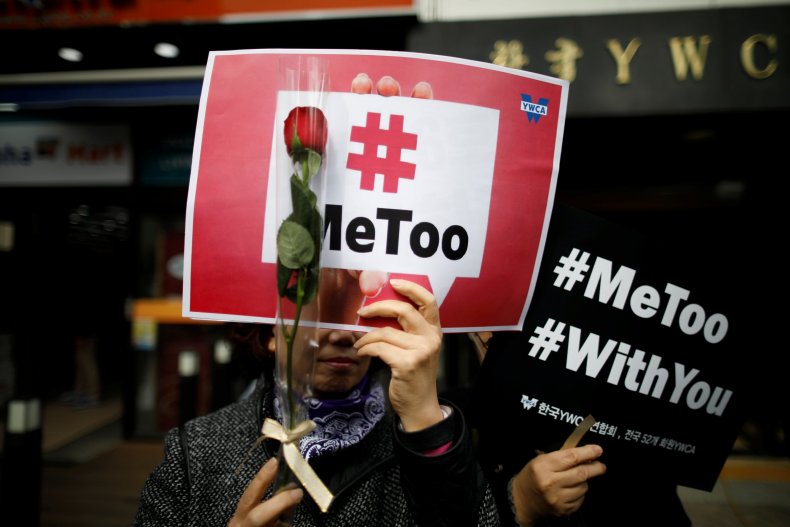 But it is not all bad news for #MeToo activists in Asia—there are notable exceptions where the campaign has both sparked debate and had real impact. South Korea is one example, where #MeToo exploded in January after a public prosecutor alleged that her career had been derailed after being groped by a senior official at a wake. A wave of allegations have since led to the resignation of powerful figures in politics, media and entertainment, while President Moon Jae-in has thrown his weight behind the campaign.
India is another Asian country where #MeToo gathered pace quickly. The horrific gang rape and murder of a young medical student in Delhi in 2012 sparked nationwide protests and debate about violence against women. New tougher laws to curb abuse were introduced, though they have been badly enforced.
Almost as soon as the #MeToo campaign picked up steam in Western countries, Indian women quickly flooded social media with their own stories, exposing abuse in the media sector, in nightclubs and even in Bollywood. Some activists, however, have pointed to how the campaign is an almost exclusively middle class phenomena, and is excluding other women's voices. Dalits, sex workers and women from other marginalised groups—who are often those most vulnerable to sexual abuse—have been largely absent from the debate.
Despite the serious hurdles, women and girls have braved censors and social stigmas to share their stories of abuse. And despite this new wave of activism, it's important to remember that feminist activists in Asia have long been advocating for change. In Taiwan, for example, women's groups have long been pushing for innovative legal reform to protect women from abuse. It will be fascinating to watch how the #MeToo campaign unfolds and contributes to how ideas of sexuality and change, and builds on this important work.
Binaifer Nowrojee is regional director for Asia Pacific at the Open Society Foundations.