Kira Rudik, a member of Ukraine's parliament, made an impassioned plea to the world to close Ukraine's air space, calling it the single most important thing to Ukraine winning the war with Russia other than Russian President Vladimir Putin's death.
Ukrainian parliament members gathered on Thursday to vote on defense and security laws, as Russian troops gained ground. In a video posted on Twitter from the Ukrainian Parliament, Rudik called on the world to heed their pleas for a no-fly zone and that it's the "only thing" Ukrainians are asking for because it's a "key" piece of aid Ukraine needs from NATO.
"[A] no-fly zone is the most important thing to win this war," Rudik said. "Please, please, please."
In a tweet accompanying the video, Rudik called the no-fly zone the one thing Ukraine needs "except" for Putin's death.
On Wednesday, Kherson, a city in the southern part of the country, fell to the Russian military and troops are cutting the city of Mariupol off from the rest of the country. Despite Ukraine's fierce resistance, some believe Russian troops may be able to topple the country and Ukrainian President Volodymyr Zelensky warned on Thursday that Ukraine is facing "incessant bombing" from Russia. On Thursday, he pleaded with President Joe Biden to establish a no-fly zone or at the very least send planes.
"If you can't give Ukrainians a date [for the no-fly zone], how long do you need? How many people should be blown up? How many arms and legs and heads should be severed so that you understand? I will go and count them, and we will wait until we have a sufficient number," Zelensky said.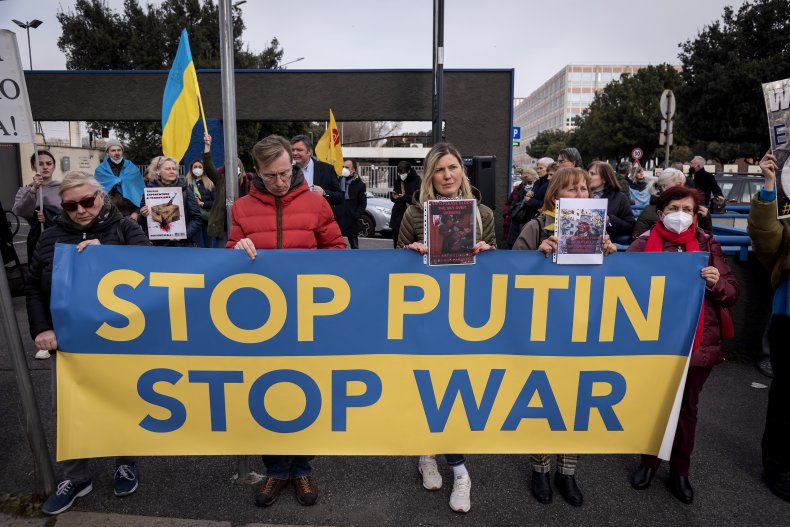 Biden rejected the idea of sending troops or planes to Ukraine and on Monday, White House press secretary Jen Psaki said establishing a no-fly zone would be a "step toward" sending troops to fight a war with Russia. She noted that it would require the deployment of the U.S. military, amounting to a "direct conflict and potentially war with Russia."
The United States has sent weapons to help Ukraine in its war with Russia but Biden made it clear in Thursday's State of the Union address that the U.S. won't directly enter the conflict unless a NATO member state is attacked.
A no-fly zone bans military aircraft over a designated area in an effort to protect civilians from aerial attacks. It would require a group of countries or a formal organization, such as NATO, to police the skies to ensure aircraft aren't violating the no-fly zone.
"If someone's in the no-fly zone, you can't just chase them out, you have to shoot them down," Howard Stoffer, a professor of international affairs at the University of New Haven, told ABC News.
Kherson falling isn't a good sign for Ukraine, in part because its status as a port city gives Russia a strategic advantage. It is the first city to fall into Russian hands, many worry it won't be the last, and Zelensky isn't hopeful that negotiations with Russia will result in peace for Ukraine.
With Putin's ambitions laying far beyond Ukraine, the concern is that if Ukraine falls to Russia, it'll give him a path to attack other countries. "We should be under no illusions: this could be just the beginning," Polish Prime Minister Mateusz Morawiecki said in the Financial Times. "Tomorrow Latvia, Lithuania and Estonia, as well as Poland, could be next in line."