What Is #AskMoreOfHim? Male-led Movement Inspired by #MeToo and Time's Up Launches Before Oscars
A male-led campaign was created Friday ahead of Sunday's Academy Awards ceremony to combat sexual misconduct in Hollywood in wake of the #MeToo and Time's Up movements.
The #MeToo and Time's Up movements inspired the creation of #AskMoreOfHim. Actors David Schwimmer and David Arquette banded together with activists and other industry men to launch this campaign due to their "special responsibility [as men] to prevent abuse from happening in the first place." In an open letter shared Friday in The Hollywood Reporter, the group is calling for more accountability and action to be taken by males working in all industries, not just entertainment.
"The vast majority of sexual harassment, abuse, and violence is perpetrated by men, whether in Hollywood or not," the letter read. "And in entertainment—like many industries—men continue to hold most of the decision-making power. Therefore, one of the most powerful things that men can and must do is make it clear to other men—including their friends, colleagues, and co-workers—that sexual harassment and abuse are never acceptable."
The campaign acknowledged that their motives for launching the campaign may be questioned, but they, nonetheless, aim to right previous wrongs, writing: "We are imperfect. And many men, including perhaps some of us, may have enabled the bad behavior." Likewise, they pledge to help put a halt to sexism or sexual misconduct.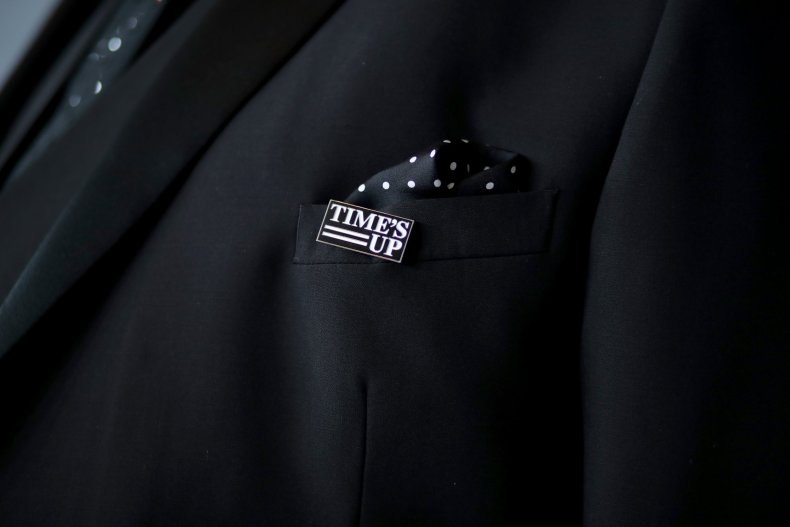 The launch of #AskMoreOfHim comes two months after more than 300 women working in the entertainment industry, including Kerry Washington and Natalie Portman, joined forces to stop sexual harassment with Time's Up. The group shared an open letter Jan. 1, which read: "To women in every industry who are subjected to indignities and offensive behavior that they are expected to tolerate to make a living: We stand with you. We support you."
Time's Up has managed to make its mark in the entertainment industry, with its Golden Globes blackout (in which men and women word all black in protest) among the most impactful. To date, the campaign has raised an estimated $20 million via GoFundMe, as with hefty donations from Meryl Streep and Jennifer Aniston—$500,000 each, according to Time. Gerard Butler and Edward Norton were among the actors who donated, each giving $10,000. However, it was Golden Globes host Seth Meyer who contributed more than any other man: $50,000.
The #MeToo movement wasn't created by members of the entertainment industry. But it was Hollywood which brought the most attention to the campaign, founded by Tarana Burke in 2007. Time magazine's 2017 Person of the Year was The Silence Breakers, including actress Ashley Judd and singer Taylor Swift, both of whom have spoken out against sexual misconduct last year.