Assad—From Regional Pariah to Regional Participant | Opinion
When Syrian President Bashar al-Assad made a secret trip to Moscow in October 2015, his future was on the line. The regime his father built and solidified over 30 years, which he inherited after the old man's death in 2000, was at that time a shell of its former self. At least half of the country was ruled by anti-Assad rebel groups, a smorgasbord of uncoordinated jihadists, nationalists, and Syrian military defectors. Five months earlier, the Syrian army all but gave up on Idlib, a large province in the northwest, while half of Aleppo, Syria's second largest city, was in the hands of the armed opposition. The situation was so precarious for Assad that Iran's Qassem Soleimani, the long-time head of the Islamic Revolutionary Guards Corps' Quds Force, (the U.S. killed Soleimani in a January 2020 drone strike on the outskirts of Baghdad's airport), traveled to Russia to convince President Vladimir Putin that urgent military action was required to save the hapless Syrian dictator.
Fortunately for Assad, things have changed markedly since then. Assad made another trip to Moscow on March 15, in a far stronger position relative to his armed opponents, the bulk of which remain tied up in Idlib. The vast majority of Syria's major population centers are in government hands. The Russians, who came to Assad's rescue with an air campaign in September 2015, still have aircraft and troops in the country, notwithstanding the pressing need to reinforce its faltering war in Ukraine. The Iranian-backed militias, including Hezbollah, that served as shock troops alongside the depleted Syrian army are still in the country as well—and far from withdrawing, they are seeking to extract economic goodies as payment for their sacrifice.
Diplomatically, Assad is on the upswing as well. He was once the world's most hated man, a title he earned after successive chemical weapons attacks against opposition-held neighborhoods that killed thousands of civilians. Syria was kicked out of the Arab League during the first year of the civil war, when Assad ordered his soldiers to snuff out what were then peaceful protests with indiscriminate violence, forced disappearances, torture, and mass executions. Jordan's King Abdullah II called on Assad to resign if he really cared about his country; Turkish President Recep Tayyip Erdogan likened Assad to a delusional mass murderer who believed he could torture and kill his way to victory. Sheikh Hamad bin Khalifa al-Thani, Qatar's emir at the time, even went on American television in January 2012 to call for an Arab-backed military intervention in Syria to stop the killing.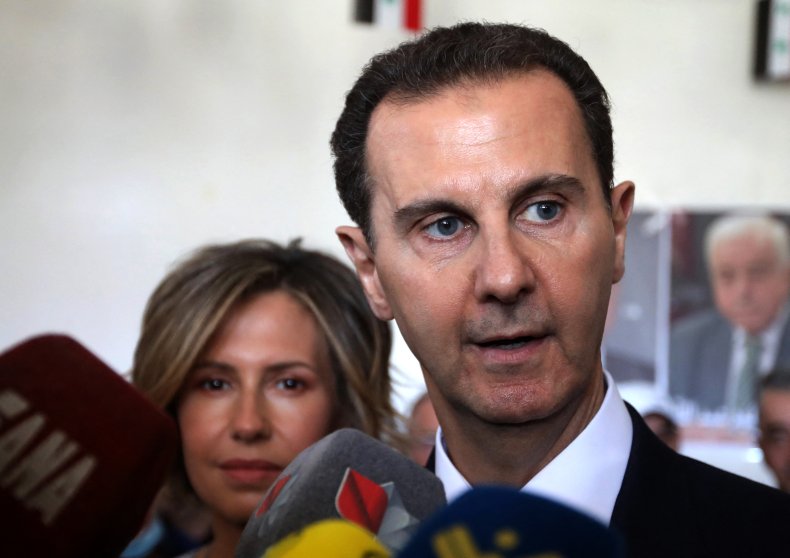 To say that the rhetoric has shifted in the years since would be a gross understatement. With the exception of the Qataris, some of Assad's fiercest regional critics are no longer interested in seeing him removed. While Syria remains outside the Arab League, senior lawmakers in the region are actively working to bring the country back into the organization later in the year—some of them traveled to Damascus in late January to speak with Assad about the matter. United Arab Emirates (UAE) Foreign Minister Sheikh Abdullah bin Zayed already made two visits to Damascus this year. Assad made a state visit to the UAE in March 2022, where he was greeted by Crown Prince (and now president) Mohammed bin Zayed Al Nahyan, a trip that infuriated Washington but was a logistical extension of the UAE's decision years earlier to re-open its embassy in Syria.
The devastating earthquake in Turkey and northern Syria is only helping Assad politically. In the days after the tremors killed thousands of Syrians, a series of Arab delegations flew to Damascus to express their condolences and promise humanitarian assistance. On Feb. 15, the Jordanian foreign minister made a trip to the presidential palace, which followed a call between his boss, King Abdullah II, and Assad. Egypt's foreign minister did the same thing on Feb. 27, the first trip to Syria by Cairo's top diplomat in over a decade. A week earlier, Assad jetted to Oman for a "work visit" to buttress bilateral relations.
Ties between Assad and his neighbors are likely to get even warmer as time continues. Turkey's Erdogan, the same man who not so long ago was strongly committed to kicking Assad out of his palace, broached the idea of a possible bilateral meeting. Saudi Arabia, once a major donor and arms supplier to the anti-Assad rebellion, is now publicly acknowledging that isolation against the Syrian government isn't working. Even as he stressed that more needs to be done before Syria is re-admitted into the Arab League, Saudi Foreign Minister Prince Faisal bin Farhan Al Saud admitted "that there is a consensus building in the Arab world, that the status quo is not tenable." Read between the lines and the message is pretty clear: it's probably only a matter of time before Syria makes its official transformation from regional pariah to regional participant.
To policymakers in Washington, all of the hand-shaking and back-slapping with a murderous tyrant and war criminal is nothing short of physically nauseating and morally repugnant. In case anyone thought any differently, a U.S. State Department spokesperson cleared up the record this week by releasing this statement to the AP: "Absent enduring progress toward a political solution to the Syrian conflict, we will not normalize relations with the regime, nor will we support other countries normalizing relations."
Yet Arab-majority countries, including America's partners, aren't waiting for the U.S. to resume normal diplomatic relations with Syria. And they don't seem to care much about Washington's disapproval.
Daniel R. DePetris is a fellow at Defense Priorities and a syndicated foreign affairs columnist at the Chicago Tribune.
The views expressed in this article are the writer's own.