'Assassination of Gianni Versace' Finale Fact vs. Fiction: What 'American Crime Story' Got Right
The final Assassination of Gianni Versace episode aired Wednesday night, bringing the second season of Ryan Murphy's true crime anthology series, American Crime Story, to its thrilling end. The episode, "Alone," takes viewers through the final days of serial killer Andrew Cunanan (Darren Criss), whose life ended in suicide eight days after he murdered famed fashion designer Gianni Versace.
The episode is written by Tom Rob Smith and directed by actor Dan Minahan. Here's what they got right, and where they took creative liberties.
The murder
"Alone" opens on the same scene as the season's first episode: Cunanan carrying out the murder of Versace (Édgar Ramírez). As addressed in the Episode 1 fact vs. fiction breakdown, the details of the murder were mostly accurate, with one small change. In the first episode, Versace turns to face Cunanan before he's shot and says, "No." According to the official autopsy report, however, the real Versace was shot in the back of the head.
At least American Crime Story got Cunanan's outfit right. Witnesses described the killer as a white man wearing a gray shirt, dark shorts, a cap and a backpack. Check, check, check and check.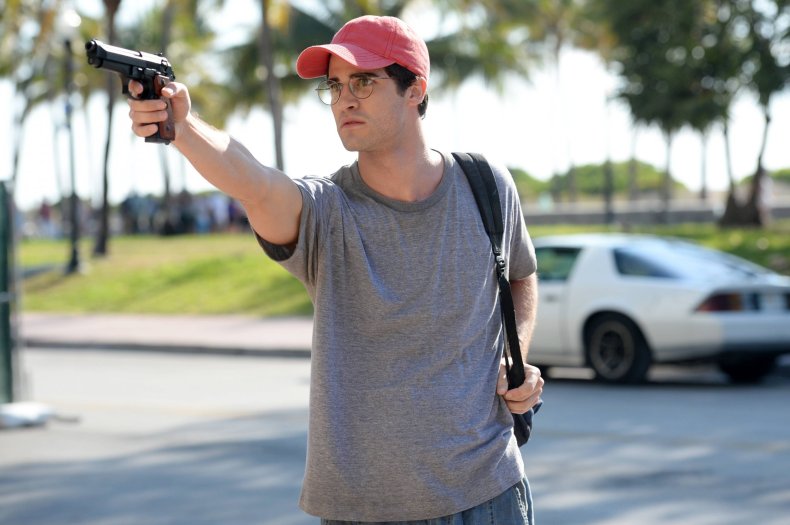 The houseboat
As we see in "Alone," after Cunanan shot Versace, the killer hid from the authorities for eight days in Miami Beach, squatting in a houseboat about 41 blocks north of Versace's mansion.
In the episode, Cunanan enters the boat, immediately opens a bottle of champagne and settles in on the loveseat to watch the news. While it's impossible to confirm exactly how Cunanan spent his time in hiding, police footage shows that American Crime Story accurately recreated the houseboat's interior, including the large TV and white couches in the living room. FBI agents also confirmed that the houseboat had electricity and running water, so it's certainly possibly Cunanan kept an eye on his news coverage.
Near the end of the finale, Criss's Cunanan becomes so hungry, he eats dog food he finds in the boat. Newsweek could not verify this detail, but the footage from the real-life scene does confirm that the real Cunanan left the houseboat trashed before he killed himself.
Marilyn Miglin
The final episode of Versace brings back a player we met in Episode 3: Marilyn Miglin (Judith Light), the wife of Cunanan's third victim. In "Alone," the FBI contacts Miglin after they identify Cunanan as the Versace killer. Miglin happens to be in Florida, filming an appearance on the Home Shopping Network. (Read about Miglin's life as a perfume entrepreneur in the Episode 3 fact vs. fiction breakdown.) The FBI agents urge her to leave town, but she refuses, saying she has never missed an HSN appearance.
It's true that the real-life Miglin did film a HSN appearance in Tampa, Florida, three weeks after her husband Lee's death, according to a 1997 Chicago Tribune report. But in real life, it's unlikely that appearance overlapped with the Cunanan manhunt. Lee Migin died on May 4, 1997, and Versace wasn't shot until two months later, on July 15.
In the finale, Cunanan hears Miglin talking about her husband on the news. She says, "What can you say about a man you loved passionately for 38 years?" That quote is pulled word-for-word from a 1997 press conference with Miglin. But Light delivers the quotes in a controlled, matter-of-fact voice, while the real Miglin cried and shook when she spoke those words.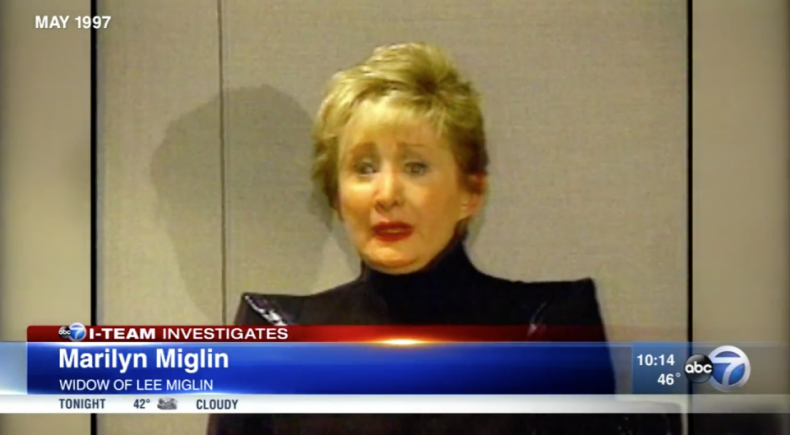 (Incidentally, "Magic" is a real perfume line still sold by the real Marilyn Miglin, though the speech she gives on HSN in the episode about creating the scent for her mother is likely imagined.)
The sighting
After Cunanan kills Versace in American Crime Story, he does attempt to flee Miami by car, but can't find his way around the police checkpoints. He asks a man on the street about finding an alternate route, but the passerby is immediately suspicious. Cunanan tells him his name is Kurt DeMars, then flees and abandons the car.
It's hard to say whether this encounter was real. According to journalist Maureen Orth, whose 1999 book Vulgar Favors is the basis for the show, hundreds of Cunanan sightings were reported all over the country in the eight days between Versace's murder and Cunanan's suicide. But it's true that Cunanan was posing as Kurt DeMars in Miami—he reportedly had a stolen license with that name.
Mary Ann Cunanan
The scene where the media accosts Cunanan's mother, Mary Ann (played by Joanna Adler), outside her home in National City, California, is based on fact—but it's also exaggerated.
A photo captured by the San Diego Union-Tribune reveals that a few media members did gather outside Mary Ann's home days after Versace's murder. Police were also reportedly keeping a close eye on her home. While she was certainly questioned by authorities, there's no evidence of her dramatic walk to a police car, covered in a blanket, while she is harassed by the media—as seen in the episode.
FBI posters of Cunanan in drag
Following Versace's murder in real life, authorities warned the public that Cunanan might be masquerading as a woman because "hair clippers and hair dye" were found in his hotel room. In the episode, this manifests into a wanted poster featuring a retouched photo of Cunanan with blonde hair and lipstick. That poster doesn't seem to be a real, but it is a clever visual nod to that real-life leap made by the police.
Ronnie
Another character American Crime Story revisits via an FBI interrogation is Ronnie, played by New Girl's Max Greenfield. As addressed in the Episode 2 fact vs. fiction breakdown, he is based on the real-life person, Ronnie Holston. American Crime Story greatly plays up Holston's importance in Cunanan's story. While he did stay on the same floor of the Miami hotel as Cunanan, there's no evidence he and Cunanan were friends. (And he looked nothing like Greenfield.)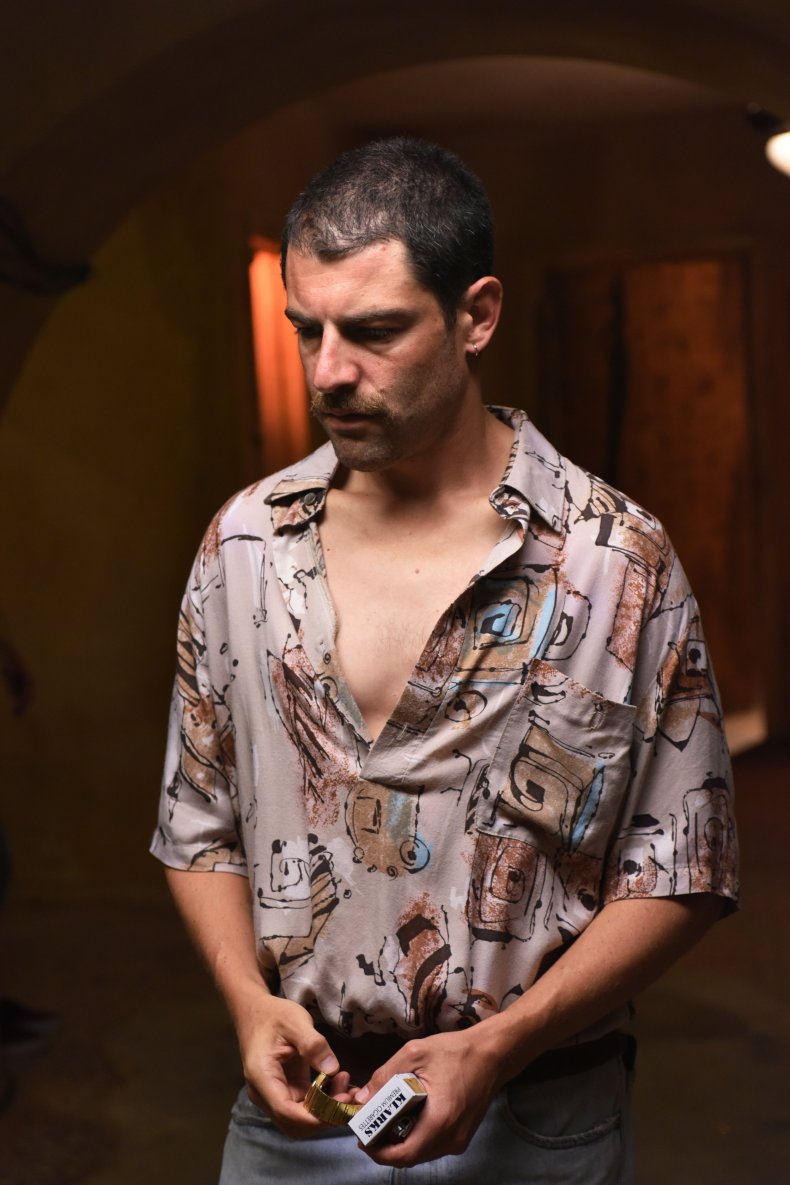 In a recent interview with The Hollywood Reporter, Orth said that "Ronnie was one of these down-and-out druggie guys and hustlers, and it was interesting because ... the real Ronnie had long white hair, platinum white hair, and he's tall and skinny."
In this final episode, Ronnie insists he didn't lie to the FBI, and then launches into a speech on why the FBI failed to catch Cunanan: because they didn't care about gay lives. This speech is pure speculation, though Orth did note to THR that, following Cunanan, the FBI "realized how woefully inadequate their outreach was to the gay community."
Elizabeth Cote
Next up on the finale's character roll call is Cunanan's old friend Elizabeth Cote (Annaleigh Ashford). It's true that the real Cote recorded a videotape at the FBI's request, pleading with Cunanan to end his killing spree. According to The Washington Post, Cote said, "Andrew, wherever you are, please stop what you are doing. . . . You still have a chance to show the entire world the side of you that I and your godchildren know."
While Cunanan sees the message in the episode, it's unlikely that the real person ever did. The FBI reportedly didn't distribute the tape until after Cunanan was surrounded by police in the houseboat.
Modesto Cunanan
In a pivotal scene in the finale, Cunanan calls his father, Modesto Cunanan (Jon Jon Briones), in his final hours of desperation, tells him where he is and begs to be picked up. Modesto promises he's coming.
When Orth interviewed the elder Cunanan for Vulgar Favors, he did claim that his son called him and that they discussed the film rights to his life story. But investigators only reported one phone call made by the killer after Versace's murder, which they said was to an unnamed "associate" on the West Coast—not to the Philippines, where Cunanan's father lived. Cunanan allegedly called to ask for help acquiring a fake passport.
Soon after the episode's imagined phone call scene with his father, Criss's Cunanan sees Dad interviewed on TV. Modesto denies his son is a homosexual, insists Andrew is innocent and announces plans to sell the movie rights to his son's story.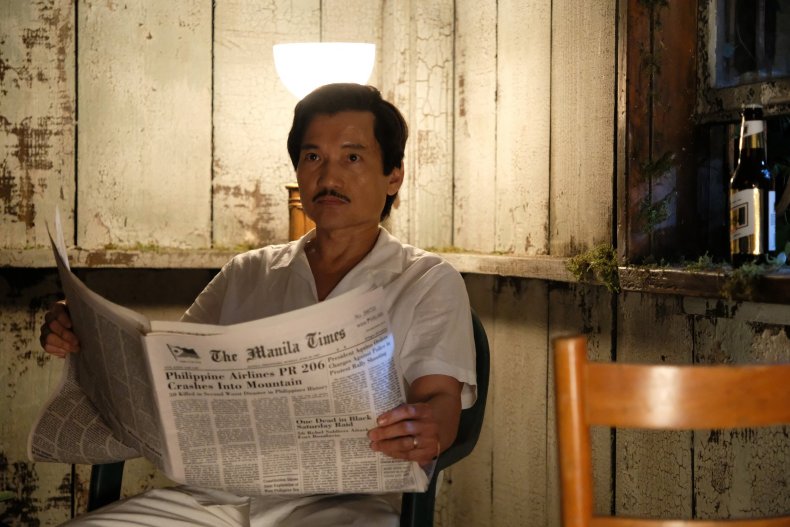 Again, according to Orth, the elder Cunanan did claim his son called him to discuss a movie—and that the movie would be titled A Name to be Remembered By, as Briones' says in the episode. Even though Modesto Cunanan did publicly say all those things, it was not in a television appearance before his son died, as American Crime Story suggests. The real elder Cunanan wrote a note a few days after his son's suicide that read, "My son was an altar boy. He is not a serial killer or a homosexual." He left it pinned to the door of his house in the Phillippines, according to the Chicago Tribune. Two years later, Modesto Cunanan showed up in Los Angeles to make a documentary film about his son. He told the Los Angles Times he turned down two lucrative offers from Filipino film studios.
Versace's memorial service
Near the end of the episode, Versace's sister Donatella (Penélope Cruz) and his boyfriend Antonio D'Amico (Ricky Martin) say their final goodbyes at Versace's memorial service, held on July 22, 1997, in Milan's Gothic Roman Catholic cathedral. (Though it was dubbed a "funeral" by American Crime Story, the real memorial service was not. According to the Catholic Church, a funeral can only take place before cremation, and Versace had been cremeated ahead of the service.) As we hear in the show, the real event was attended by A-list celebrities like Princess Diana and Elton John.
Right before the memorial in the episode, Donatella drops a bomb on Antonio: He no longer has a place in House Versace. Cruel as it is, this is based on fact. "[D'Amico] was pushed out of the family because he never got along with Donatella when Gianni was alive," House of Versace author Deborah Ball, who spoke to D'Amico for her 2010 book, told Advocate. "He says he doesn't know exactly why Donatella froze him out."
Fernando Carreira
The mysterious, non-uniformed man in American Crime Story who barges into the houseboat with a gun is based on the real man who discovered Cunanan: Fernando Carreira. At the time, Carreira was the 71-year-old caretaker of the houseboat and he reportedly discovered the killer on a routine check-in. Reports conflict on what exactly happened next, but in an interview last year Carreira said he noticed someone was in the houseboat, pulled out his gun, heard a loud "boom"—which he assumed was a gunshot—and ran to call the police.
Interestingly, the episode suggests Carreira was tipped off by a phone call that there was an intruder instead of showing him discovering Cunanan by happenstance. The show seems to imply that Cunanan's father called in the tip, based on the earlier scene where Criss recites the houseboat's address. Newsweek found no evidence that suggests Carreira was tipped off.
The show also leaves out what came next for Carreira: a hard-fought battle to collect the reward money for providing information on the killer, which he was eventually granted. In a June 2017 Sun-Sentinel story, Carreira said he recieved more than $50,000.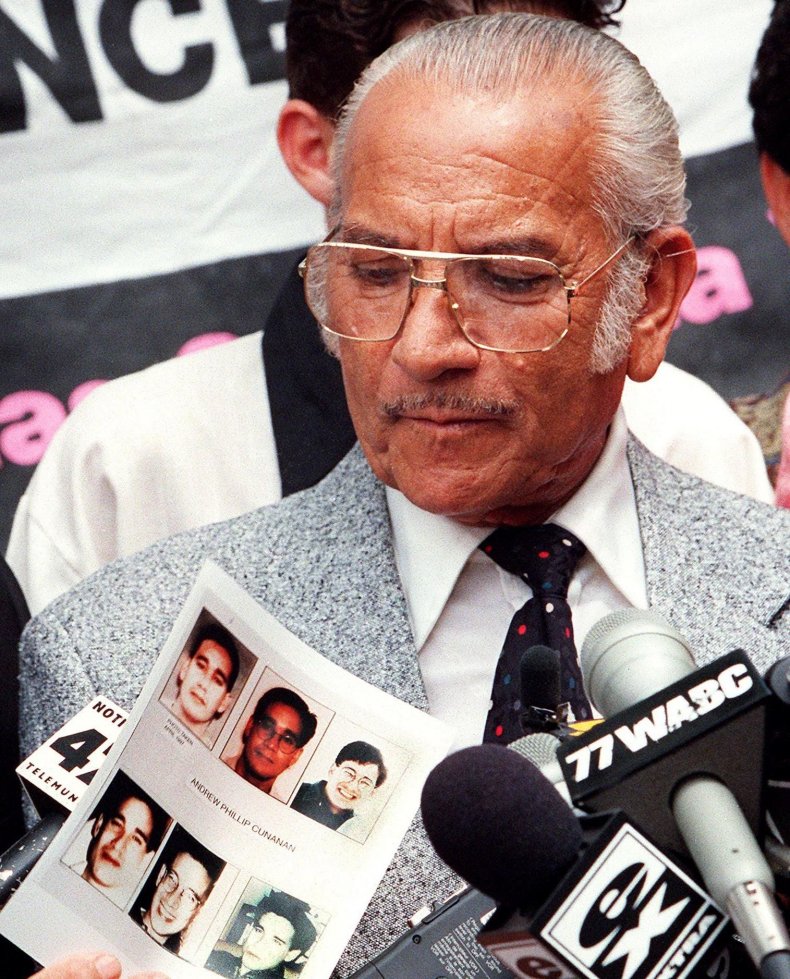 The final hours
The entire series comes to a head when the police swarm Cunanan's houseboat on July 23, 1997. American Crime Story condenses the police raid timeline, but the real-life siege lasted about four hours, according to The Miami Herald.
Though we don't see it in the episode, that same report claims police fired eight rounds of tear gas, shouting at Cunanan to come out. Eventually, eight police stormed the boat. In footage released later, authorities found Cunanan in the second-story bedroom lying dead on the bed in his underwear, gun his lap and glasses on the side table—exactly as we see him in the show. He had shot himself in the mouth. As Criss does in the episode, the real Cunanan shaved his head not long before his death, according to a medical examiner.
Versace and Cunanan at the opera
This was addressed in the first Assassination of Gianni Versace fact vs. fiction breakdown, but it bears repeating: The scene between Versace and Cunanan conversing in a San Francisco opera house is pure speculation (and perhaps intended to represent Cunanan's imagination). The only reported previous encounter between Versace and his killer was a 1990 meeting in a local nightclub. Witnesses told Orth of a conversation between Versace and Cunanan, in which Versace pointed at his future killer and said, "I know you. Lago di Como, no?" Cunanan replied, "Thank you for remembering, Signor Versace." Versace did have a house on Lake Como in Italy, but there was no evidence that Cunanan visited the country.
Antonio D'Amico's suicide attempt
The last time we see Ricky Martin as Antonio D'Amico in American Crime Story, he has just attempted to overdose on pills. It's unclear if this ever happened. The real D'Amico did fall into a long depression following his partner's death, but he rarely discussed it publicly and never confirmed any attempt on his own life. "I had never been through a depression and never saw a therapist as I was advised to," he told The Guardian in 2017. "I was in a nightmare, I felt nothing and gave no importance to anything … the house, the money … because it felt false to have expectations of life."
The finale of The Assassination of Gianni Versace ends with its own fact vs. fiction disclaimer: "This series is inspired by true events and investigative reports. Some events are combined or imagined for dramatic and interpretive purposes. Dialogue is imagined to be consistent with these events."
You can say that again.
For the curious—or if you just want to relive the show now that it's over—you can check out the rest of Newsweek's fact vs. fiction breakdowns of The Assassination of Gianni Versace below: