Photo of Man With Semi-Automatic Rifle in Starbucks Line Sparks Debate Over Public Firearm Safety
A picture of a man with a large semi-automatic rifle slung over his shoulder in a Starbucks prompted social media debate Wednesday over "open carry" and U.S. gun rights.
Journalists, politicians and internet celebrities responded to the picture showing a man appearing to patiently wait in line at a Starbucks coffee shop with the loaded firearm strapped to his back. Author and The Bulwark founder Charlie Sykes posed the question to Twitter Wednesday next to the jarring photograph: "Serious question: You walk into a business and see this —> do you 1. Leave 2. Feel Safer 3. Don't Care?" The picture of the armed Starbucks patron dates back to 2013, when "open carry" activists challenged then-CEO Howard Schultz after he penned a "respectful request" that gun owners stop bringing loaded weapons into Starbucks stores.
Responses to Sykes' question were widely divided, particularly between conservative and liberal-leaning figures, with many of the former claiming they wouldn't be fazed by average patrons carrying large assault rifles into coffee shops.
Former GOP congressman and outspoken social media figure Joe Walsh claimed option three of "don't care," sparking commentary on whether "open carry" activists and Walsh are "compensating for something" by bringing such weapons into public spaces.
"I'm already safe because I'm armed," responded a "MAGA" Twitter account.
However, a vast majority of top responses to Sykes and others who shared the picture ridiculed the man identified online as C.J. Grisham of Open Carry Texas. It was the actions of Grisham and similar pro-gun activists in 2013 that forced Starbucks to back away from their firearm neutrality and pushed Schultz to request patrons no longer bring guns inside their stores.
"Leave," author Molly Jong-Fast replied succinctly.
"Call the police," CNBC journalist John Harwood tweeted.
"I leave and embarrassed that some dumb motherf***er feels tough with a gun around him at a f***ing coffee shop and still wouldn't have a chance if someone with body armor and an AR15 rushed in there and started firing," responded writer Tony Posnanski.
"I want no part of myself or my kids living around people carrying an armada to the grocery or on campus. Nope. Ever-relaxing gun laws are the biggest reason I am relieved to have left Florida, as much as I love the place. I feel safer in NY," responded MSNBC host Joy Reid.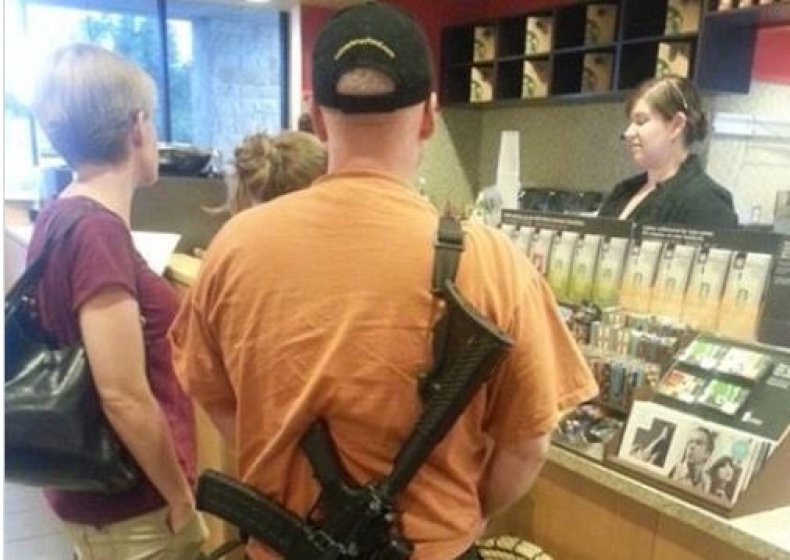 "If a black guy went in a coffee shop like that the Police would be there in 5 mins and he'd be dead," replied a parody account of President Donald Trump.
Others were more concerned with how businesses in red states such as Texas or in the Deep South are able to avoid more widespread criticism for cowing to open carry activists.
"Genuinely wonder how large corporations in red states (Tx for example) get people to move there knowing they'll likely see AK-47 at the grocery store," wrote author Eric Boehlert.
Grisham, the man purportedly in the widely shared Starbucks picture, has produced several videos in the wake of the El Paso, Texas and Dayton, Ohio included one entitled, "Mass Shooting Nonsense." Past video posted by the military veteran and open carry advocate brag, "outside Trump Tower triggering liberals."
In September 2013, then-Starbucks chairman and CEO wrote a letter to "fellow Americans" and Second Amendment advocates "respectfully requesting customers not to bring weapons into our stores." He and other Starbucks representatives complained open carry activists were using their franchises as "political platforms" to stir controversy.