Video of Teen Girls Violently Attacking Philadelphia Train Passengers Sparks Probe
Police in Philadelphia are investigating an alleged assault after a video circulated on social media showing an attack on a Southeastern Pennsylvania Transportation Authority (SEPTA) train.
The incident occurred around 3:30 p.m. on Wednesday on the Broad Street Line train near Erie station.
In the video, at least three girls can be seen shouting at another group while they are sitting down on the train.
One of the girls then launches a punch at one of the people sitting down while another continues to shout at the group.
Throughout, the sitting group remains unresponsive and does not move from their seats or retaliate to the shouting.
Two of the girls within the first group then turn on a girl who is standing nearby and attack her.
They slam the girl's head into the train door before she falls to the floor, where she is kicked and stomped on.
One of the girls kicking then grabs a shoe and begins to hit the girl on the floor with it, before someone can be heard shouting to get her attention.
The attacking girls in the video appear to be Black, while the group being shouted at appear to be of Asian descent. Investigators have not made it clear whether they are considering this matter a racial incident.
A SEPTA spokesperson called the incident "violent and disturbing" and referred to those involved as students, according to NBC Philadelphia.
SEPTA Police, the Philadelphia Police, the Philadelphia School Administration officials, the School District Police and the Philadelphia Human Relations Commission are all investigating the incident.
Fox News reported that four of the teens in the video have so far been identified. There are no known serious injuries.
Philadelphia City Councilman David Oh has insisted that SEPTA and the Philadelphia School District must increase security measures.
He said: "There has to be a response by the police, by SEPTA school safety officers, formerly known as school police, and by SEPTA itself.
"It has a police force and we need to see them."
After being contacted by Newsweek, SEPTA responded with a statement.
The statement read: "SEPTA Transit Police are working closely with Philadelphia Police, Philadelphia School Administration officials, School District Police, and the Philadelphia Human Relations Commission on an investigation into an assault involving students on the Broad Street Line at approximately 3:30 p.m. yesterday.
"The incident occurred on the train near the Erie Station. SEPTA Police were notified and immediately launched an investigation. Progress has been made in identifying individuals who were involved in the assault.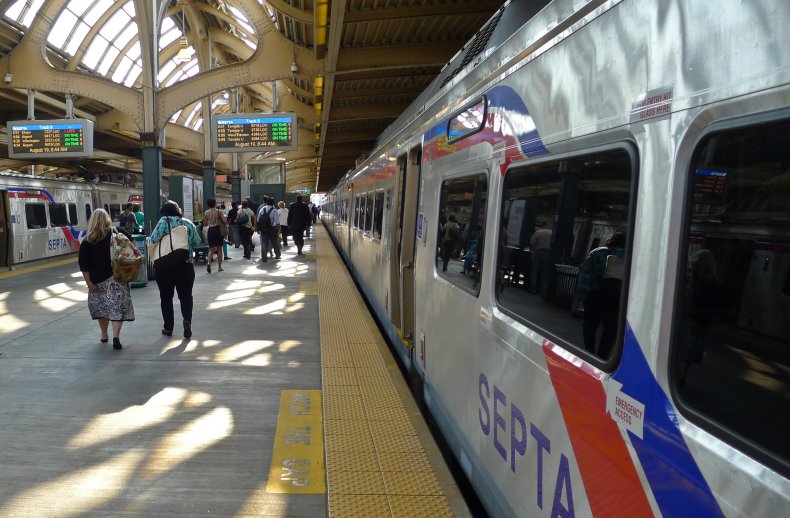 "Investigators are continuing to interview witnesses and reviewing cell phone video that has been released on social media, as well as SEPTA surveillance video.
"This was a violent and disturbing incident. Fortunately, no serious injuries have been reported. Anyone with information is asked to contact SEPTA Police at (215) 580-8111."
Newsweek has contacted Philadelphia Police department for comment.