Assaults on Press at Antifa Counter-Actions Must End | Opinion
Violence against members of the press is unacceptable, whether it's aimed at a perceived ally of one's movement, or an adversary.
This summer, Los Angeles became a hub for political street fights in which journalists were beaten and bullied. The emergence of "SoCal Antifa"—which debuted on Twitter April 28 this year—has been a significant development on the activist scene. By August, Los Angeles had started to look a lot like Portland, with journalists targeted by both sides.
A multi-lane street brawl erupted on Saturday August 14 after SoCal Antifa's Black Bloc coalition showed up across the intersection from Los Angeles City Hall. Conservative protesters had assembled to support the California recall and oppose medical mandates at a permitted event on the South Lawn.
Many who partook in the rumble arrived ready for mutually agreed-upon street combat. Yet those subject to the violence also included press, and one woman from the activist Left who was hit in the head with a hydro flask.
One person from each side was battered or stabbed repeatedly with unidentified metal objects. Several were bruised, others bloodied.
A Hispanic man in an American flag hat and handkerchief was rushed to emergency surgery in critical condition with a single knife insertion and withdrawal to the upper chest. A tall Caucasian figure with blond hair—a regular among the SoCal Antifa Black Bloc this summer—was arrested for attack on September 1st.
These attacks could be the end of it all in Los Angeles or, if Portland is any indication, just the beginning.
Independent photojournalist Maranie Staab was assaulted in Portland on August 22, after an Antifa Black Bloc counter action against Proud Boys launched a street battle. Staab was singled out for misogynist epithets and maced after her phone was knocked away. Paint and chemicals were deployed from a large metallic fire extinguisher sprayer, and projectiles (including explosives) were thrown at press. Two banner-carrying Evangelical protesters were also doused.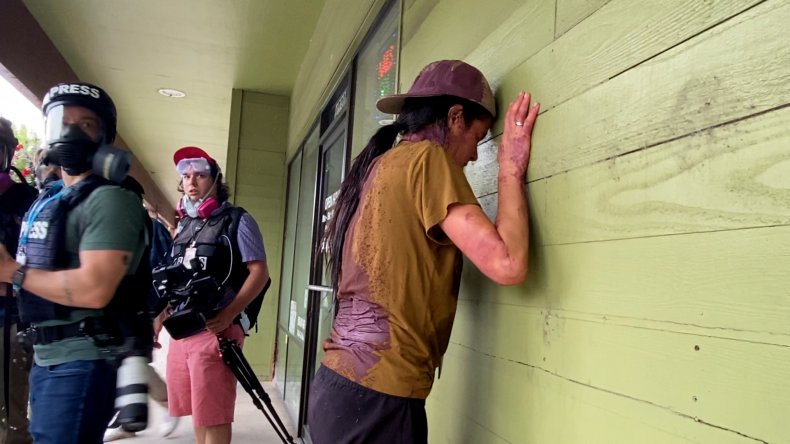 Much of the "antifascist" Twitter narrative about this incident, as well as soft-dox naming of right-wing opponents, originated in Los Angeles. A self-identifying Antifa "research" account, which has advocated for neutralizing press cameras, began cherry picking videos to try to portray Staab as the aggressor.
Video shows the Black Bloc hurling a projectile and knocking Staab's phone into the street. They attack another female reporter before Staab says, "Don't touch her." Staab says she stood her ground. Critics blame her for getting too close to the Black Bloc.
As an eyewitness to events, my video was posted by both the Antifa "research account" and by Antifa adversary Andy Ngo. The conservative commentator used the longer takes of my work to counter the "antifascist" narrative.
The Antifa-aligned influencer claimed Staab "lunged" at the Black Bloc group, mischaracterizing an out-of-context three-second clip that did not show Staab's phone being stolen and camera strap yanked.
Oregon Public Broadcasting reporter Jonathan Levison was among the dozen reporters standing with Staab. He replied to the activist account on Twitter, "I was there as black bloc threw full soda cans at us while we tried to help her. I still have purple paint on all my gear from them spraying us while we helped her. Stop trying to rewrite history from LA."
Yet to pin the animus entirely on the prolific activity of one influencer with 100,000 followers is insufficient. Supporters define Antifa as a movement, after all, and Los Angeles hosts a network of smaller aligned press accounts that release video from within the Black Bloc perspective. One L.A. press account has influenced several media reports on violent clashes, despite blurring the line between journalist and participant. Of the Cedars Sinai brawl on July 22, the self-identifying "advocacy reporter" tweeted, "No I didn't film it. I fought."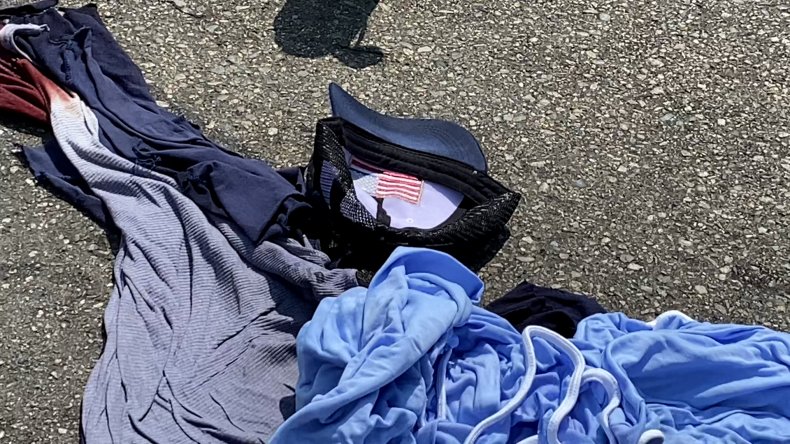 Nor is Antifa the only source of violence against the press. Some demonstrators and militants on the Right don't distinguish between journalists whom they perceive to be aligned with Antifa and mainstream media. To characterize their response as a "disproportionate use of force" would be an understatement.
Ben Patino, the leading right-wing agitator of the August 14 Los Angeles City Hall rumble, initiated fights with anyone he perceived to be press or opposition. Patino admits to emptying a can of mace in the face of non-partisan News2Share photographer Jake Lee Green, thinking he was Antifa. Green was wearing a helmet labeled "Press." Patino also went after KCCP radio reporter Frank Stoltze.
Patino, who has been investigated for threats made against the Left in the past, told the podcast We Are LA he started the confrontation in retribution for attacks on Christians at WiSpa on July 3.
July 3 began with SoCal Antifa's coalition attacking conservatives who arrived to protest. It ended with a protester from the Right, dressed in all Black, slashing an activist from the Left three times during a melee. The militant stabbed a fellow right-wing protester as well.
Also that day, a right-winger in black attire clubbed Leftist-aligned documentarian Rocky Romano, but not before inadvertently clubbing Newsmax reporter James Klug, who was also dressed in black.
The first press attack that day was launched at a conservative live-streamer, whom the Black Bloc mobbed just before 10am. The Antifa Black Bloc also beat a gay conservative organizer of the event to the curb.
The most egregious display of wanton violence against Los Angeles press this summer took place on July 17 at a second WiSpa protest. A web journalist named Marie approached the group of right-wing demonstrators for an interview after they had left the conflict area for MacArthur Park. She was maced in the face with bear spray on arrival.
"I was naive," Marie told me, "I didn't even get a chance to ask questions."
The same militant maced a helmeted live-streamer, who turned out to be a right-leaning commentator from Oregon, only a few minutes earlier.
There's a parable to be found here about the futility, absurdity and blind escalation of violence.
We must allow ourselves to have honest conversations about the way political violence is reported and the unprecedented influence of social media tribalism. For the press, cutting the umbilical cord with Twitter accounts that propagate violence—and calling out their excesses—may be the necessary first step.
We could break the cycle of political violence. It starts with rejecting unnecessary animus and labeling, as it spreads from one event to the next across our nation's networked political consciousness.
We could let each other be heard again, rather than shutting each other down. We could embrace the debate and discussion critical for democracy.
But first we must learn how to use the technology at hand to serve civil conversation, rather than the agitation of perpetual strife.
Jeremy Lee Quinn is an investigative journalist who has documented riot actions for 15 months across the country. He holds conversations across the aisle on the 'Unblocked Live' podcast. More video on Twitter @JLeeQuinn
The views expressed in this article are the writer's own.