Until recently, 35 Cairns Street was just another boarded-up house, one in a row of abandoned, two-up, two-down Victorian terraces in a rundown part of Liverpool, in northwest England. Soon it will be a home again, part of a tranche of affordable housing sold or rented out by a local charity. But since January 2015 it has been home to Granby Workshop, a profit-making community enterprise that makes and sells ceramics, furniture and textiles.
In the large downstairs room, at a table densely covered with arrays of handcrafted objects, Jade Crompton, a 20-something graduate of Liverpool Hope University and full-time employee at the workshop, is collaging pieces of ceramic decal paper onto plain white tiles—ready to be fired in the kiln that sits in the far corner. She is fulfilling an order from the shop at Tate Modern, the huge gallery that sits on the banks of the Thames in London, more than 200 miles south. Examples of the finished, color-flecked tiles line the bathroom walls upstairs and in several other houses along this street.
First Collective, First Designers
Hard though it may be to believe, this unremarkable room—and the work that goes on inside it—helped win Britain's most prestigious contemporary art prize. Almost exactly a year ago, a group of 18 mostly Cambridge-educated architects, who together make up an architecture and design collective called Assemble, won the 2015 Turner Prize for an exhibit displaying pieces made at Granby Workshop.
The award, founded in 1984, is given annually by Tate to a British visual artist under 50 for an outstanding presentation of work from the preceding year. It is often controversial outside art's own narrow circumference: One year the prize went to an artist whose exhibit consisted of lights switching on and off in an empty room. But Assemble's win was different, causing perhaps more controversy within the art world than without. It was the first collective, rather than an individual artist or pair of artists, to win the prize. And they were also the first nominees to work in the fields of architecture and design rather than, say, painting or sculpture.
Assemble's raison d'être is creating work that actively involves the public, not just as spectators but as collaborators. The two projects it won the prize for typify this. The first was an adventure playground in Dalmarnock, a district of Scotland's East Glasgow. The supervised but child-led space's design was inspired by a statement from the American anarchist author Peter Lamborn Wilson that "cherishing and unleashing are the same act." The second was Assemble's renovation, with the help of a local charity, of 10 terraced houses in an area known as Granby Four Streets in Toxteth, a part of Liverpool blighted by unemployment. The Granby Four Streets project, and its associated workshop, is run in the main by two Assemble members, Lewis Jones and Fran Edgerley, though the entire collective gets involved via regular meetings at its London headquarters.
RELATED: Go inside the new Tate Modern
I've come to Liverpool to meet Jones and to assess, in the weeks before this year's prize winner is announced, what impact winning the Turner has had on Assemble. Previous artists have been affected in different ways. Before 2003, Grayson Perry was a niche "transvestite potter;" now he is a widely recognized and much-loved broadcaster, fronting British TV programs that question notions of identity and constructs of masculinity. Video artist Elizabeth Price, the winner in 2012, has continued quietly to collect prizes and make new films at a rate of about one a year, but she has yet to have a major impact on the public imagination.
The main effect on Assemble, Jones says, has been an increase in public awareness rather than any financial boost—the prize money was spent partly on funding the workshop. But the group can't benefit from the uptick in auction prices that many Turner winners experience because most of its work is either temporary, built spaces, community projects or a combination of both. Jones, a curly-headed, bearded man in his late 20s, tells me that since December 2015, Assemble has been offered "a lot of new work," but as the collective was already committed to several ongoing projects—such as the design of a new public art gallery for Goldsmiths University in south London—it wasn't able to take on new commissions.
'Continue to Grow'
Nonetheless, the prize has helped secure the life of Granby Workshop. Assemble's Turner exhibit offered the workshop's products—including tables, chairs, lamp shades and door handles, all handcrafted from recycled materials—to the general public for purchase. Now that these products are being sold widely, proceeds can be reinvested in employees' wages and in helping the workshop grow. It began with a dozen or so freelance workers but now employs and pays a core team, thanks, Jones says, in large part to the prize. "It means we're able to offer more secure employment; people are also able to take on more responsibility independent of us. The idea is to continue to grow and employ more people in the neighborhood."
Sumuyya Khader, now the workshop's full-time operations manager, who before the prize worked there as a freelancer, confirms this. She tells me that two employees of Granby Workshop will shortly be getting together with two members of Assemble to design new products. For the business to be sustainable, it must continue to operate independently once the collective moves on to other projects.
Though the revenue from product sales has helped the workshop to expand, it still has a way to go, Jones says. "The majority of orders are still small quantities to individuals rather than to retailers." Are customers buying the pieces as art or interior decoration? "Whilst we get some orders which suggest people are buying [the workshop's output] as art objects—for example, ordering a single tile—most of the time people are buying in a way that suggests they're actually going to use them to decorate their home."
Jones walks me along Cairns Street, allowing a glimpse into some of the houses that have been renovated by Assemble and have been, or will be, rented out or sold. (A local land trust, staffed by volunteers, oversees this part of the process.) Even on a bleak November's day and with work still very much in progress, I can see the impact. At number 39, we enter a house so dilapidated it is beyond renovation; instead, its interior will be planted up and converted into what Jones calls "a winter garden." The idea came from members of Assemble who saw trees growing up inside another boarded-up house in the neighborhood. In turning a ruin into a garden, the plan is to transform a grim negative into a utopian positive.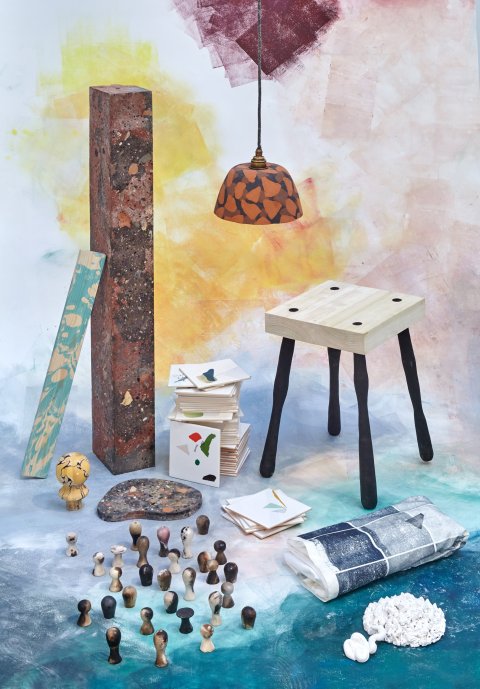 I am struck by the height of the space; all the ceilings have been knocked down. In its vacancy, it conjures up House, Rachel Whiteread's plaster cast of the inside of a Victorian terraced house that won the Turner in 1993. Both House and the winter-garden-to-be pay homage to the concept of home. But the public's enthusiasm for House didn't prevent it from being demolished by the local council, whereas the Granby project is intended to live on even after Assemble is no longer actively involved.
The prize may have affected the project in one other tangible way. Jones tells me that the house adjoining the winter garden will eventually have studio space on the ground floor, where Bluecoat—Liverpool's center for the contemporary arts—plans to establish a Granby Four Streets artist-in-residence program. Bluecoat applied to the public funding body Arts Council England for residency funding before Assemble won the Turner; after the prize was announced, £250,000 ($310,000) of funding was confirmed.
Alistair Hudson, director of the Middlesbrough Institute of Modern Art in northeast England, was a Turner Prize judge last year; he was also responsible for Assemble's initial nomination. In an email exchange after the trip to Liverpool, I ask him if Assemble's short-listing could be understood to be a criticism of traditional visual artists. "You might say it was representative of a general move away from the sovereignty of the 'art world,'" he says, "and an opening up of art to encompass craft, design, architecture, technology and social action in a genuinely embedded way."
One year after winning the Turner, Assemble's commitment to communal, anti-egoistic work is thriving, providing a model for a new, useful kind of art. If the Turner Prize is as influential as the example of Grayson Perry suggests that it can be, perhaps the socially engaged work Assemble creates can play a more prominent role in both the upper echelons of art and in the real world. But it might take a few years for this shift to gain momentum, because four artists—Michael Dean, Anthea Hamilton, Helen Marten and Josephine Pryde—each in the lone-genius mold that has for so long defined the Turner, make up the short list for the 2016 prize. And that is potentially a backward step.
The Turner Prize 2016 will be announced December 5; an exhibition continues at the Tate Modern until January 2. Click here for more information on the Granby Workshop.
Read more at Newsweek.com: