With Assignment to Take on Root Causes of Border Influx, Harris Uses Immigration Qualifications
When President Joe Biden said Vice President Kamala Harris would take on the task of dealing with the root causes of the influx of migrants from Central America, he was giving the role to someone who has made immigration a focus throughout her career.
As a senator from California, Kamala Harris didn't just elevate immigration issues, she wanted people to know about it, too.
In 2017, she became the first senator to announce opposition to a new funding bill unless young immigrants who came to the country as children known as Dreamers were protected, in a high-profile rebuke to President Donald Trump's attack on the Obama-era DACA program.
The first bill she introduced upon entering Congress was the Access to Counsel Act, to require lawyers be allowed access to immigrants in danger of deportation. And when she opened her lucrative email list with a fundraising plea in 2018, her late staffer Tyrone Gayle made sure to note to reporters that the $70,000 raised would go toward covering 140 DACA renewals for Dreamers.
"When she became a U.S. senator, she evolved quicker and farther than any other prominent Democrat on issues related to immigration enforcement," said Chris Newman, general counsel for the National Day Laborer Organizing Network (NDLON), who tussled with the Obama administration and pushed Harris as a Senate candidate on immigration.
But now, on the biggest stage, Harris has been asked by Biden to oversee the diplomatic efforts to engage Mexico and Central American countries to address root causes of migration and oversee the flow and use of U.S. aid. It's a role the White House and Harris allies stress does not mean she's in charge of addressing the influx of children at the border, a job shared by multiple agencies within the administration, but one in which her experience related to immigration will be key, they said.
"To tackle the root causes of migration and work in the region you have to have a broader understanding of the immigration system, how it doesn't work, and it's broken," Sergio Gonzales, a former Harris senior adviser on immigration, told Newsweek.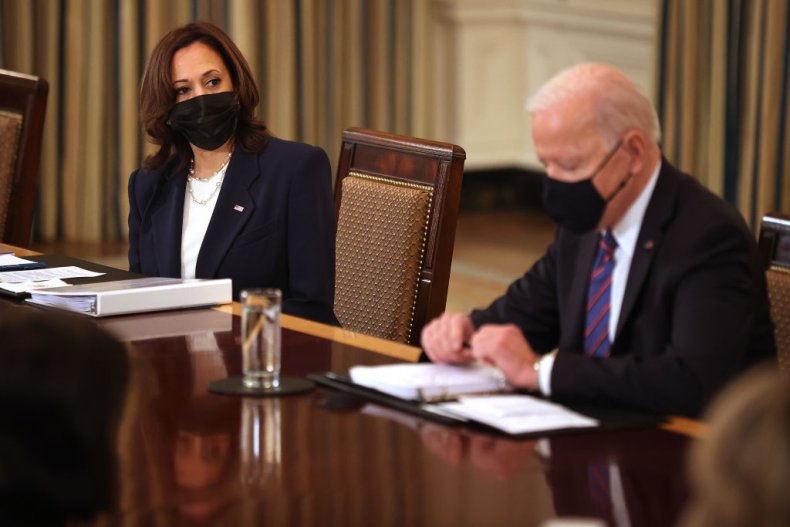 Harris has that from her work in the Senate and as attorney general of California, Gonzales said, pointing to Harris convening a delegation of attorneys general to Mexico in 2014 to combat human trafficking and transnational crime.
The White House told Newsweek that in addition to overseeing diplomatic efforts, Harris will work with Mexico, El Salvador, Guatemala and Honduras to accept returnees and enhance migration enforcement on their borders, with a goal of creating economic prosperity, fighting corruption, improving good governance, and strengthening the rule of law.
In the role, Harris will work closely with various Cabinet members, including Secretary of State Antony Blinken. Last week, she began her meetings related to the task, speaking with Roberta Jacobson, senior coordinator for the Southern Border; Juan Gonzalez, the NSC senior director for the Western Hemisphere; and Ricardo Zuniga, the special envoy for the Northern Triangle.
Dan Restrepo, who served as the principal adviser on Latin America to former President Barack Obama for six years, said Harris' previous experience and new role underscores how seriously Biden takes the issue and sends that message to multiple key stakeholders, including people that care about immigration policy, leaders in the region, and the government agencies like DHS and HHS, which are heading up the response to the border influx.
"It creates the discipline and urgency needed," he said.
Restrepo said Harris is well-placed and qualified within the Biden administration to take on diplomacy with the Northern Triangle countries, not just because of her previous experience, but also as a Californian who understands that no relationship matters more to the U.S. than the one with Mexico.
"California has a different relationship and vantage point when it comes to looking at Latin America," he told Newsweek. "The Californian perspective begins with Mexico, it's the touch point and there is so much connectivity really between these four countries."
There has been confusion regarding Harris' role, however.
As the first images emerged Tuesday from a facility in Donna, Texas, which held thousands more children than its designed for, White House Press Secretary Jen Psaki repeatedly clarified that Harris is not in charge of the influx of children at the border, which is why any travel she would undertake would be to Central American countries or Mexico, as opposed to the border.
Despite it not being under Harris' purview, the RNC sent out an email blast Tuesday calling her "a so-called crisis manager who refuses to actually visit the scene of the crisis."
While Democrats feel they have someone in Harris who is most qualified within the Biden administration to do the job, Republicans clearly see a political advantage to bruising Harris on immigration, which they have messaged on in recent days.
Steve Cortes, a former Trump campaign adviser who met with the ex-president recently, responded to Newsweek, "Gosh, why would she want that assignment?"
But Bryan Lanza, a former 2016 Trump campaign and transition official, said that while the role is "a risk" for Harris, "she's got to take the risk to stand out."
"If Biden doesn't run again, she's by no measurement the front-runner, so she's looking to score political points somewhere and immigration is an important base issue," he told Newsweek. "If she were to find a way to navigate this, it would separate her from the rest of the Democratic field in 2024."
Still, Restrepo recalled Biden's portfolio as vice president under Obama, and the trust he has in Harris and the feeling that she's best equipped to improve the situation. As VP, Biden worked to get the Affordable Care Act through Congress and withdraw U.S. forces from Iraq during Obama's first term, and focused on the Northern Triangle countries during his second term. Now Harris has the gig and the spotlight that comes with it.
"You don't get elected VP and president to choose the challenges to confront, and leadership is meeting the challenges that are before you," he said.