Assistant Director Told Alec Baldwin He Was Working With 'Cold Gun' Before Shooting
Actor Alec Baldwin was told that he was handling a "cold gun" before the weapon discharged on the set of the film Rust on Thursday, killing cinematographer Halyna Hutchins and wounding writer-director Joel Souza.
Court documents indicate that Dave Halls, the film's assistant director, handed Baldwin the prop gun and told him it was safe to use shortly before the deadly incident took place near Santa Fe, New Mexico on Thursday afternoon, according to The Associated Press. Neither Halls nor Baldwin were aware that the gun was loaded.
Hutchins was struck in the chest and died soon after, while Souza, who was standing behind her, was injured with a shot to the shoulder. It is not clear what type of ammunition the gun was loaded with or how many rounds were fired.
"There are no words to convey my shock and sadness regarding the tragic accident that took the life of Halyna Hutchins, a wife, mother and deeply admired colleague of ours," Baldwin tweeted on Friday morning. "I'm fully cooperating with the police investigation and I am in touch with her husband, offering my support to him and his family. My heart is broken for her husband, their son, and all who knew and loved Halyna."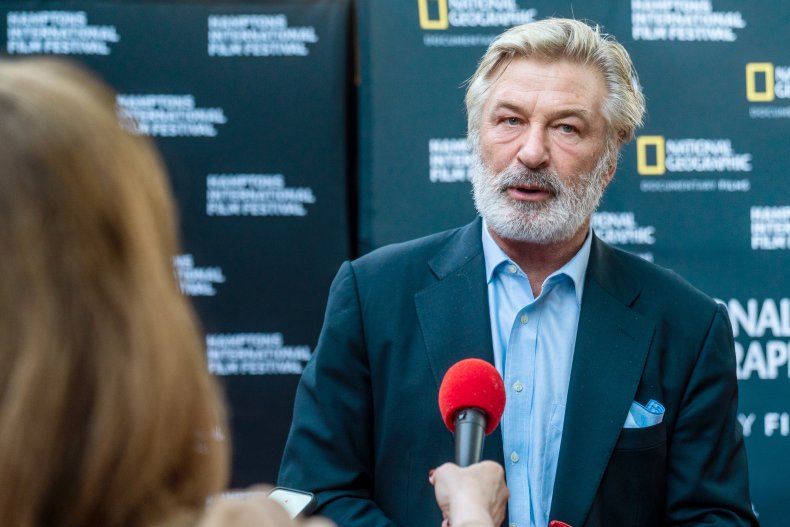 The prop gun was said to be one of three placed on a cart by armorer Hannah Gutierrez. According to a 911 call obtained by the Albuquerque Journal, the incident happened during a rehearsal. During the call, a person identifying herself as a script supervisor tells the dispatcher that there were "two people accidentally shot by a prop gun" before complaining, apparently to others on the set, that the assistant director was "supposed to check the guns, he's responsible for what happens on the set."
Authorities are looking into whether the incident was filmed. A search warrant was issued to find any potential footage, with an affidavit from Detective Joel Cano saying that the search would help "to confirm if the incident that took place was or wasn't recorded," according to Deadline. Detectives reportedly went to the set to gather evidence on Friday, taking possession of items including the prop gun involved, the cart that the gun was sitting on, a belt and ammunition.
First Judicial District Attorney Mary Carmack-Altwies told the outlet that the case was "still in its preliminary states of investigation" and that it was not known "if any charges will be filed." Baldwin and crew members were released after being questioned on Thursday. Santa Fe Sheriff's Office spokesman Juan Rios said that Baldwin was a "free man" and is allowed to travel.
Rust cast member Frances Fisher tweeted late Thursday night that Souza had told her he was released from the hospital after being treated for his injuries.
Newsweek reached out to the Santa Fe County Sheriff's Office for comment.