Aston Martin Reveals Which of Its Models Appear in New James Bond Film 'No Time to Die'
The countdown is back on for the latest installment of the James Bond movie franchise. The 25th film, "No Time to Die", will be released globally next month and feature a variety Aston Martin models. It will mark the first time that four different models have appeared in a 007 film.
The movie's car roster includes the Aston Martin DB5, the classic Aston Martin V8, DBS, and Valhalla. DB5 is the iconic car that starred alongside Sean Connery in "Goldfinger" in 1964.
The classic Aston Martin V8 is a British muscle car that was produced from 1969 to 1989. Each of the models was hand-built, taking 1,200 hours to complete. The car was available as a coupe or convertible during its heyday. Bond filmmakers originally featured the model in "Quantum of Solace".
Aston Martin's DBS is a V12-powered model that was based on the DB9, a car that was featured in both Bond and Fast & Furious franchise movies.
The Aston Martin Valhalla is a mid-engine hypercar that pulls in the expertise of the company's Formula One team to create a new type of driving experience.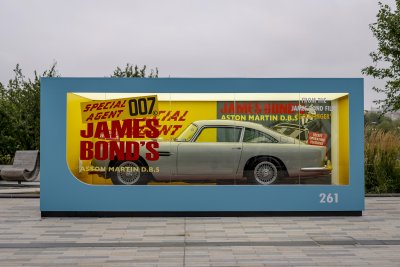 To celebrate the announcement Aston Martin revealed a full-size replica of the original 1965 Corgi DB5 model at The Coaling Jetty, outside Battersea Power Station in England. The display features an Aston Martin DB5 "Goldfinger" Continuation car.
Corgi has sold over 20 million diecast scale models of the DB5 worldwide, the first of which was released in 1965.
Just 25 examples of the DB5 Continuation cars are being produced. They feature gadgets similar to what was shown on screen while Connery was behind the wheel in the iconic third installment of the Bond franchise. Each of the models has only been modified from the original design to include enhancements to ensure quality and reliability.
The replica Corgi DB5 box will be on display through October 1.
"No Time to Die" will have its premiere at Royal Albert Hall on September 28. It will be released two days later in the U.K. and in the U.S. on October 8.