The Astonishing Hypocrisy of Anti-Masking Conservatives | Opinion
Thanks to COVID-19, schools in Tennessee's third-most populated county were closed Monday. But it's not for the reason you'd think. Earlier this month, the Knox County School Board voted against requiring students wear masks, which prompted some families of children with disabilities to file a lawsuit alleging the school was infringing on their children's right to an education under the Americans with Disabilities Act. Last week, U.S. District Judge J. Ronnie Greer agreed, prompting Knox County Schools Superintendent Bob Thomas to issue a statement over the weekend informing parents that the district would close "in an effort to ensure we are in compliance with" the ruling.
I live 30 minutes north of Knoxville. And I am outraged, embarrassed, and, frankly, fed up. Put masks on kids. It's relatively straightforward.
Yet some parents have made it anything but. As of today, protests continue outside some Knox County schools, with grown men and women reportedly carrying signs calling schoolchildren "sheep" for complying with a federal court order.
It is disgraceful behavior from adults who clearly do not respect the rule of law. Still, this lawsuit and the school's response is giving me hope. For too long, we have allowed the anti-science, pro-pandemic folks to control the narrative around masks, vaccines, and public health. They bleat on about their rights, but the reality is that those of us who do not wish to be vectors of disease also have rights. And it is time we start fighting back.
There seems to be a fundamental misunderstanding on the part of the pro-virus crowd about rights verses responsibilities. After all, vaccine mandates are not new; Tennessee requires children be vaccinated against several viruses before they are allowed to enroll in public schools. Obviously, many children cannot be vaccinated against the coronavirus—it isn't approved for kids under 12—but they can wear a mask.
Requiring masks is not an infringement on any constitutional right a parent or child holds. Public health measures that protect people from themselves and others have been regularly adopted across the country. You cannot drink and drive because of the threat intoxicated motorists pose. Seatbelt laws, though met with the same resistance as masks when they were passed, are now a ubiquitous part of life across the country.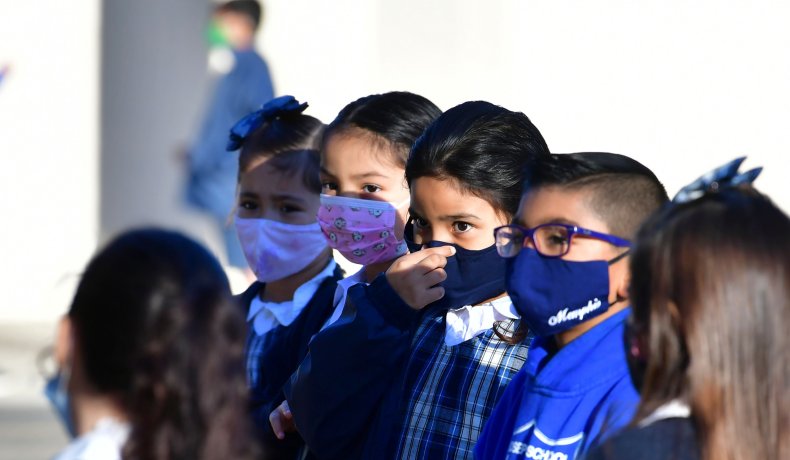 Similarly, many of the same people complaining about businesses adding masks to their "no shoes, no shirts, no service" policies seem to have nothing to say on, well, wearing shoes and shirts. Indeed, these folks frequently assert the rights of business owners to refuse service based on reasons even federal law prohibits.
Take Senator Rand Paul, a Republican from my home state of Kentucky, just an hour's drive north of Knoxville. Earlier this year, he introduced a bill prohibiting federal mask mandates for public transportation, and he is on record opposing businesses requiring employees be vaccinated. This is the same Rand Paul who has publicly mused that perhaps businesses should be allowed to discriminate against people based on race and who opposes protecting LGBT Americans from discrimination in the workplace.
Clearly, what the anti-mask crowd wants is not a protection of their rights. What they want is to be granted special privileges they would not extend to others.
But there is a reason that lawsuit after lawsuit challenging mask mandates has been thrown out of court. No one has a Constitutional right to infect others with a deadly disease. Anti-mask activists are lying.
There is, however, a right to an education. The Americans with Disabilities Act requires schools make educational opportunities and facilities accessible to all students. As Judge Greer noted in his ruling, "this conclusion, and the evidence supporting it, is an attestation to the extreme contagiousness of the delta variant and the reality that, among the unvaccinated, it is untamable without community-wide masking inside schools."
In other words, the delta variant is so pernicious that it requires a public health answer to assure fair access to children with disabilities—things like autoimmune conditions, respiratory conditions, and so on—which would make catching COVID-19 an even more dangerous prospect than it is for the rest of us. When presented with the choice between a student's right to go to school and a student's privilege not to wear a mask, the judge correctly sided against the anti-maskers.
Requiring children to wear masks in the classroom is not ideal. Masks are irritating and annoying. I don't enjoy wearing them, and I know children won't. But it is the best solution we have for ensuring schools are safe and open to every student, regardless of their health conditions and in accordance with federal law.
This is a matter of urgency. Our state currently has the dubious distinction of leading the nation in COVID-19 related school closures, meaning our children are at risk of not only catching the coronavirus, but of losing another year of in-person education. Most families cannot afford to homeschool their children or put them in fancy private school. Closing schools for COVID or because of parent-led anti-mask protests disadvantages our most vulnerable kids.
Tennessee's children deserve an education. Instead, they have hypocritical leaders.
Skylar Baker-Jordan writes about the intersection of identity, politics, and public policy based. He lives in Tennessee.
The views in this article are the writer's own.