AstraZeneca Vaccine Deemed Safe in U.S. Trials as Distrust in Europe Spikes by Double Digits
AstraZeneca said Monday a U.S. trial found the company's vaccine to be 79 percent effective with no serious side effects, but distrust for the COVID-19 vaccine in Europe continues to grow.
A new survey by YouGov found that the majority of Europeans say they think the vaccine is unsafe.
Among Germans, 55 percent say they believe the shot to be unsafe—a 15-point spike since last month. In Italy and Spain, the figures for people who previously said the AstraZeneca vaccine was safe (54 percent and 59 percent, respectively) have fallen to 36 percent and 38 percent. In France, 61 percent of respondents said they considered the shot to be unsafe, an 18-point jump from the previous 43 percent.
The only country that didn't report a decline in trust among the overall public was Britain, where two-thirds of those surveyed said they considered the vaccine safe and 9 percent said they did not.
This past Friday, British Prime Minister Boris Johnson received his first dose of the AstraZeneca vaccine in an effort to combat vaccine hesitancy and promote its safety.
Public confidence in the AstraZeneca vaccine has plunged since reports of rare blood clots have been linked to the vaccine, causing at least 13 countries to briefly halt its use. Some countries resumed its use after the European Union's drug regulator ruled it was safe and effective.
Despite skepticism about the British-Swedish pharmaceutical company's vaccine, a U.S. trial found it did not lead to an increased risk of blood clots. AstraZeneca said it would begin seeking emergency use authorization from the U.S. Food and Drug Administration (FDA).
Newsweek reached out to AstraZeneca for comment but did not hear back before publication.
In a statement, AstraZeneca said the vaccine was 79 percent effective at preventing symptomatic COVID-19 and was 100 percent effective in stopping severe disease and hospitalization, although the full data has not yet been published.
So far, the FDA has given emergency use authorization to three COVID-10 vaccines, which were developed by Pfizer/BioNTech, Moderna and Johnson & Johnson.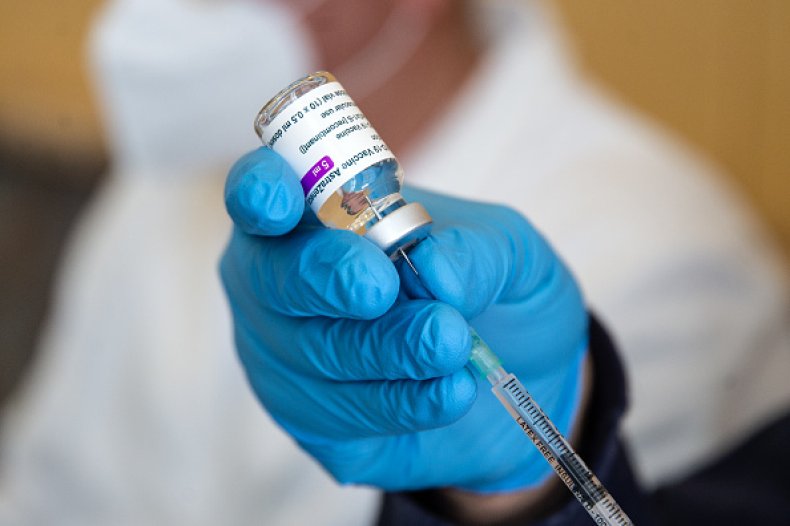 While fears about the AstraZeneca vaccine continue in Europe and the company awaits approval from U.S. regulators, Canada has expanded its use of the shot.
While older Canadians were previously cautioned against getting the AstraZeneca shot, the country reversed its own guidance last week, saying it was now recommending the vaccine for people aged 65 or older.
Last Thursday, the White House announced the U.S. would send millions of doses of the AstraZeneca vaccine to Canada as well as Mexico, where the vaccine has also been approved.
The Biden administration had faced pressure to begin delivering readily available AstraZeneca vaccines to other countries in desperate need of supply, after it was reported that tens of millions of doses of the vaccine had been sitting in American manufacturing sites.
White House press secretary Jen Psaki said that while plans had not been finalized, the U.S. aims to share 2.5 million doses with Mexico and another 1.5 million with Canada.
Newsweek, in partnership with NewsGuard, is dedicated to providing accurate and verifiable vaccine and health information. With NewsGuard's HealthGuard browser extension, users can verify if a website is a trustworthy source of health information. Visit the Newsweek VaxFacts website to learn more and to download the HealthGuard browser extension.