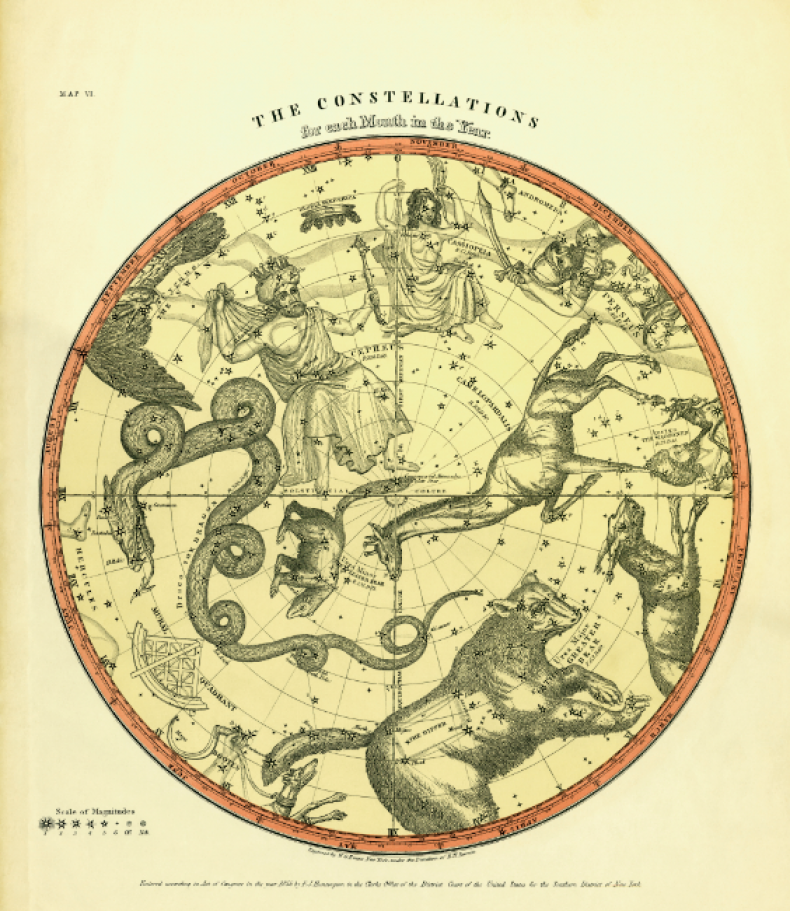 Mercury retrograde, eclipses, that aggressive shift from sensitive cancer season to self-obsessed Leo—there are just so many things that can happen within a moon-cycle for the horoscope devotees among us.
Luckily, as general interest in astrology continues to grow, there are even more outlets for those who want to explore the subject. While horoscopes have long filled the pages of magazines, websites and social media feeds, astrologers are also using podcasts as a means to connect with followers and provide insight on all things zodiac.
Whether it's offering a full run-down on everything your specific sign can expect during the summer solstice, how the comet Chiron is impacting your chart or just interesting lifestyle banter amongst the best in the business, there are dozens of astrology podcasts to keep you aligned, available on streaming platforms like Apple Podcasts, Spotify and Soundcloud.
Below is a list of a few ones worth listening to.
The weekly podcast, hosted by Denver astrologer Chris Brennan, covers a variety of astrology-based topics including history, philosophy, best techniques for practicing on your own and the ways astrology can be used for health and wellness. Launched in 2012, the Hellenistic Astrology: The Study of Fate and Fortune author offers and world-view exploration of the practices and traditions of other astrologers across the globe through interviews with other notable figures in the field.
Identical twin sisters Tali and Ophira Edut—otherwise known as the AstroTwins—have long provided fans with astrology readings, guides and dead-on predictions in their many books like Love Zodiac, Momstrology as well as their yearly horoscope guide. You've likely seen their bylines at publications like Refinery 29 and Elle, where they serve as the magazine's official astrologers. They discuss a variety of astrology centric topics on their weekly podcast ranging from best business practices to using social media to build a brand. Episodes typically feature a special guest.
Fans love Amber Khan for her unfiltered and unapologetic—and hilarious—ramblings. It's an unmissable feature of her monthly astrology and tarot readings on the popular YouTube channel, The Quietest Revolution. It's also an aspect of her radiant personality that followers have come to enjoy on her podcast, on which she—under the alias DJ Narc—often talks about any and everything that's on her mind and sometimes with the help of a guest. No matter the topic—magic, feminism, gender dynamics, relationships, race, ancestry, Keanu Reeves, literally anything—Khan somehow has the uncanny ability to always provide enlightenment.
Cosmopolitan magazine's resident astrologer Aliza Kelly knows a thing about keeping stars aligned. She literally interviews celebrities and discusses astrology with them on her video series Star Chart, and on her podcast, she explores the magical world of pop culture. The show also serves as a teaching tool as Kelly interviews experts on astrologically relevant topics each episode.
If you want to learn more about the way numbers, signs and symbols are ruled by the universe, Tania Gabrielle's Star Codes is the pod for you. The astrologist explores the ways astrology and numerology can be used to inspire people, in addition to providing thorough breakdowns of astrological phenomena—like for instance how Mercury retrograde in the middle of eclipse season can lead to some potentially dynamic life moments.
As the President of the National Council for Geocosmic Research Long Island, New York chapter, Maria DeSimone has provided horoscopes and guides shared across sites like Yahoo and HuffPo. On her podcast, DeSimone dives deep into current astrology happenings while also discussing a variety of topics from using astrology for relationships and future success to explanations on how to read a birth chart.