Astronaut Sunita L. Williams Honored By First School in Massachusetts Town Named After a Woman of Color
The town of Needham, Massachusetts is a suburb of Boston and home to approximately 30,000 people, the Franklin W. Olin School of Engineering and now its first school named after a woman of color.
On June 7, 2017, the Needham School Committee voted unanimously to name the town's new school the Sunita L. Williams Elementary School, named for the accomplished American astronaut and United States Navy officer.
"My dad came, immigrated from India with nothing," Williams told Boston25News. "My parents didn't have much and we had a wonderful life, it's pretty cool."
Captain Williams' flight suit, Navy uniform, service pictures and fifth-grade school picture are all on display at the school named after her.
Williams was born in Euclid, Ohio, and is of Indo-Slovenian descent. She received a Bachelor of Science from the United States Naval Academy and a Master of Science degree in Engineering Management from Florida Institute of Technology.
After graduating from the U.S. Naval Test Pilot School, Williams went on to have a brilliant career as a test pilot for over a decade, logging more than 3,000 flight hours in more than 30 aircraft types.
After being selected by the National Aeronautics and Space Administration (NASA) in 1998, she began her Astronaut Candidate training at the Johnson Space Center.
Williams is the type of achiever who makes sense as a role model to both children and adults—but especially for young girls.
National data shows only about 20 percent of girls choose a career in science or engineering. Out of all female doctorate STEM graduates, less than 4 percent are black or Latina.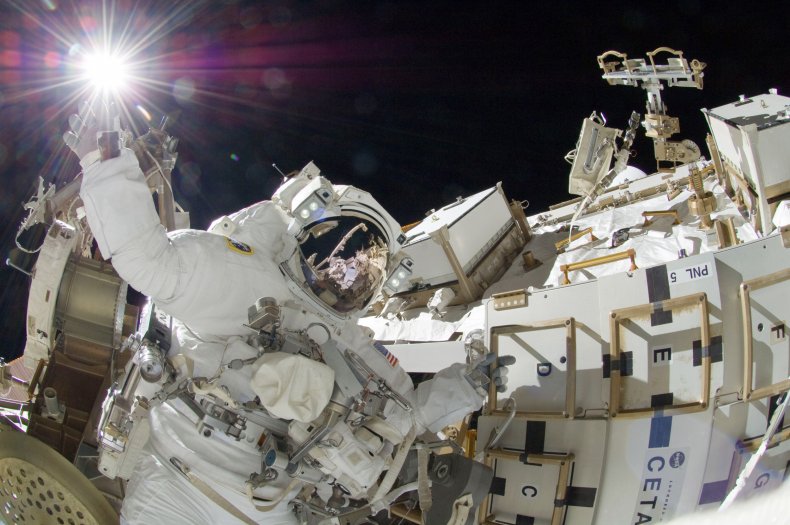 "We need to make sure that we encourage women and people of color to get into [this field]," said Senator Becca Rausch (D-Needham). "This is really a field that needs to be deeply expanded and that starts right here in elementary schools."
Williams was also the first person to run a marathon in space on April 16, 2007. She was listed as an entrant for the Boston Marathon, and completed the race in four hours and 24 minutes while crew members cheered her on.
Williams' sister, Dina Pandya, and astronaut Karen L. Nyberg ran the marathon on Earth in solidarity while Williams received updates on their progress from Mission Control.
"Girls, boys, they can do whatever they want to do," said Williams. "It doesn't matter who you are, where you come from, what's your ethnicity—if you put your mind to something, you can do it."
The unofficial motto of the new elementary school is "Follow your dreams, even if they take you to the moon."