Astroworld: Houston Authorities Accused of Deflecting Blame Over Disaster
A crowd safety expert has accused Houston authorities of deflecting the blame for the AstroWorld tragedy onto Travis Scott.
The rapper is facing severe criticism over his response to a volatile crowd at his festival in Texas on Friday, where eight people died in a crowd surge.
Houston Mayor Sylvester Turner has said that suddenly halting the concert could have created a worse situation.
The Houston Fire Department declared the "mass casualty event" started at 9:38 p.m. Festivalgoers have reported that Scott continued with his full set until it ended at 10:15 p.m.
Turner said that stopping the show suddenly at the 50,000-strong festival could have sparked a riot.
"You want to be very careful when you stop things when you've got 50,000 people that are there," Turner told ABC13 on Tuesday.
"Those in a certain area, they may know what's happening, but you got thousands and thousands that are crammed in, and they don't know what's happening."
He continued: "So if you just stop something abruptly, then you don't want to make the situation worse. So it's a sensitive situation."
Paul Wertheimer, who founded the Crowd Management Strategies consulting firm and is an advocate for safer concert environments, has called this a "deflection" and an effort by authorities to "demonize" the crowd.
"This effort to demonize the fans in the crowd by police and fire, to say 'if we were to stop the concert earlier, there would have been a riot.' It's just a canard," Wertheimer told Newsweek.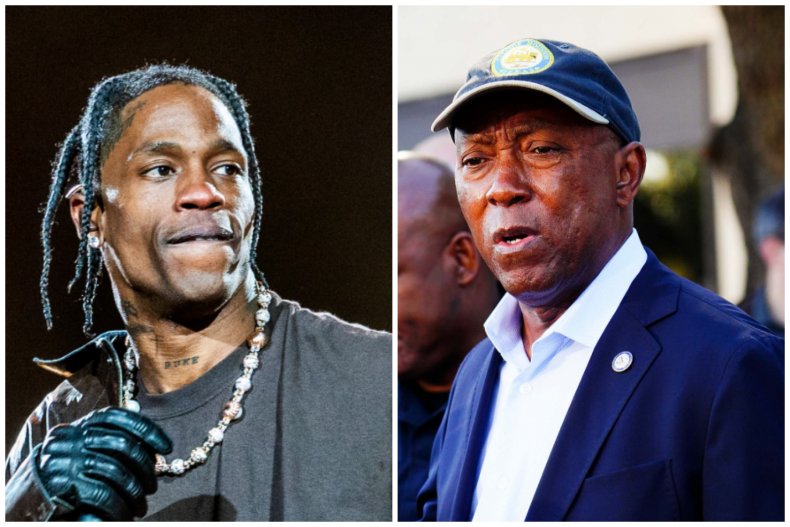 "It's just another deflection and it's very sad to hear public officials do that because it's their job to protect those people in the crowd."
Newsweek has reached out to Turner's office for comment.
Wertheimer also said it is unhelpful to accuse fans of panicking and making the situation worse in crush situations.
"Another way to denigrate the victims—panic—if they could have done the right thing, but they didn't, [because they were panicking] and therefore as a result what happened to them as their own fault," he said.
"These fans were trying to save their lives caught in this cauldron of crush and trying to save their lives and the lives of people around them."
The Houston fire chief also said that Scott should have stopped the show as soon as he noticed casualties in the crowd.
"The artist has command of that crowd," Samuel Pena told The Today Show this week.
"If he notices something going on, he can certainly pause that performance, turn on the lights and say, 'Hey, we're not going to continue until this thing is resolved.'"
As for whether Scott is to blame for the tragedy, experts say it was a "whole bunch of failures."
Wertheimer added to Newsweek: "I would say, Mr. Scott has a role in this tragedy, but he's not the only one.
"And my sense is that listening to comments from the police and from others, that they're trying to make him the scapegoat. Trying to make him the bad guy to deflect the focus on the people who planned, managed, profited and approved that festival," he said.
"So that means, up to the city officials who approved this event."
The Houston Police Department and FBI are conducting a criminal investigation into the incident.