Asylum Seekers at the Border are Being Marked with Numbers as They Wait to Enter the U.S.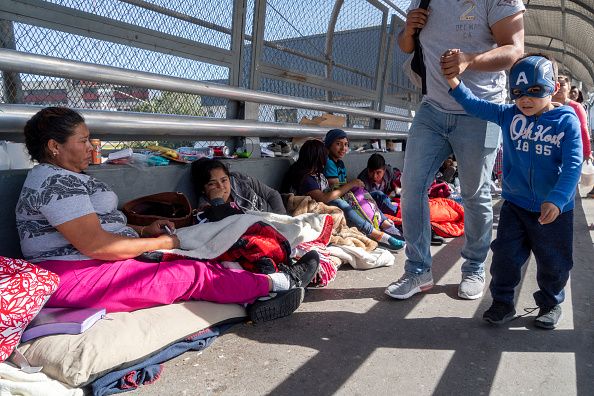 Migrants at the U.S.-Mexico border are being marked with identifying numbers, written in black permanent ink on their arms, while they wait to cross the border and seek asylum.
The numbers are being written on both adult and children asylum seekers as they face weeks-long waiting times before they can make their case to U.S. Customs and Border Protection, according to a report published by Yahoo News on Saturday.
It is currently unknown when and how the practice of tracking migrants with branded numbers started, according to Yahoo. But the news outlet reports that is has become the standard process for all those who want to apply for asylum at one of the U.S. ports of entry in El Paso, Texas.
Every day, Customs and Border Protection officials inform Mexican officials how many people can cross the border and apply for asylum. It is then up to immigration authorities to control the flow of migrants and decide who is allowed to seek asylum and when.
Immigration advocates, including the American Civil Liberties Union, have argued that the Trump administration is breaking federal and international law by preventing persecution-fleeing migrants from seeking asylum.
Customs and Border Protection told Yahoo that it is "not denying or discouraging travelers from seeking asylum or any other form of protection, or from claiming fear of return to their home country."
But the Trump administration has long told reporters it is following the law, despite courts overturning some of its immigration policies, and frequent signals of a hostility towards immigrants. Trump himself has sought to paint all immigration as a form of crisis, and to dehumanize those seeking entry to the U.S. as criminals.
The news that some migrants are being branded with numbers comes just after Trump and his border patrol agents have come under fire for using tear gas to repel immigrants trying to enter the U.S. from Tijuana, Mexico.
Trump defended the use of tear gas, and said that border patrol agents were seriously injured when migrants, mostly male, began throwing rocks at them. But Trump's own border chief dismissed those claims when he released a statement saying that the agents had been wearing protective gear and did not suffer any injuries.
The president also doubled down on his criticism of Mexico's handling of situation shortly after the U.S. used tear gas, writing on Twitter: "Would be very SMART if Mexico would stop the Caravans long before they get to our Southern Border, or if originating countries would not let them form (it is a way they get certain people out of their country and dump in U.S. No longer). Dems created this problem. No crossings!"
On Friday, a federal judge upheld a nationwide injunction that blocks Trump's attempts to restrict asylum. The judge ruled that the government had essentially failed to show that the president's policies are "a lawful exercise of Executive Branch authority."