Asylum Seekers Struggle to Keep Kids Safe and Learning in Tijuana Tent City
On Tuesday, March 30, accompanied by an African asylum seeker serving as translator, Newsweek gained access to the El Chaparral migrant camp in Tijuana, Mexico, just across the border from the San Ysidro border crossing near San Diego, which more than 2,000 people call home. About 25% of the camp residents are children.

These are stories of some of those children, and the adults who try to teach and care for them. For their safety and protection, we did not photograph them unless they gave us specific permission to do so, and we have given them pseudonyms.
The El Chaparral migrant encampment is less than half a mile from the barrier dividing Tijuana and Mexico. It hosts more than 2,000 migrants who are trying to enter the United States legally through the asylum process.
Of the 2,000 migrants, about 500 are children, who live in small camping tents without access to heat, permanent shelter, or consistent clean running water. Up until the end of February, these children did not have access to an education. That changed, however, when a Honduran migrant named Evelyn Sanchez decided to help open a school.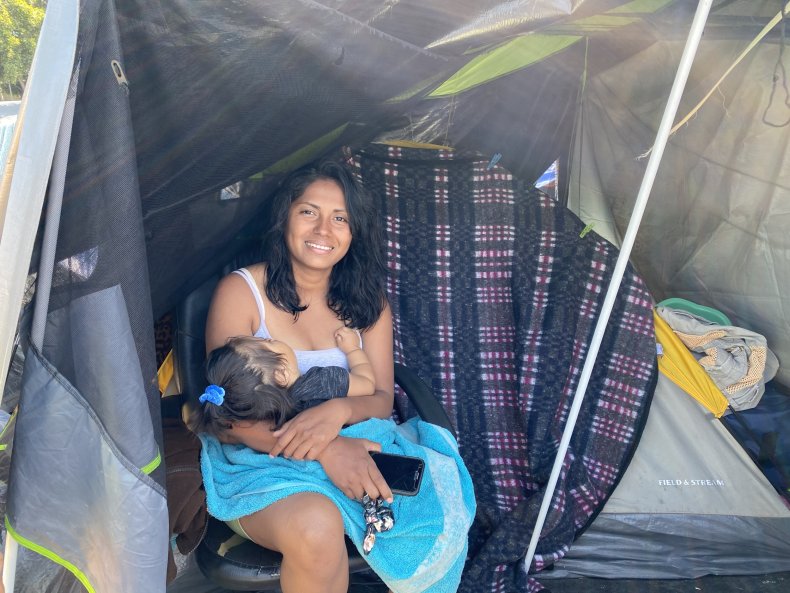 Sanchez fled Honduras two years ago. In her home country, she once worked as a teacher for children from kindergarten to sixth grade. However, when Sanchez lost her job, her lack of income started to put her family in danger, as it became harder to afford the regular extortion payments imposed by gangs who exert influence over much of her home country's population.
Soon, Sanchez began facing threats of violence. She knew of people who had failed to make the same payments, people who had been beaten and murdered. She did not want her children to fall victim to this violence, or even to eventually be forced to become perpetrators of it. So, Sanchez, her husband, and their three children packed their bags and headed for the Tijuana-San Diego border.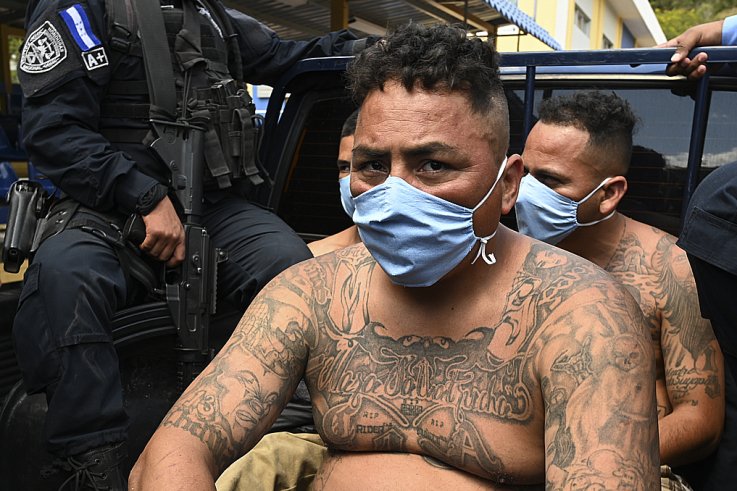 HONDURAS-GANGS-ARREST Members of the criminal gang Mara Salvatrucha (MS-13) are trasnsported by officers of the National Police in Tegucigalpa, on February 19, 2021, after the dismantling of an operations centre of the organisation found in the mountains of the department of Olancho, north of Honduras.
Photo by ORLANDO SIERRA/AFP via Getty Images
Sanchez' story mirrors that of many of the migrants who now call El Chaparral home. Family migrant units make up a steady portion of the wave of asylum seekers hoping to enter the U.S. Of the more than 100,000 people Customs and Border Protection (CBP) encountered at the Southwest border during the month of February, 19,000 were recorded as part of a "family unit," designated by CBP as a legal guardian traveling with a child.
However, with the definition of a family unit limited to children traveling with a legal guardian, the actual number of people trying to enter as families may be even higher.
Child Trends, a nonprofit research center in Bethesda, Maryland, which is focused on children, their well-being and families, found that at least 40% of Central and South American children live with extended family members, meaning the number of people who journeyed to the Southwest border as part of families but do not fit CBP's definition may be well above the 19,000 figure.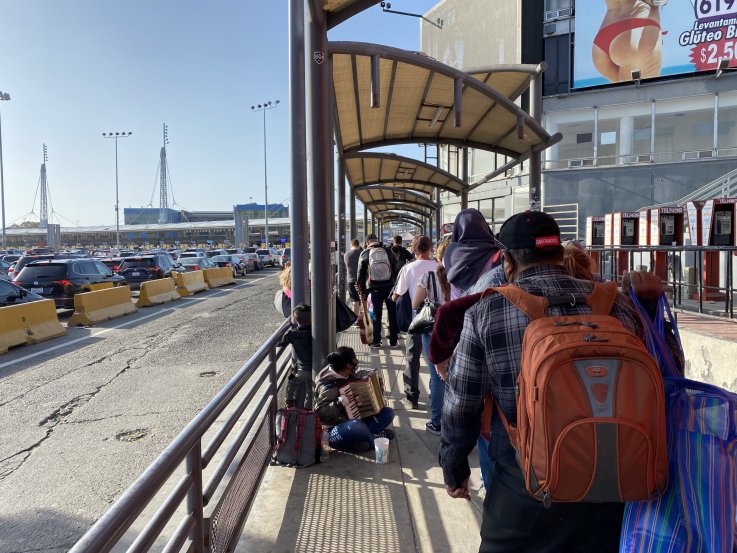 People stand in line on the walkway to the San Ysidro pedestrian entrance to the U.S., near San Diego, on March 30, 2021.
Alex Rouhandeh
The sheer number of children in the migrant camp provides El Chaparral with a lively yet nervous atmosphere. While the sound of laughter and little feet running along the pavement provides some asylum seekers with the comforting sight of humanity's innocence, parents of the children told Newsweek about the stress and anxiety they experienced while attempting to shield their children from harm as they work to survive and secure entry into the United States.
"The fact that you have to always watch your children for their security and to keep them out of danger is really hard," Maria Guadalupe, a mother from Michoacán, Mexico, told Newsweek. "Having the school to keep them busy, doing dynamic things, and teaching them helps a lot."
The school, which operates in an open space, holds classes from 10:00 a.m. to 12:00 p.m. on weekdays. During this time, Sanchez and two other instructors teach the children Spanish, mathematics, natural sciences, social sciences, and art. In this same space, they also have time to play with other children during a makeshift recess period.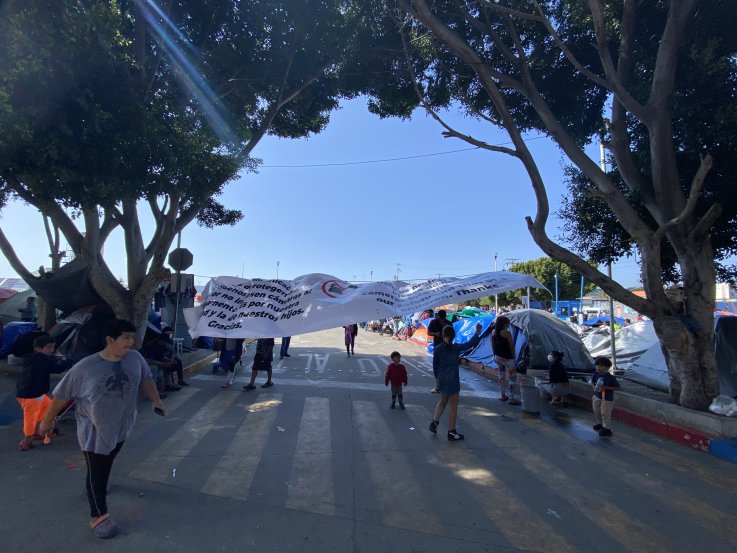 Children in the open-air school area at the El Chaparral migrant camp in Tijuana, Mexico on March 30, 2021.
Alex Rouhandeh
While the students may lack the books, playgrounds, SMART boards, desks, and classrooms familiar to most school-age kids in the United States, the space provides the children of El Chaparral with routine and a safe place, something psychologist Elena Reyes, director of the Center for Child Stress & Health at the Florida State University College of Medicine, which focuses on the treatment and prevention of toxic stress during childhood, says is essential to a child's development.
"Emotionally, school is an extremely important experience for a child," Reyes told Newsweek. "It provides the children with three hours of that consistency that regular school usually gives that helps them navigate what is happening in their life and how they can control it."
Activities like playtime and coloring, Reyes said, allow children to rest their brains and process the experiences they've overcome. Child migrants may endure food deprivation, violence, and feelings of being unwanted that can impact their psychological well-being for years to come, she said.
The experience of leaving home and family uproots a child's sense of stability and impacts the manner in which they cope with separation from family members, Reyes said, and school provides children a space where they can cope with their experiences through forming relationships with their teachers and peers.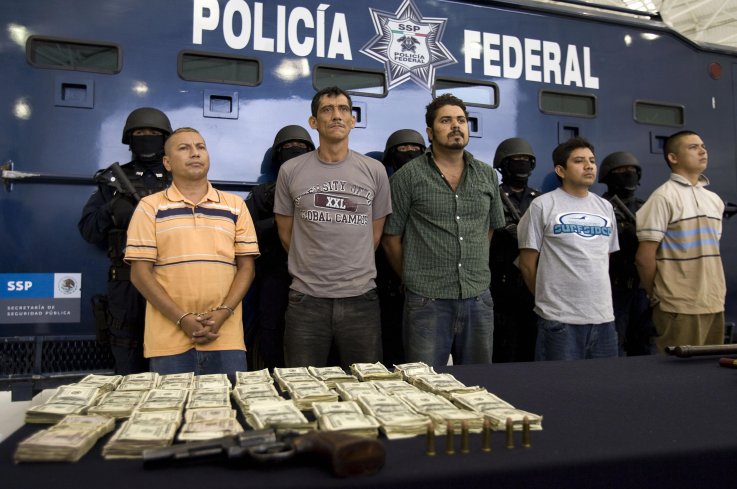 Alleged drug trafficker Marcos Arturo Juárez Cruz, aka "El Chamuco" (2nd R), is presented to the press along with other members of "La Familia Michoacana" drug gang in Mexico City, on September 26, 2009, after their arrest in Lazaro Cardenas, Michoacan state. By September, he Mexican government had deployed more than 5,000 soldiers and policemen in Michoacan to fight drug trafficking.
ANTONIO NAVA/AFP via Getty Images
Christian, 9, son of Guadalupe, has found comfort in Sanchez' school, something he has had very little of in the past year. A year ago, cartel members in his home state of Michoacán, Mexico, murdered his aunt. Six months ago, they murdered his other aunt. Just over two weeks ago, they killed his uncle.
Christian understands that his mother and father brought him to Tijuana to keep him safe. While at the encampment, he and his family have struggled living under the environmental conditions that come with staying in a tent. Nonetheless, he said they are happier living in El Chaparral.
Here, he feels safe.
Christian told Newsweek he likes that the school offers him time each day to play games. He said he's made five new friends there. His best friend has a toy car that he sometimes shares with him. When Newsweek asked if he gets scared at the encampment, Christian said "no," but added that he feels he's "grown up fast."
Supporting children like Christian is the reason why Sanchez decided to help open the school. She hopes that by providing this space, children will be able to stay busy and retain their previous classroom knowledge. That way, by the time they enter America, they will be prepared for success.
The Organisation for Economic Co-operation and Development, an intergovernmental economic organization with 37 member countries based in Paris, found that immigrant children have more academic difficulties in the classroom than their non-immigrant peers. Reyes said that despite this, hope acts as a powerful force in helping immigrant children overcome these challenges.
Hope is what motivates Jaritza.
She is a 15-year-old migrant who left Honduras after the local gang started recruiting and sexually propositioning children her age. She says that living in the encampment has been hard for her. Without internet access, she did not have a consistent means to learn. Jaritza knows how important education is—she hopes to study to become a teacher if she is admitted to the U.S.—and Sanchez' school puts her closer to that goal.
"I feel bad about growing up under these conditions," Jaritza told Newsweek. "But I also feel good that I have the hope I will one day cross and have a normal life."