Asymptomatic Health-Care Workers Can Continue Working in North Dakota's COVID Units as Hospitals Reach 100% Capacity
Health-care workers who have tested positive for the coronavirus but remain asymptomatic will be allowed to continue working in North Dakota's COVID-19 units, as hospitals across the state reach 100% capacity.
In a coronavirus press briefing on Monday, Republican Governor Doug Burgum announced that the state has amended an order so that infected but asymptomatic health-care workers can continue working due to a major shortage of staffing in hospitals.
Burgum said the extraordinary amendment came from interim State Health Officer Dirk Wilke, and at the request of hospital administrators.
"This applies only to positive COVID-19 health-care workers who do not have symptoms, and they're allowed only to work with patients in COVID-19 units who have the virus," Burgum said during the briefing.
The new measure aligns with staffing shortage guidelines administered by the Centers for Disease Control, and is seen as relatively low risk since only patients with COVID-19 will be able to receive care from doctors and nurses who have the virus.
Burgum added that health-care workers with suspected COVID-19 will be given rapid testing, which can produce results in as little as 15 minutes, in order to free up those who otherwise would have had to wait days for their lab results to come in.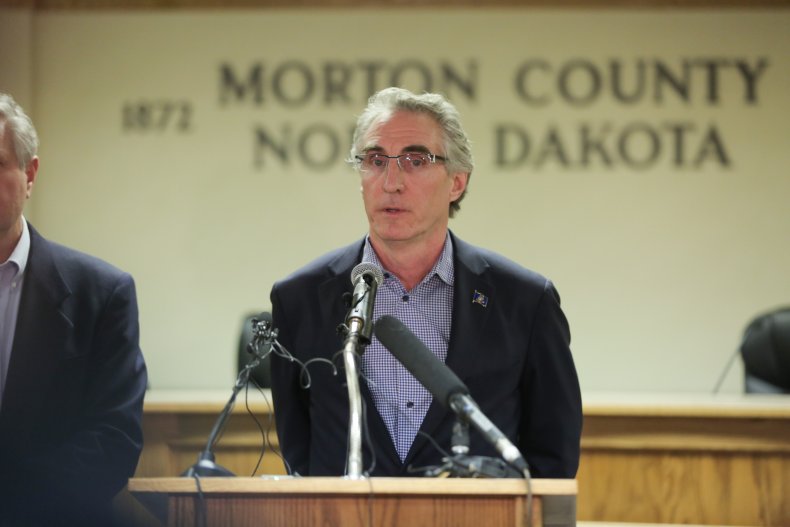 North Dakota has seen an immense surge in COVID-19 cases over the past month, doubling its case count from 5,000 to more than 10,000. According to the CDC, the state has reported the nation's most per-capita COVID cases and deaths over the last week.
"We know that we could be facing a situation in our state in the next two to three weeks where we would be severely constrained on hospital capacity...in some parts of the state we're already seeing that," Burgum said during the press conference.
He added that only about 20% of hospital patients across North Dakota are admitted for complications due to COVID-19, but that patients with the virus put a greater strain on staffing because hospitals must employ nurses with full protective gear who cannot easily move between units.
The governor also said that the state is looking to hire emergency medical technicians and paramedics to conduct COVID-19 testing operations, in order to allow nurses who are currently administering the tests to begin working in hospitals.
As of Monday, North Dakota had 254 hospitalizations and 10,865 positive cases.
A total of 644 North Dakotans have died from the virus since March, and the state has averaged nearly 10 deaths per day in October and November.
Burgum pleaded with North Dakotans to be mindful of the state's surge, and to help preserve hospital capacity by wearing masks, social distancing and hand washing.
"There's one thing that's not debatable, which is that our hospitals are under enormous pressure right now," he said. "You could make a difference in conserving that capacity, whether it's for a family member, someone that's elder, or you," he added.