Atheist Vows to Affix Satanic Symbols Next to Nativity and Menorah If Displays Stay Put in Public Park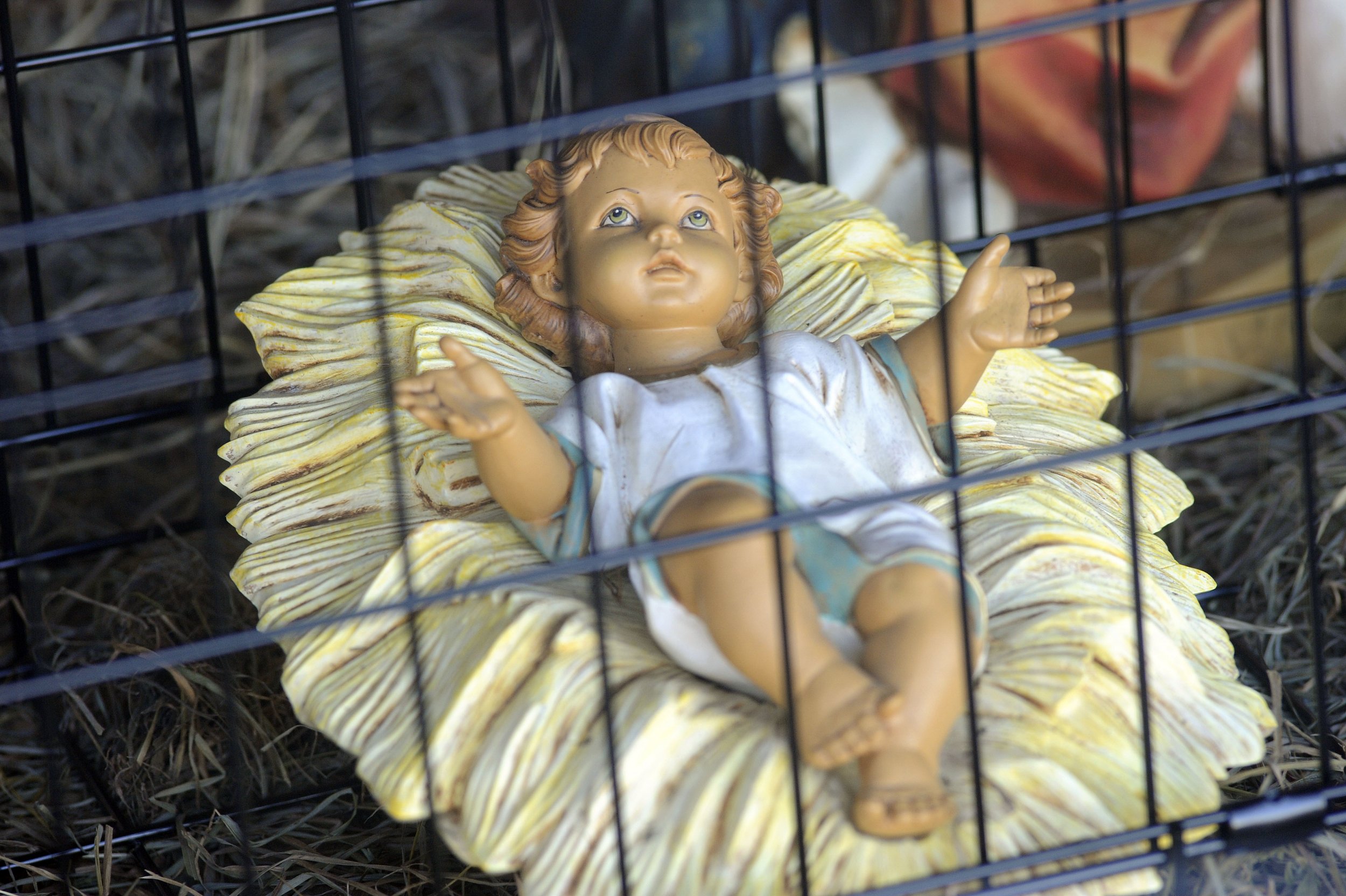 There are around 13,000 people in Claremont, New Hampshire, who may soon bear witness to a most unholy display. And it's all courtesy of one of its God-denying denizens who remains offended by the city's unwillingness to boot a nativity scene and a menorah out of a public park.
Last week, Sam Killay, a local 36-year-old atheist, made an ultimatum to his city: Either move the Christmas and Hanukkah objects out of Broad Street Park to private land, or he will prop up a display of his own...one that hails the devil.
"People here would lose their minds over the sight of an inverted cross on that city park," Killay declared in a statement he read during a city council meeting held last week. "But look at it from my perspective, and any argument that you could make for the presence of religious displays is one that I could make for the inclusion of an upside-down cross.
"That being so, far better that the city just remove itself from the whole discussion by not choosing to display partisan symbols of any kind."
Killay, who works with disabled adults, has called Claremont home for seven years. And in that time, he's become frustrated over the tradition of lighting up the public park and annually playing favorites to just two religious symbols.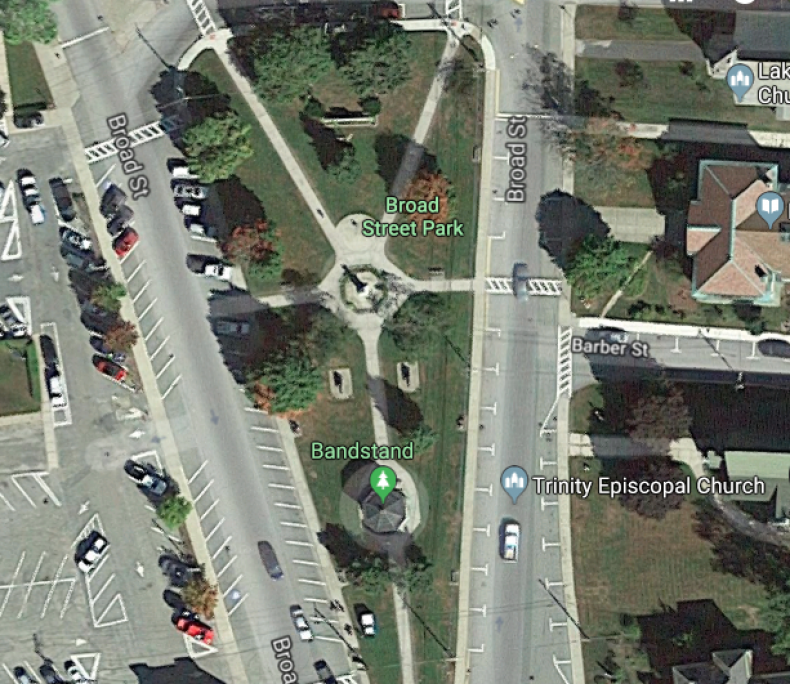 "The display sits on a prominent site at one of the busiest intersections in the city, directly across from City Hall and directly beside our monuments to the casualties of a World War and the Civil War," Killay wrote in a letter to the City Council last year. "That looks very much to me like a spot of honor. It looks like the city is favoring two specific religions over all others (or none)."
And last year Killay, who told Newsweek he grew up in a rigorous Pentecostal household in Rhode Island, was determined to prove that he and other believers or disbelievers existed.
When he took his case to Claremont's city manager, he tried to see if they would simply move the displays directly across the street. "One of them is an active church that's been around for more than 100 years," he said. "The other is a defunct church, and the city used to own it... I'm not trying to be unreasonable."
But since his overtures failed to get any action, and the menorah and holy figures went into storage, he decided to wait until just before Thanksgiving to again appeal to city officials during meetings.
"We're not all Christians or Jews," he said he informed the City Council during last week's meeting in a speech reviewed by Newsweek. "I'm an atheist.
"In my years here, I've met a couple people like myself. I've also met Muslims, Hindus, Buddhists, and even a couple of Wiccans. We are not the majority, but we all live here and pay our taxes just like everybody else. I don't see the city offering any acknowledgments [for] the rest of us. I only see two religions being treated with a privileged status, To my mind, that looks a lot like special treatment. It looks like the City of Claremont displaying an improper religious bias."
To Killay, each religious item arranged by Claremont during the holiday season is a personal affront to him as an American who believes church and state should be separated.
"There are lights for the taller trees, ribbons and candy canes for the shorter ones—generic holiday stuff," he wrote in a letter that was published in The Eagle Times last year. "But then, every single year, there's also a grubby Nativity display, always prominently placed, as well as a smaller menorah sculpture, usually somewhere off to one side. And after years of wondering, I have to ask aloud, what is EITHER of those religious pieces doing on civic (that is, public) property?"
What's more, he considers the nativity scene a gift that should be returned to its rightful owner.
"I don't know the origins of the menorah, but I understand that the Nativity was donated to the city as a gift from the Boy Scouts," he later said to the city council. "But it's still not appropriate. Even though it was offered, it's not a gift that should ever have been accepted, never mind stored, maintained, and displayed with public funding all these years."
Killay suggested they move them away to "receptive religious organizations." Failing that, he could live with them so long as landed somewhere out of sight and mind.
"But I would also be satisfied if the city retained ownership of the displays but found host sites to display them elsewhere," he said.
Killay considered propping up an atheist atomic whirl symbol, but then decided against it because he said he needed something "that is actually going to get attention."
Channeling Satan seems to be Killay's only remedy.
Killay said he would prop up either a pentagram or a Petrine Cross (an inverted cross) to plead his case.
"It's going to piss a lot of people off," Killay said in an interview with The Manchester Union Leader.
In terms of specs on constructing the pentagram or cross, Killay's remained mum.
"I have a couple of ideas, but I'm not going to tip my hand on that one."
While Killay doesn't consider himself a Satanist, he said much of the belief system made sense to him.
"I actually can say I do agree with the philosophy in Satanism as laid out in Satanic Bible," referring to the late-'60s compendium of essays.
And Killay "proudly" had a version of the Petrine Cross tattooed on his back.
"It looks like broadsword, from a medieval sort, and it cuts into the skin," he said. "It carries a great meaning for me."
Newsweek's attempts to reach Claremont's mayor and assistant mayors were unsuccessful.
So far, it appears the displays haven't been taken down or moved.
Assistant Mayor Allen Damren told the paper that he had considered Killay's arguments, which supposedly have been endorsed by other residents as well. But the leader hasn't yet decided how to proceed.
For Damren, the fuss over the holiday displays seems to be overwrought. "Personally, I don't have an issue with [the current displays]," he said.