'Athlete A' on Netflix: What Happened to Dr. Larry Nassar?
Athlete A is the latest Netflix true crime movie, focusing on USA Gymnastics and the abuse that Dr. Larry Nassar was able to inflict on hundreds of women over a 20 year period, as well as exploring exactly how he was able to get away with it for so long.
The Netflix documentary takes its name from Maggie Nichols, who was described as 'Athlete A' in her lawsuit against USA Gymnastics. In the suit Nichols alleged that she was snubbed from the 2016 Olympic team after she came forward and told the organization she had been abused by Nasser since she was 15.
In a statement released when Nichols came forward as Athlete A, she said: "I trusted what he was doing at first, but then he started touching me in places I really didn't think he should. He didn't have gloves on and he didn't tell me what he was doing. There was no one else in the room and I accepted what he was doing because I was told by adults that he was the best doctor and he could help relieve my pain."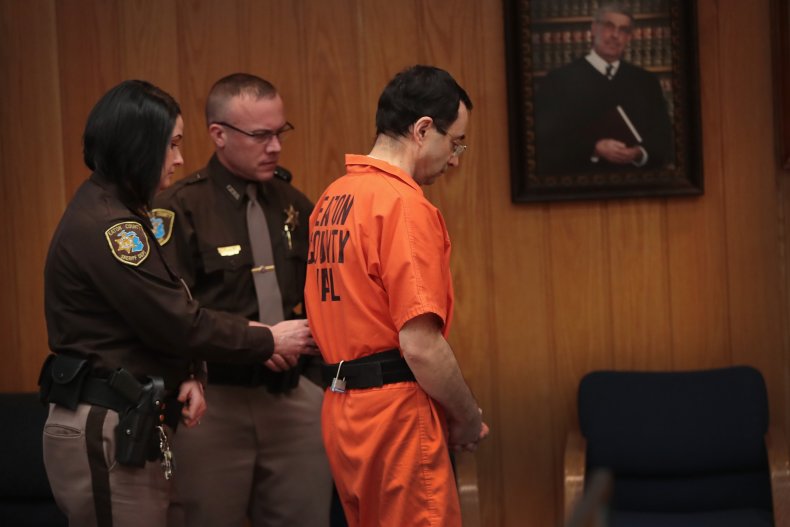 Nicholas coming forward started the ball rolling on Nassar facing justice for his crimes, as did a series of investigations by the Indianapolis Star. When he was eventually arrested in December 2016, FBI agents found over 37,000 images and videos of child pornography, featuring girls as young as six, as well as a camera showing Nassar molesting girls in a pool.
More than 60 women filed complaints against Nassar with the police, who said the doctor inflicted invasive medical exams upon them. At a detention hearing, victim Tiffany Thomas Lopez detailed the abuse she suffered at the hands of Nassar and alleged that the members of USA Gymnastics she reported this to did nothing. She said a supervisor told her: "'He's a world-renowned doctor. He treats elite athletes, athletes, just like yourself.' It was basically—you need to be grateful you are getting this treatment. She made me feel like I was crazy."
Nassar was fired by employer Michigan State University in September 2016, and in January 2018 he was sentenced to 40 to 175 years in jail after pleading guilty to 10 counts of sexual assault. He was also sentenced to 60 years for possession of child pornography. This came after 156 women testified against him over a week of hearings.
At his sentencing, Judge Rosemarie Aquilina told him: "As much as it was my honor and privilege to hear the sister survivors, it was my honor and privilege to sentence you. Because, sir, you do not deserve to walk outside of a prison ever again."
Nassar was first sent to the U.S. Penitentiary Tucson, Arizona. However, he was then moved in August 2018, where he is serving his time at the Coleman II U.S. Penitentiary near Orlando, Florida.
Athlete A is streaming now on Netflix.