Netflix's latest popular true crime show is Athlete A, a show which details the decades of abuse that Dr. Larry Nassar was able to inflict on elite gymnasts before he was caught and jailed. The documentary series gets its name from "Athlete A," an anonymous woman who was the first to reveal she experienced abuse from the doctor.
Though initially anonymous, 22-year-old Maggie Nichols' name was publicly revealed in early 2018, when dozens of women came forward with their own stories of abuse at the hands of the doctor, who is now serving a 175-year prison sentence.
In January 2018, Nichols released a statement via her attorney saying: "Recently, three of my friends and former National Team members who medaled at the 2012 Olympics have bravely stepped forward to proclaim they were sexually assaulted by USA Gymnastics Team Physician Dr. Larry Nassar. Today I join them.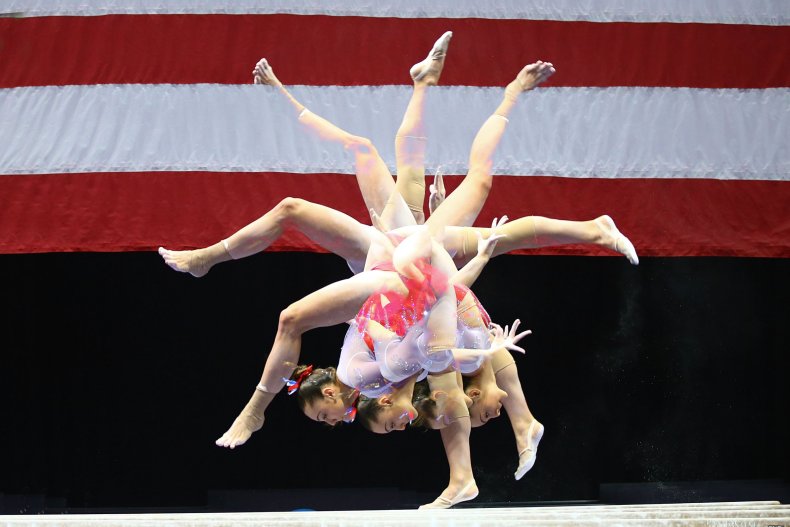 "I am making the decision to tell my traumatic story and hope to join forces with my friends and teammates to bring about true change."
In that statement, Nichols also detailed some of the abuse that was inflicted on her. She said: "I trusted what he was doing at first, but then he started touching me in places I really didn't think he should. He didn't have gloves on and he didn't tell me what he was doing. There was no one else in the room and I accepted what he was doing because I was told by adults that he was the best doctor and he could help relieve my pain."
In 2016, Nichols was kept off the Olympic team, despite many thinking she was a shoo-in for a place. Though officially it was said that she did not get a place due to her recovering from a knee injury, Athlete A makes the case that she was kept off the team after she complained about the abuse she suffered.
In the Netflix doc, her mother Gina Nichols said: "USA Gymnastics took Maggie's Olympic dream away from her. It was just so hurtful and so painful, everything that happened."
Though Nichols never got to compete in the Olympics, she thrived in college gymnastics. Competing for the University of Oklahoma in 2017, she earned seven perfect 10s and helped her team win the title. This also made her only the 9th college gymnast to earn a "GymSlam," a perfect score in vault, uneven bars, balance beam, and floor. She won the national title in her sophomore and junior years and was tipped to repeat her success in her senior year before the coronavirus brought the NCAA to a close.
She has been so successful in her field, in fact, that her friend and Olympic gold medalist Simone Biles once called Nichols, "the Michael Jordan of college gymnastics."
Athlete A is streaming now on Netflix.