Athletes, Sportscasters and More Support Luke Prokop's Coming Out Announcement
After taking to social media to share with fans that he identifies as a gay man on Monday, Nashville Predators prospect Luke Prokop has been met with widespread support from fellow athletes, sportscasters and even politicians.
Prokop came out as gay on Twitter and Instagram on Monday, making him the first openly gay player under contract for a National Hockey League (NHL) team.
"While the past year and a half has been crazy, it has also given me the chance to find my true self," Prokop wrote. "I am no longer scared to hide who I am. Today I am proud to publicly tell everyone that I am gay."
The 19-year-old from Edmonton, Alberta, played for the Calgary Hitman junior league team for four years. The Nashville Predators drafted him in the third round in the 2020 NHL draft.
"This is just the beginning of my journey and I am excited to see where it takes me, both in hockey and in life. Thank you!" Prokop wrote.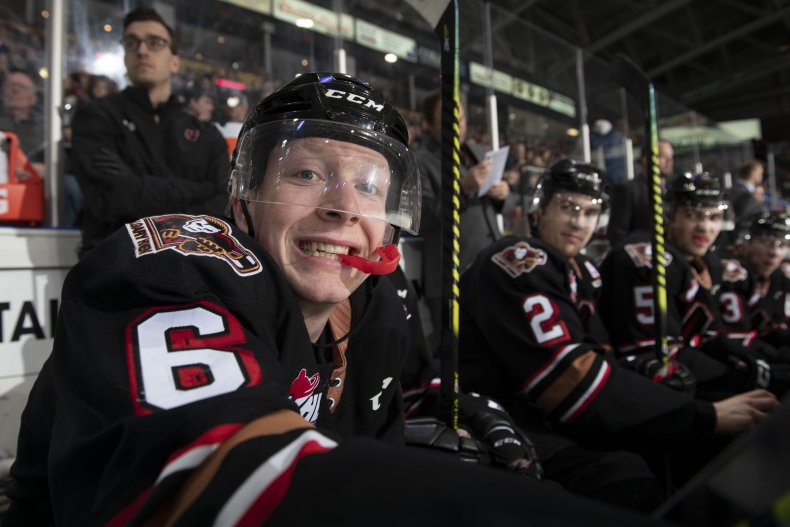 Prokop, 19, has been met with supportive messages on both social media platforms. The comments section under his tweet, which as been liked more than 104,000 times since posting on Monday morning, quickly became filled with congratulations from fans and colleagues.
Fellow NHL players expressed their happiness at Prokop's announcement. "This is going to have such an impact, good for you!!" Morgan Rielly of the Toronto Maple Leafs shared. "Congratulations, Luke. Proud of you and rooting for you!" former Tampa Bay Lightning right winger JT Brown added.
Hockey organizations in America and Prokop's home nation Canada also chimed in with support. "The NHL Alumni Association is proud to stand with you, Luke. Thank you for sharing your truth," the NHL Alumni account shared. "Thank you for sharing your true self, Luke," Hockey Canada added.
Fellow sportscasters and reporters also shared their congratulations. "Luke, because of you and those who will follow you, hopefully this won't be news someday soon. Best of luck for your entire career," Canadian sportscaster James Duthie commented. "You have allies in Nashville and all around the hockey community, Luke. Congratulations!" Editor-in-Chief of Penalty Box Radio Justin Bradford wrote.
Politicians in both Canada and America even chimed in to express their well wishes.
"Congratulations my dude! Coming out as a public figure is one of the most difficult but rewarding parts of being a member of the LGBTQ2S+ community," former member to the Legislative Assembly of Alberta Michael Connolly wrote. "As a TN state legislator representing #Nashville , let me tell you how proud we are that you'll one day hopefully call our city 'home' and wear the gold. Best of luck on your journey to #Smashville and beyond," Tennessee State Representative John Ray Clemmons wrote.
"Brother, good on you. I wish more folks with whom I might have identified earlier, had your guts and determination," former Assistant Secretary to the Department of Homeland Security's Public Affairs Office Todd Breasseale chimed in. "I might not have been closeted as long as I was with my friends & family (though, Don't Ask, Don't Tell certainly boxed me in with being honest, professionally)."
Prokop's Instagram post was met with a similar response. "We are all with ya," Kurtis Gabriel of the San Jose Sharks wrote. "Congrats bro!" fellow Nashville Predators prospect Luke Evangelista commented.
"Proud of you, Luke!" Prokop's former team the Calgary Hitmen commented. On the team's official account, they added, "Representation matters and your courage will help so many others. We hope that future athletes won't need to make these sort of statements & we remain committed to promoting inclusion & acceptance in our sport & supporting the LBGTQ+ community."
Prokop's announcement also elicited a response from NHL commissioner Gary Bettman, who said he was "proud of Luke Prokop for today's announcement" and thanked Prokop "for sharing his truth and being so brave.
"We pledge to do everything possible to ensure that Luke's experience is a welcoming and affirmative one and continue to work to ensure that any current or future NHL Player contemplating following in his trailblazing footsteps knows our League is ready to provide full support," Bettman's statement added.
The Nashville Predators president and CEO Sean Henry also issued a statement praising Prokop's announcement.
"The Nashville Predators organization is proud of Luke for the courage he is displaying in coming out today and we will support him unequivocally in the days, weeks, and years to come as he continues to develop as a prospect," Henry said. "A long-stated goal in our organization is equality for all, including the LGBTQ community, and it is important that Luke feels comfortable and part of an inclusive environment as he moves forward in his career."
Prokop's coming out announcement comes about a month after Las Vegas Raiders defensive end Carl Nassib came out in a viral video, making him the first openly gay active NFL player. Like Prokop, Nassib was met with overwhelming support.