Tom Brady, Michael Jordan Among Pro Athletes Who Skipped Past Team White House Visits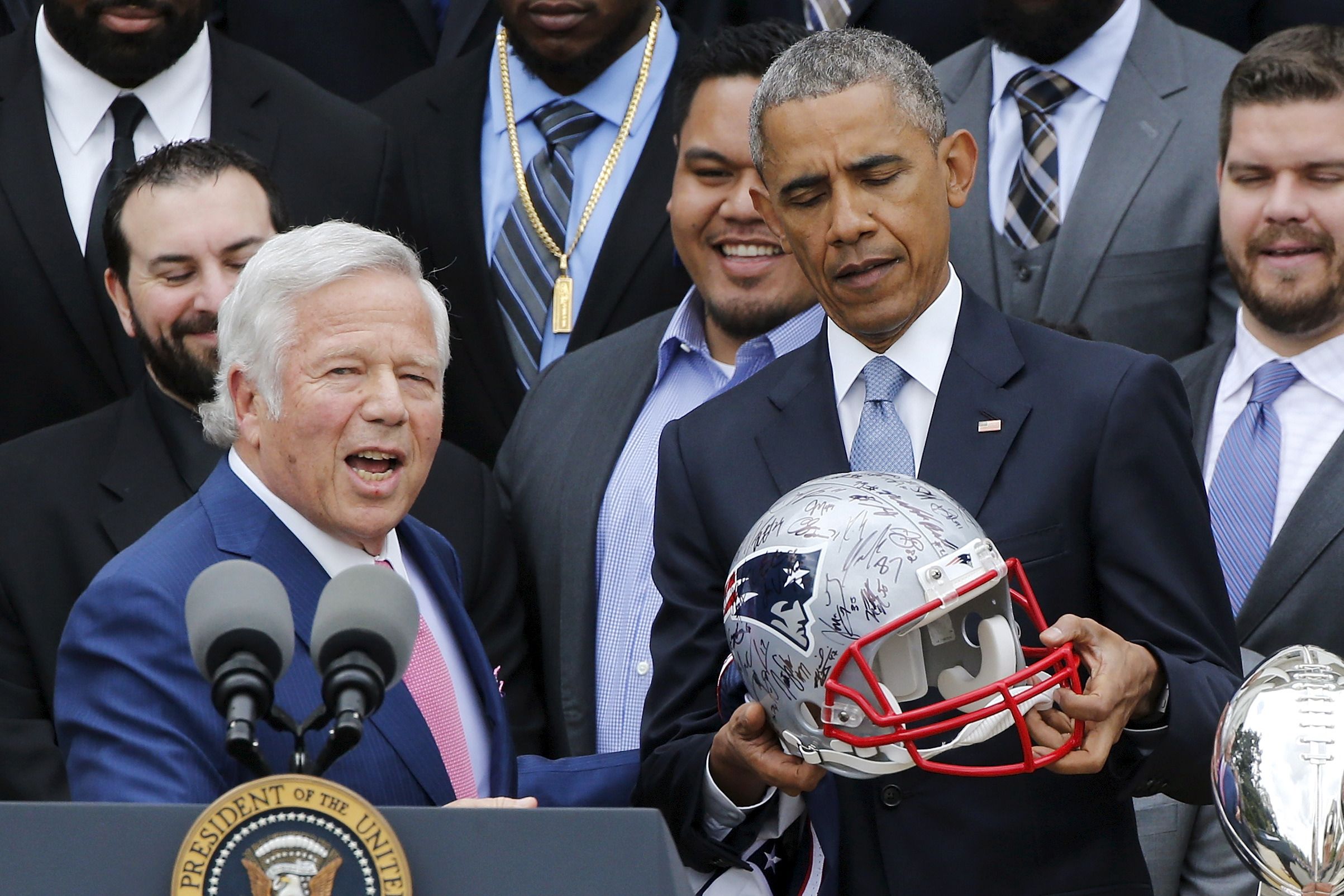 At least six New England Patriots players so far have said they plan to skip their team's visit to the White House later this year to celebrate their Super Bowl LI victory with President Donald Trump. A date hasn't been set, but they're already speaking out against the trip, in the mere week since the team's stunning victory over the Atlanta Falcons on February 5.
Related: Patriots tight end says he won't visit Trump at White House
Whether dining with Trump and Japan's prime minister at Mar-a-Lago, writing a letter in support of Trump's candidacy or keeping a "Make America Great Again" hat in a locker, it's not a secret that Patriots owner Robert Kraft, head coach Bill Belichick and quarterback Tom Brady have associations with the businessman-turned-president. (And that support isn't sitting well with now-former loyal fans.) Ahead of the Super Bowl, the ex-supporters told Newsweek they couldn't stomach the thought of New England's Holy Trinity raising the Vince Lombardi Trophy with Trump. "That's morally questionable," one disgruntled fan had said, hypothetically speaking about the team's eventual win.
The White House tradition dates back to at least President Andrew Johnson, when he hosted the Brooklyn Atlantics and Washington Nationals amateur baseball clubs in August 1865, as ESPN notes. President Ronald Reagan largely is considered the first commander in chief to regularly honor teams. Now, about a dozen professional, U.S. national and college sports organizations visit 1600 Pennsylvania Avenue each year. The events allow players to meet the sitting president (either Democrat or Republican), tour the building and be recognized as world champions, not to mention the photo opp, presentation of a personalized jersey, helmet or other memorabilia to the United States leader...and the list of jokes.
It seems those who are no-shows at these events get more attention than those who attend. But athlete activism isn't only limited to the White House: Take Colin Kaepernick's highly publicized national anthem protests against racial oppression and police brutality, for example, or LeBron James's endorsement of Trump's opponent, Hillary Clinton, in the presidential election.
Regarding the White House, athletes aren't only bothered by Trump and his divisive policies (though athletes are speaking out quickly against their potential visits); the Patriots hardly are the first athletes to boycott a D.C. victory lap. Here's a look at some of the other professional athletes from the NFL, NBA, NHL and MLB who have skipped the trip in the past. Although they all have their own reasons, many cited their political beliefs or dislike for the sitting president in making their decisions.
Larry Bird
The Boston Celtics forward declined a visit to Reagan in June 1984 after the team's NBA Championship win over the Los Angeles Lakers. "If the president wants to see me, he knows where to find me," he said about the two-term Republican leader.
Michael Jordan
The legendary NBA star chose to spend time with his family on vacation in North Carolina, instead of visiting George H. W. Bush's White House with the victorious Chicago Bulls in October 1991. "As you know, my schedules have been very hectic. You guys have seen me, I've been every which way, and because I choose to take my private three days somewhere no one can call me. It's my prerogative," he said, according to the Ludington Daily News. "How can I be disrespecting the president when I choose to spend time with my family?"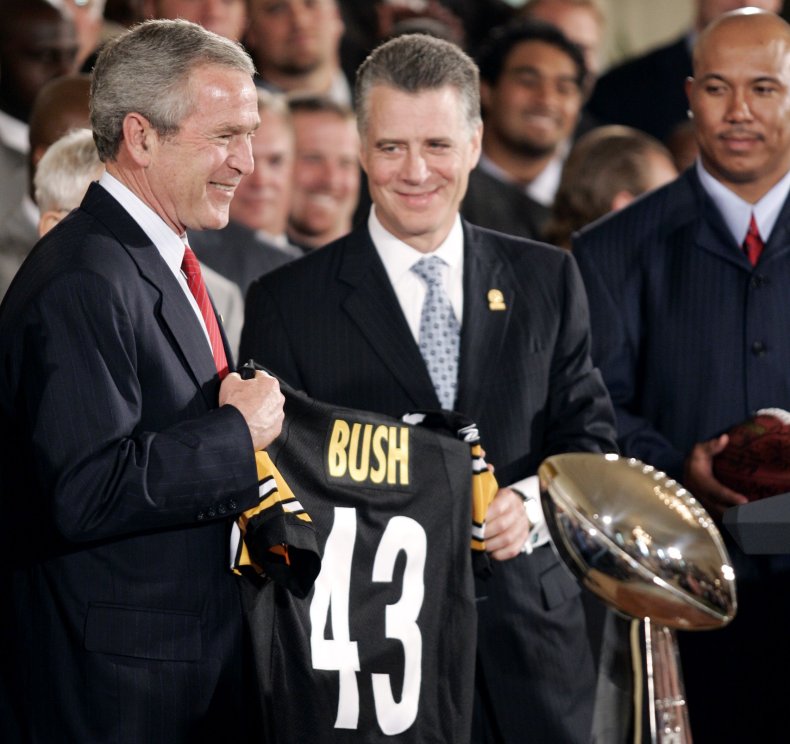 James Harrison
The Pittsburgh Steelers linebacker twice skipped his team's visit, with both a Republican and Democratic president. First, the celebration was under President George W. Bush's administration in June 2006, following Super Bowl XL, and then under President Barack Obama in May 2009, after Super Bowl XLIII. "I don't feel the need to go, actually," Harrison said in 2009, as reported by the Associated Press. "I don't feel like it's that big a deal to me."
Manny Ramirez and Theo Epstein
The Boston Red Sox outfielder and general manager both skipped out on visiting President George W. Bush after the team won the 2007 World Series against the Colorado Rockies. Ramirez seemingly simply opted not to attend (Perhaps just "Manny being Manny!?"), while Epstein cited "family reasons," according to The Boston Globe.
Speaking about Ramirez during the February 2008 event, Bush said: "I guess his grandmother died again. Just kidding. Tell Manny I didn't mean it."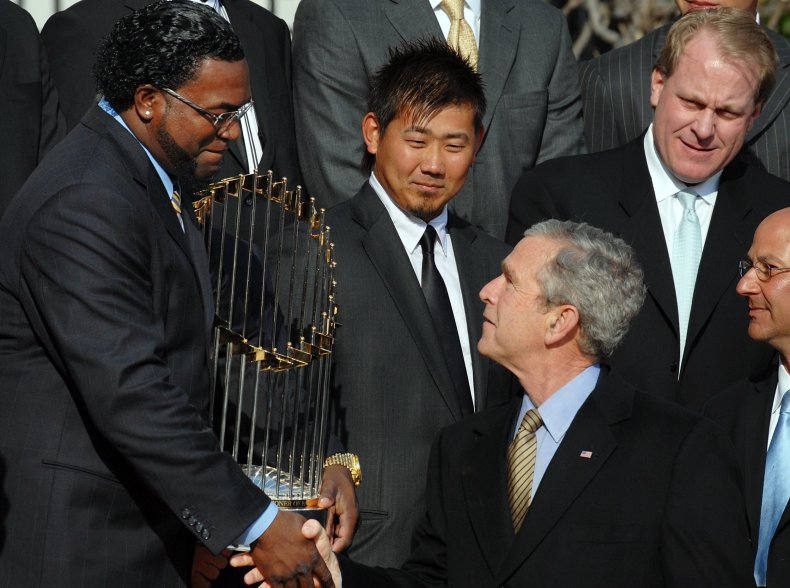 Albert Pujols and Tony La Russa
The St. Louis Cardinals infielder and manager were no-shows at the Obama White House in January 2012, following the 2011 World Series. Neither gave reasons why they skipped, according to the St. Louis Post-Dispatch, but both were on their way out of the organization at the time. (Pujols didn't accompany the team after its win in the 2006 World Series, either.)
Tim Thomas
The Boston Bruins goaltender refused to go to the Obama White House in January 2012, after the team won the 2011 Stanley Cup Finals vs. the Vancouver Canucks. "I believe the federal government has grown out of control," he said in a statement. "Today I exercised my right as a free citizen, and did not visit the White House. This was not about politics or party, as in my opinion both parties are responsible for the situation we are in as a country. This was about a choice I had to make as an INDIVIDUAL."
Related: Patriots' Super Bowl comeback caps off an incredible sports year
Matt Birk
The Baltimore Ravens center decided not to attend the White House ceremony because of his political beliefs. In his absence, he cited his opposition to Obama's abortion stance as his reason for missing the June 2013 visit, after the team defeated the San Francisco 49ers in Super Bowl XLVII.
"I would say that I have great respect for the office of the presidency, but about five or six weeks ago, our president made a comment in a speech and he said, 'God bless Planned Parenthood,'" he said, according to CBS Sports. "Planned Parenthood performs about 330,000 abortions a year. I am Catholic. I am active in the pro-life movement, and I just felt like I couldn't deal with that. I couldn't endorse that in any way."
(Some argued against Birk, saying that Obama simply thanked Planned Parenthood for hosting, as he ended his address during the organization'​s national conference.)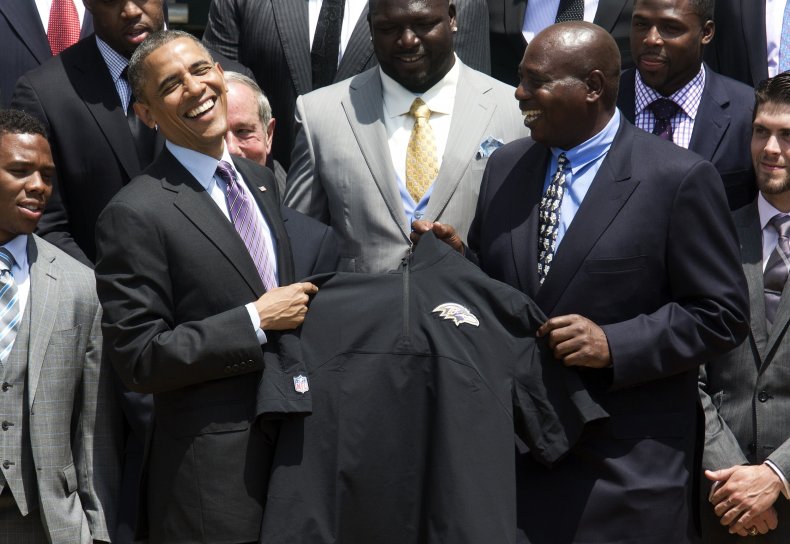 Jim Langer, Bob Kuechenberg and Manny Fernandez
Obama belatedly honored the 1972 Miami Dolphins team in August 2013. Since visits by championship teams were rare at the time, the team hadn't gone to then-President Richard Nixon's White House after their win at Super Bowl VII over the Washington Redskins. More than four decades after their victory, three teammates declined to visit, all citing political reasons.
"We've got some real moral compass issues in Washington," Langer said, according to the Sun Sentinel. "I don't want to be in a room with those people and pretend I'm having a good time. I can't do that. If that [angers] people, so be it."
"I want to be careful, because mom said if you have nothing good to say about someone, then don't say anything. I don't have anything good to say about someone," Kuechenberg said.
"I'll just say my views are diametrically opposed to the president's," said Fernandez. "Enough said. Let's leave it at that. I hope everyone enjoys the trip who goes."
Tom Brady
A spokesman for the Patriots quarterback cited a prior "family commitment" for the team leader's absence at the Obama White House in April 2015, after the franchise beat the Seattle Seahawks in Super Bowl XLIX.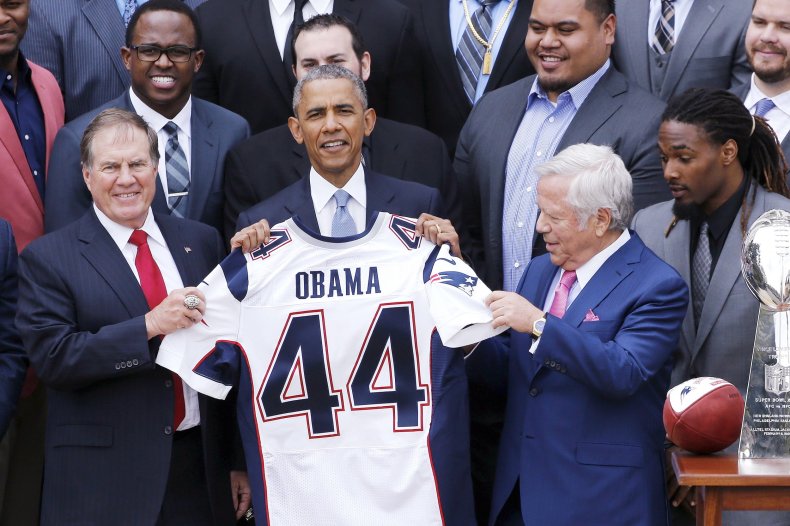 Brock Osweiler
The Denver Broncos backup quarterback did not attend his team's celebration with Obama in June 2016, after Super Bowl 50 against the Carolina Panthers, ESPN reported.
Chicago Cubs
The entire Cubs organization arguably made history twice in three months: initially with their first World Series title in 108 years, and then when they moved up their visit to celebrate the historic victory with Obama on January 16—just four days before Trump's swearing-in ceremony. (Obama calls Chicago home, but he typically roots for the city's White Sox.)
But Cubs pitcher Jake Arrieta didn't join his team in D.C. A day after the November election, he seemed to imply his support for Trump's proposed wall at the U.S.-Mexico border in a tweet.