Athletic Clothing Brand Runs Ads With Trump Tied Up, Promises to Donate Proceeds to Nonprofit
The athletic clothing brand Dhvani is running ads, including at Times Square, of women tying down or silencing President Donald Trump with the hashtag #StandForSomething.
"We have big news to share with you," the brand tweeted from @DhvaniWear, and included an image of a woman wearing a sports bra and exercise pants, standing over Trump with her foot on his face and holding him tied in red, white and blue colored rope. In another image shared in the tweet, the brand has #StandForSomething featured, along with its website and social media handle.
The company purchased ad space in Times Square and it includes "middle school teacher and Marine Corps veteran Michal Mesa" over Trump, AdAge reported on Thursday.
The ad is "inspired by the superhero Wonder Woman and her Lasso of Truth," AdAge reported.
Dhvani explained its rationale for creating such ads attacking Trump in a series of tweets.
"As you know, we're extremely passionate about creating high-quality, fashionable and innovative products in the most sustainable and ethical ways possible," Dhvani tweeted. "But the state of the world weighs heavily on us. There is a palpable tension in the air, an untenable clash of ideals, and we can no longer just sit back and watch."
The brand tweeted that it decided to #StandForSomething and "become the world's first and only Activ(ist)Wear™ company."
Dhvani promised to donate to a "featured nonprofit partner" with every purchase.
"#ProtectX The Trump administration has imposed a Title X gag rule that leaves people of color, people with low incomes, and those living in remote or rural areas with nowhere to go for reproductive healthcare," Dhvani tweeted.
In another ad, featured on its website, five women wearing the same style of apparel stand around Trump, with the middle one putting tape around over his mouth. Its site has several other similar images with women overpowering Trump.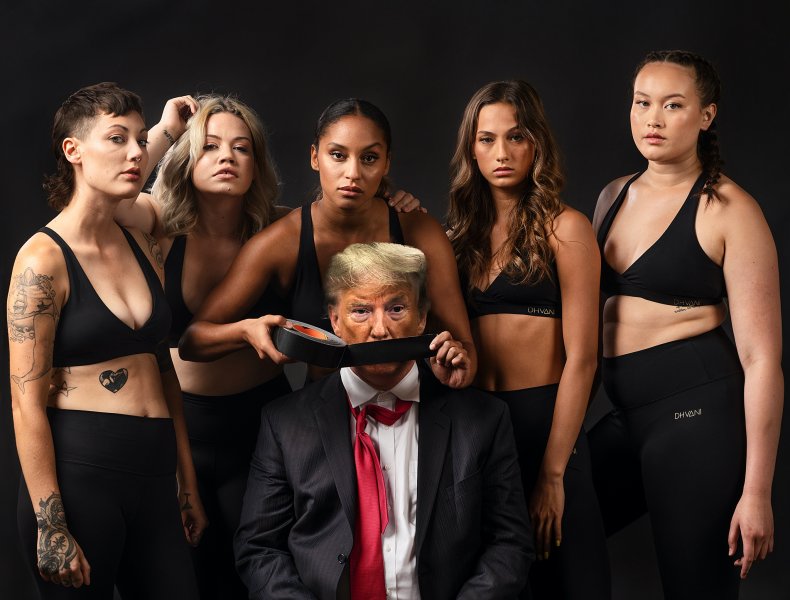 The style appears to be Dhvani's "Naked Bra" and "Naked Leggings," which are priced at $48 and $58, respectively.
Dhvani is headquartered in Portland, Oregon, and on its website, the company claims it "makes an impact by partnering with organizations that make change."
The White House did not immediately respond to a request for comment from Newsweek on Friday.
Other organizations have bought ads bashing Trump at Times Square. The Need to Impeach campaign, launched in October 2017 by billionaire Democratic donor and now 2020 presidential candidate Tom Steyer, purchased a billboard in New York City's flashy square urging people to sign a petition to remove him from office.