Atlanta Baseball to Keep 'Braves' But Reexamine the 'Tomahawk Chop' by Fans
The Atlanta Braves said they will keep the team's nickname, but will take a harder look at part of the fan experience that gets the fans involved and pumps up its own players.
The team sent an email Sunday to season ticketholders that told their faithful followers that the Braves will remain the Braves.
"The Atlanta Braves honors, respects and values the Native American community. As an organization, we have always drawn strength from our diversity and respect for everyone. That will never change," the email shared on Twitter by user Paul Lukas, then republished on ESPN.com.
The email continued to say the Braves have enjoyed an active relationship with the Native American community over "many years."
"We have had an active and supportive relationship with the Native American community for many years. Last fall, we furthered this relationship and pledged to meet and listen to Native American and tribal leaders from many areas, including the Eastern Band of the Cherokees [EBCI] in North Carolina," the email read. "As a result, we formed a cultural working relationship with the EBCI and have also formed a Native American Working Group with a diverse collection of other tribal leaders to collaborate on matters related to culture, education, outreach, and recognition on an on-going basis.
"Through our conversations, changing the name of the Braves is not under consideration or deemed necessary. We have great respect and reverence for our name and the Native American communities that have held meaningful relationships with us do as well. We will always be the Atlanta Braves."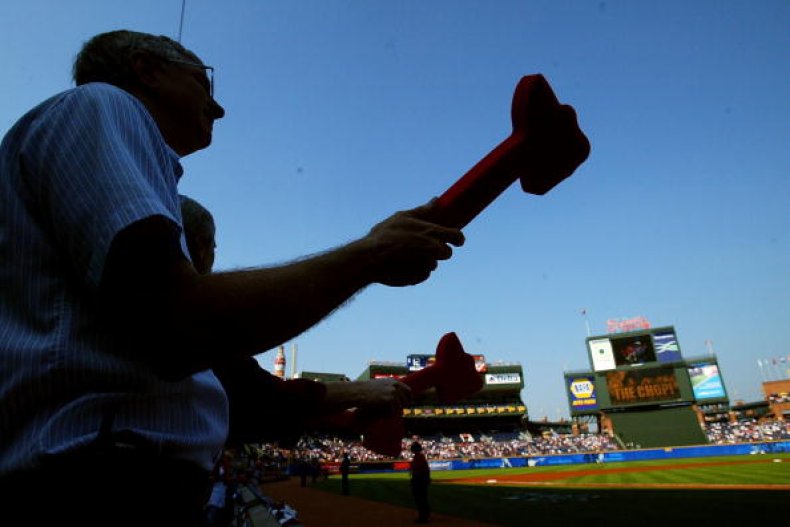 As for the fans who enjoy making the "Tomahawk Chop" gesture in the stands to help reinvigorate the players, the team is taking another look at that. When Deion Sanders helped bring the "chop" from his college—the Florida State University Seminoles—to the Braves, it became wildly popular, especially during the team's run to World Series appearances in the 1990s.
"As it relates to the fan experience, including the chop, it is one of the many issues that we are working through with the advisory group," the email continued. "The chop was popularized by our fans when Deion Sanders joined our team and it continues to inspire our players on the field. With that in mind, we are continuing to listen to the Native American community, as well as our fans, players, and alumni to ensure we are making an informed decision on this part of our fan experience."
Atlanta's announcement comes as other popular sports teams have come under fire for their monikers. The Washington Redskins have major sponsors who have threatened to pull funding if that NFL team's name is not changed, and the Cleveland Indians of Major League Baseball are also considering changing its name.