Atlanta Falcons vs. Kansas City Chiefs TV Channel, Live Stream, Time for 2018 Preseason NFL Game
The preseason continues apace, with the Atlanta Falcons and Kansas City Chiefs set to square off on Friday in Atlanta.
It'll be the second game for each squad. The Falcons were shut out, 17-0, in their first matchup against the New York Jets. It's worth remembering, of course, that it's the preseason and the results truly don't matter. Atlanta coach Dan Quinn said, however, he'd prefer the team's philosophy still show through even in a bad preseason game.
"More than anything, I want our style of play to show up when you guys watch us," Quinn said after the loss, according to The Atlanta Journal-Constitution. Tonight, there were a number of times, that I didn't feel that way. So, we are going to work hard to make sure that our style always shows up and improve upon that for this week. It's another big evaluation opportunity as we get ready to play.
Quinn mentioned that rookies, especially, seemed to struggle. "I'm encouraged by their youth and speed, but I didn't think we played as well as we can," he said, via The Atlanta Journal-Constitution "That's to be expected some time in your first game. More than that, I [didn't] like the sloppiness. I [didn't] like the penalties. We can be better at the ball and going after it. So, those are two of things at the top the list going into the game that I thought we missed our mark."
Get your unlimited Newsweek trial >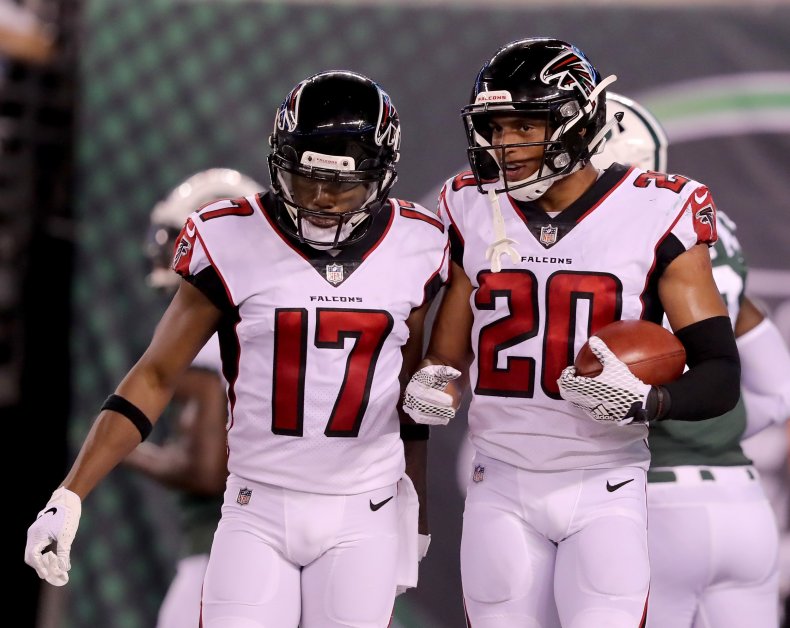 The Chiefs also lost their first preseason matchup, falling to the Houston Texans by a 17-10 scoreline. Kansas City Patrick Mahomes described how preseason can be frustrating.
"It's a little bit of a tease," Mahomes said, according to ESPN. "You get out there and you get going and you kind of start getting into the rhythm of things, and [then] it's the next guy's [turn]. ... As we get going a little bit more, I'll be able to play a little bit more and hopefully score a few touchdowns."
His next chance will be Friday night. Here's what you need to know to watch the preseason game.
Get your unlimited Newsweek trial >
Start time: 7 p.m. ET
TV channel: Not on national TV, on WUPA in Atlanta and KCTV in Kansas City
Live stream: fuboTV (more info on fuboTV, and a free trial, here).
Atlanta Falcons vs. Kansas City Chiefs TV Channel, Live Stream, Time for 2018 Preseason NFL Game | Sports