Residents Stuck in Cars, Schools and Homes as Atlanta Freezes
Atlanta is at a standstill. Two inches of snow and freezing temperatures since Tuesday have snarled the usually warm city in an "unspeakably horrible" traffic jam scenario now entering its second day.
Countless commuters abandoned their cars on iced-over roadways. A baby was born in gridlocked traffic. Sites like #SnowedOutAtlanta aggregated offers and appeals for overnight shelter, food, or just places to pee for stranded drivers. "It looks like a scene from The Walking Dead" became a near-ubiquitous reaction to images of highways full of jackknifed tractor trailers and parked cars posted to social media.
The National Guard will be dispatched to escort 2,400 Atlanta-area children home from schools where they've been since yesterday, Governor Nathan Deal announced Wednesday.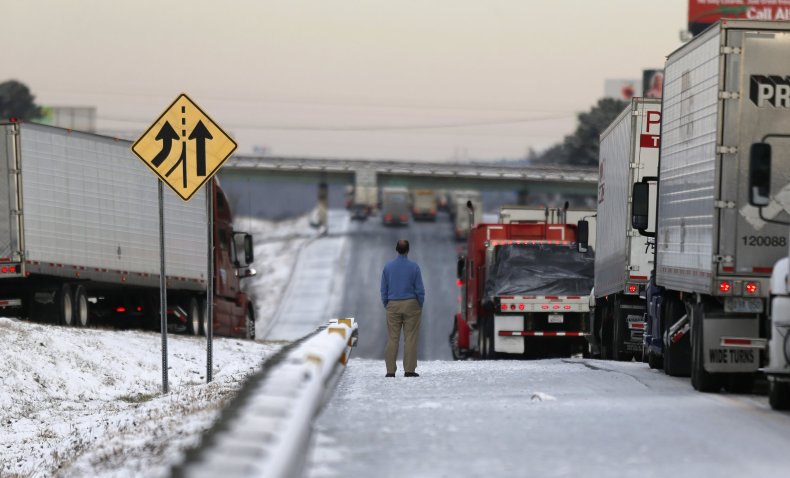 Atlanta Mayor Kasim Reed took the blame for letting out schools, businesses and government employees all at the same time, sending thousands onto icy roads, a decision that seemed to epitomize how unprepared the sprawling deep-south city was for the unusual weather event.
"People were making a lot of independent decisions," he told reporters Wednesday. "What we will do in the future is try to coordinate that, and make a strong recommendation about how that should flow."
He probably also regrets the tweet he sent out Tuesday morning.
Reed noted to CNN that Atlanta was better prepared than it was in 2011, when an ice storm paralyzed the city for four days. Back then, Atlanta owned just four pieces of equipment to deal with ice and snow, Reed said. It now has 30 spreaders, 40 snowplows and 70,000 tons of sand and gravel.
The question now seems to be how a spreader or plow could possibly alleviate conditions on highways that look like this:
A post on Reddit highlighted a good Samaritan.
An imgur.com gallery highlighted the ghostly traffic jams.