Dozens of Atlanta Golf Club Workers Test COVID-19 Positive Amid Georgia Surge
New coronavirus cases were reported at the Ansley Golf Club in Atlanta, the capital of Georgia, the southern state with nearly 131,290 confirmed cases to date.
The sports facility was shuttered after 67 employees tested positive, with 40 more awaiting their results, according to a letter sent to patrons from the club, Atlanta's WSB-TV reported.
The club has been temporarily closed while the property is disinfected. Each club house, including the tennis and pool building, restrooms, pool furniture, pavilion and golf carts, will be cleaned, working with a company specializing in sanitation.
The "overwhelming majority" of the cases were reported to be asymptomatic, the club said, Atlanta News Now reported.
None of the infected employees have been hospitalized, club officials confirmed in the letter.
Nine employees tested positive last Saturday, before a total of 67 infections were confirmed by Wednesday, the letter noted.
No one is permitted to enter the club without a mask, according to a sign reportedly posted on the door of the club.
"Throughout the pandemic, Ansley Golf Club has and will continue to keep its facilities as accessible to membership consistent with current health and safety guidelines," the president of the club, Jack Goger, said in a statement to WSB-TV.
The latest cluster of new cases comes amid a lawsuit filed Thursday by Georgia Gov. Brian Kemp against Atlanta Mayor Keisha Lance Bottom, who earlier this month issued a mask mandate requiring all those in Atlanta to wear a face covering.
On Wednesday, Kemp issued an executive order with updated safety guidelines in response to the outbreak. The order also suspended any state, county and municipal regulations requiring people to wear a face covering or other personal protective equipment in public spaces "to the extent that they are more restrictive executive order," the governor stated.
"This lawsuit is on behalf of the Atlanta business owners and their hardworking employees who are struggling to survive during these difficult times," Kemp wrote in a post Thursday on his official Twitter account.
"These men and women are doing their very best to put food on the table for their families while local elected officials shutter businesses and undermine economic growth.
"Just like sending in the @GeorgiaGuard to protect those living in our capital city from crime and violence, I refuse to sit back and watch as disastrous policies threaten the lives and livelihoods of our citizens. We will fight to stop these reckless actions and put people over pandemic politics," Kemp wrote on Twitter.
On Wednesday, Savannah Mayor Van Johnson said: "It is officially official. Governor Kemp does not give a damn about us. Every man and woman for himself/herself. Ignore the science and survive the best you can. In #Savannah, we will continue to keep the faith and follow the science. Masks will continue to be available!" in a post on his official Twitter account.
The daily case count in Georgia has been mostly increasing after it partially reopened on April 24. Most businesses resumed operations by early May after its stay-at-home order was lifted.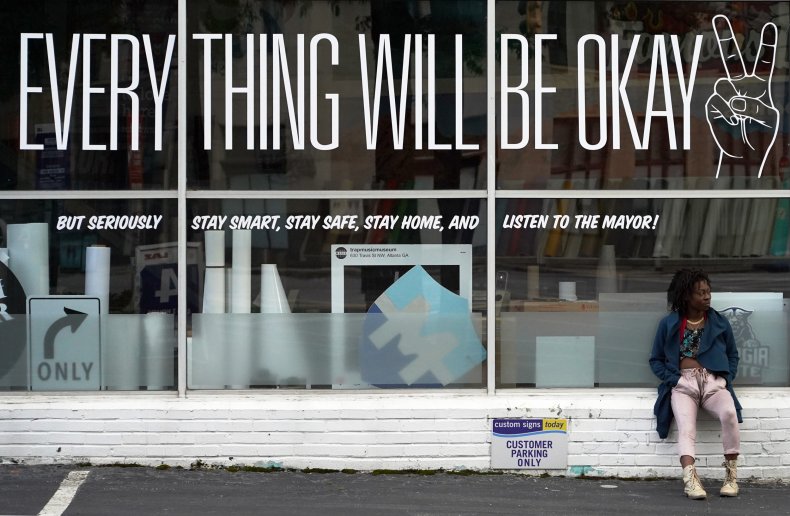 The number of new cases in Georgia began rising on a sharper incline from around June 2, according to data compiled by Johns Hopkins University.
New infections spiked by nearly 30 percent over the past two weeks. The state reported around 24,500 total new infections in the past week from July 10 to 16, a 29.6 percent jump from the nearly 18,900 reported a week earlier from July 3 to 9, according to Johns Hopkins University.
Last Friday, the state reported a record single-day spike of around 4,500 new cases, the highest daily case count reported since the outbreak began.
The novel coronavirus, first reported in Wuhan, China, has spread to over 13.8 million people across the globe, including 3.5 million in the U.S. More than 7.7 million globally have reportedly recovered from infection, while over 590,600 have died, as of Friday, according to the latest figures from Johns Hopkins University.
The graphic below, provided by Statista, illustrates U.S. states where reopenings have been stalled or reversed.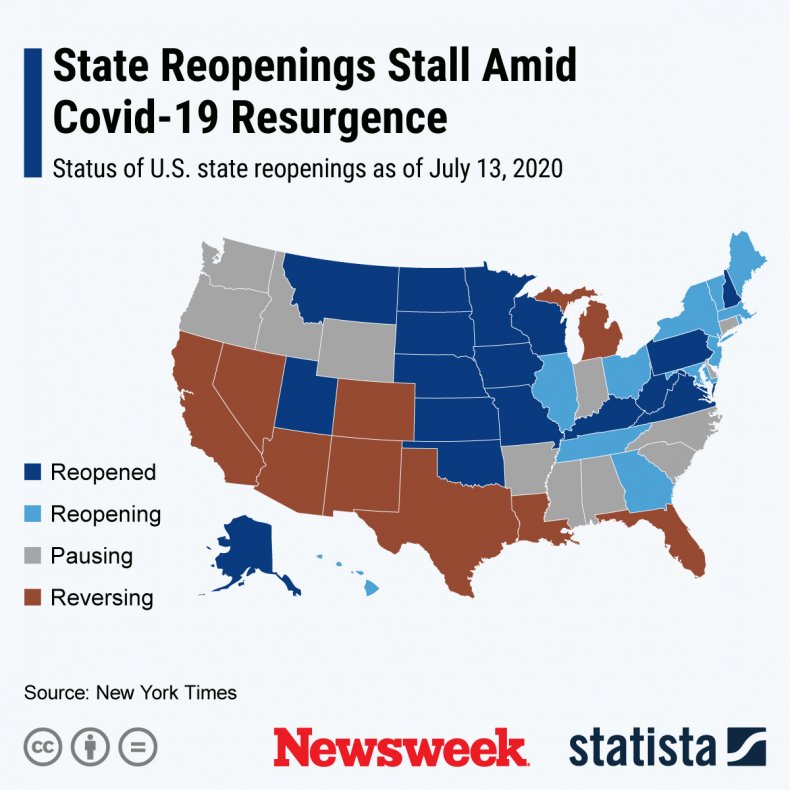 The graphics below, provided by Statista, illustrates the spread of COVID-19 cases in the U.S.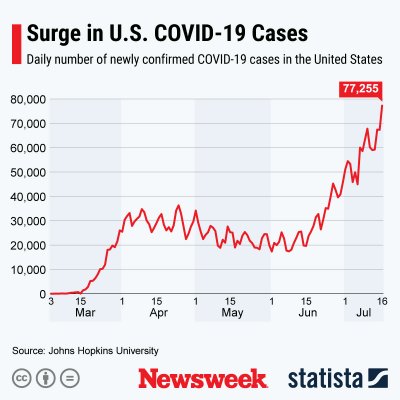 The graphic below, provided by Statista, illustrates the countries with the most COVID-19 cases.