Atlanta Mayor Bottoms Says She's 'Absolutely' Qualified to Be Biden's VP Pick
The mayor of Atlanta said Friday she is "absolutely" qualified to serve as the U.S. vice president if selected, noting that recent crises in her city have helped prepare her to take the position.
Atlanta Mayor Keisha Lance Bottoms is reportedly on the vice president shortlist for presumptive Democratic presidential nominee Joe Biden.
The first-term mayor has received national attention in recent months after speaking out against the coronavirus pandemic and the protests in her city following the deaths of several Black men across the U.S. who died while in police custody.
During an appearance on the PBS program Firing Line that aired Friday, Bottoms said she has endorsed Biden since June 2019, praising several qualities she saw in him including empathy, compassion and leadership.
"This is an older white man who was willing to stand beside and behind a younger African-American man," Bottoms said. "And many people may not have recognized that significance, but for communities of color, it spoke volumes to who he is and what he values."
While Bottoms refused to confirm Friday whether she is in conversation with Biden's vetting team for his vice president pick, she reaffirmed that her experience as Atlanta's mayor "absolutely" qualifies her to serve in the role.
"It's been about leadership, and the same leadership that gives you the ability to navigate challenging issues in a major city in America is the same leadership that you've taken to the White House," Bottoms said.
Newsweek contacted Bottoms' office for comment, but did not hear back in time for publication.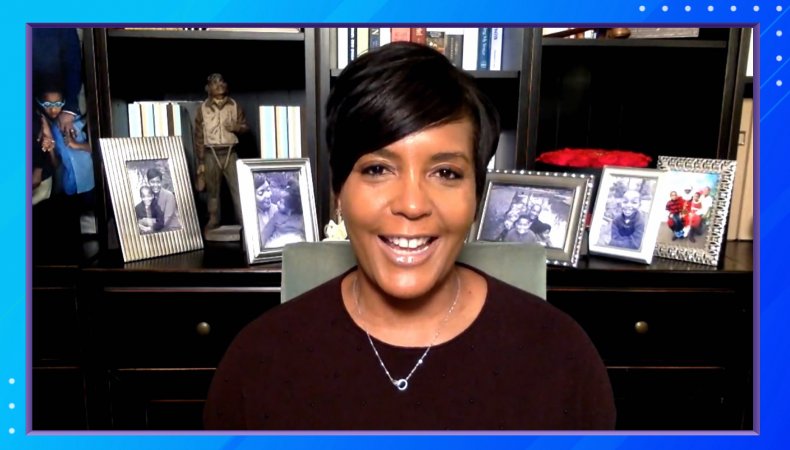 Such "challenging issues" include handling the coronavirus and a recent bout of gun violence in her city following the death of Rayshard Brooks in Atlanta, a Black man who died after an altercation with police at a Wendy's drive thru.
During the July 4th weekend alone, 31 people were shot in Atlanta, including an 8-year-old girl.
Bottoms said during Firing Line that this violence is a "byproduct" of peoples' increased stress levels because of the economic and health fallout from coronavirus.
"There are systemic issues that lead people to act out in the way in which they do," Bottoms said.
The mayor also made headlines for announcing she had tested positive for coronavirus, calling attention to the "failing" testing system in her state.
It took eight days for the mayor and her family to get their coronavirus test results back, Bottoms said. She continued to perform mayoral duties while awaiting the results, only to find out over a week later that she had an asymptomatic child in her house.
"I think that's where we are failing nationally and certainly where the state of Georgia is failing us here," Bottoms said Friday, adding that if the country wanted to make "real progress" with coronavirus testing, the priority would need to be offering tests frequently and providing results quickly.
Bottoms has also repeatedly criticized Georgia Governor Brian Kemp on his handling of the virus, blaming the state's recent surge in cases and hospitalizations to "reckless reopening."
"We opened without any regard to science, without any regard to data and metrics," Bottoms said. "And when Georgia reopened, cellphone data shows that other people flock to our state."
In Atlanta, the state's most populous city, Bottoms tried to take matters into her own hands. On July 8, she announced that face coverings would be required throughout the city while in public.
Two days later, she signed an executive order stating that Atlanta would revert back to phase 1 of its reopening plans, meaning that all residents must stay home except for essential trips — measures reminiscent of those seen in March, when the pandemic first hit the U.S.
But on Wednesday, Kemp signed an executive order of his own that explicitly voided all local mask requirements across the state.
Bottoms rejected the governor's order, stating that her city's mask mandate would remain in effect — a decision which caused Kemp to file a lawsuit against Bottoms and the Atlanta City Council to overturn her mask mandate and other coronavirus-related requirements.
"I don't know what the governor is basing his decision making on other than talking points and recommendations from Donald Trump," Bottoms said during the Firing Line interview.
Newsweek contacted Kemp's office for comment.
As of Friday, state health officials reported a total of 135,183 coronavirus cases, with 3,908 confirmed cases reported that day.