Atlanta Mayor: City's OK After Cops Call Out Sick Since Rayshard Brooks' Death
The mayor of Atlanta is insisting that the city remains sufficiently covered despite reports of nearly 200 Atlanta Police Department officers calling out sick in recent weeks.
"We have not had any coverage issues," said Mayor Keisha Lance Bottoms. "We still have officers who are continuing to show up for work every day."
Bottoms addressed the reported sickouts in a television interview aired Friday. The call-outs have continued to occur following the June 12 death in Atlanta of Rayshard Brooks, a Black man.
Brooks was shot and killed June 12 by ex-Atlanta police officer Garrett Rolfe, after Brooks had fallen asleep in his car while waiting in a Wendy's drive-thru line.
The sickouts were first reported after Fulton County District Attorney Paul Howard announced June 17 that Rolfe and the other officer involved in Brooks's death would be charged.
Rolfe has since been fired from the department and faces 11 charges, including felony murder and aggravated assault.
Brooks' death sparked another wave of Black Lives Matter protests, which were already occurring around the world in the wake of other recent officer-involved killings.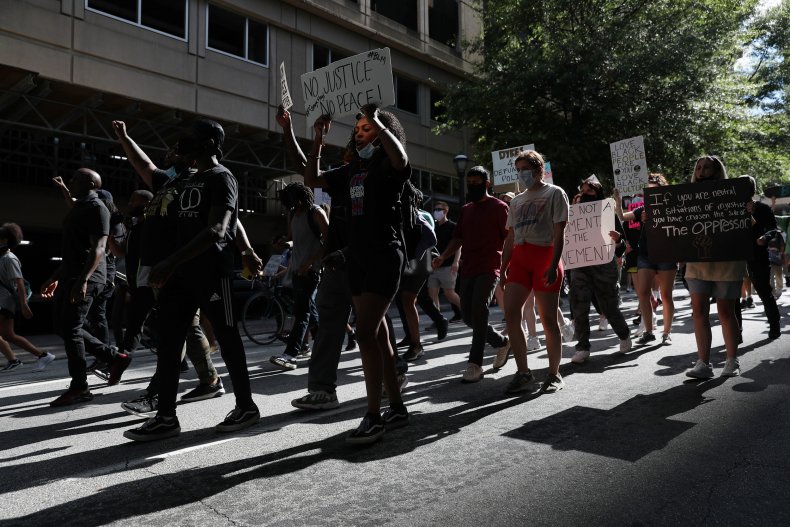 The sickouts, where multiple officers call in "sick" simultaneously, seem to be occurring within the department on a rolling basis, Bottoms told Atlanta's WSB-TV Channel 2.
Following Brooks' death and the charges brought to the two Atlanta police officers, Bottoms acknowledged that reform is needed within the department.
"What has become abundantly clear to me over the past few weeks is that we have to take another look at how we are training our officers, how we expect them to de-escalate situations with an objective standard of de-escalation," she said.
There is already a task force in place that is focused on considering changes in the department, Bottoms said.
Bottoms stressed the importance of the officers continuing to report to work.
"It is important for officers to show up, not just for the community in which they have committed themselves to serve, but also for their fellow officers," she said.
Representatives from Bottoms' office did not immediately respond to Newsweek's request for additional comment on the matter.
According to records obtained by Channel 2, a total of 171 Atlanta police officers called out sick in the days following Howard's announcement that Rolfe would be charged in connection with Brooks's death.
Most of the officers involved with the apparent "blue flu" had worked in Atlanta's downtown area, the department's attendance records show.
Despite Bottoms's insistence that the city was well-covered with police officers, Channel 2 reported that it had heard silent police scanners throughout the sickout period.
Representatives from the Atlanta Police Department could not be immediately reached by Newsweek for additional comment on the reported sickouts.