Atlanta Mayor 'Confident' Biden Will Hold Lead in Georgia Amid Trump Campaign's Request For Hand Recount
The mayor of Atlanta said Tuesday that she was "confident" President-elect Joe Biden would hold his lead in Georgia over President Donald Trump, despite the Trump campaign requesting that the secretary of state conduct a recount by hand of every ballot cast.
"I am confident that this lead will hold," Mayor Keisha Lance Bottoms said. "We know that when there's a recount, sometimes the person who's ahead goes up even more. So you can't assume that a recount will favor Donald Trump."
Bottoms made the comments during an appearance Tuesday on CNN's The Situation Room. Despite calling the presidential race for Biden on Saturday, the Associated Press and other media networks still have not projected a winner in Georgia.
Although 99 percent of the state has reported its vote totals, election workers in some parts of Georgia are tabulating outstanding ballots. Biden currently leads Trump by 12,651 votes, according to the AP. The margin is so narrow that Secretary of State Brad Raffensperger has already indicated a recount will take place, and the AP does not declare a winner of an election that is likely to become subject to a mandatory recount, according to WBUR.
Matt Morgan, general counsel for the Trump campaign, announced Monday that Representative Doug Collins, a Republican from Georgia, would lead its recount team in the state. Morgan said there are concerns "about the lack of transparency in the tabulation process," citing what he referred to as "reports of irregularities and improper ballot harvesting in Georgia," according to The Hill.
The Trump campaign released a statement from Collins on Tuesday which made three formal requests from Raffensperger relating to the recount. The campaign asked that absentee ballots cast be compared to in-person and provisional ballots cast; that there must be a check for felons and other people who are ineligible to vote; and that Raffensperger "should announce a full hand-count of every ballot cast in each and every county."
The statement echoes messaging from Trump and members of his campaign before, during and after the November 3 election in which they have made unsubstantiated claims of widespread voter fraud and other irregularities in several of the states Trump appears to have lost.
Situation Room host Wolf Blitzer asked Bottoms on Tuesday if she had seen any evidence of such widespread voter fraud in her state, to which Bottoms replied she had not.
"The concerns that we saw with voting in Georgia were at the beginning of early voting, with the long lines and the glitches in the machines," Bottoms said. "After a couple days of those challenges, then what we saw was a very smooth process. I've not heard of anyone complain of voter fraud, I've not seen any specifics on that. These are just losers complaining, nothing more than that."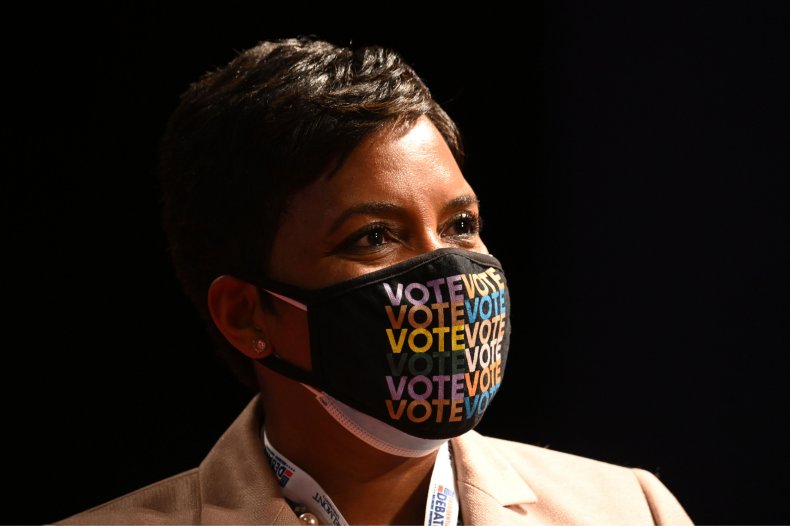 Biden reportedly considered Bottoms, who was elected Atlanta's mayor in 2017, as a potential running mate for the presidential ticket. Although Biden ultimately chose Kamala Harris, a senator from California, Bottoms saw her national profile rise and has been a vocal supporter of Biden's campaign.
Blitzer questioned Bottoms on Tuesday as to whether she would accept an appointment on Biden's Cabinet. Her name as been floated as Secretary of Housing and Urban Development, Blitzer said.
But Bottoms demurred, brushing off the suggestion as just a rumor. "As far as I know, there aren't any decisions or any offers on the table for any of the other domestic cabinet positions, so I've not been offered anything. I still have a job as mayor and I will have that job for the next year, as far as I know," she said.