Atlanta Mayor Denounces Violent Protests, Says 'When You Burn Down This City, You're Burning Down Our Community'
Protests turned violent on Friday night as hundreds of demonstrators poured into the streets of Atlanta. In a press conference held by the city's mayor, police chief and several public figures, Mayor Keisha Lanced Bottoms denounced the protesters and urged people to stop.
"What I see happening on the streets of Atlanta is not Atlanta. This is not a protest. This is not in the spirit of Martin Luther King, Jr. This is chaos. A protest has purpose," she said. "When you burn down this city, you're burning down our community."
Protesters near the city's Centennial Olympic Park smashed windows, burned cars, vandalized public property and looted businesses in the downtown area clashed with police officers.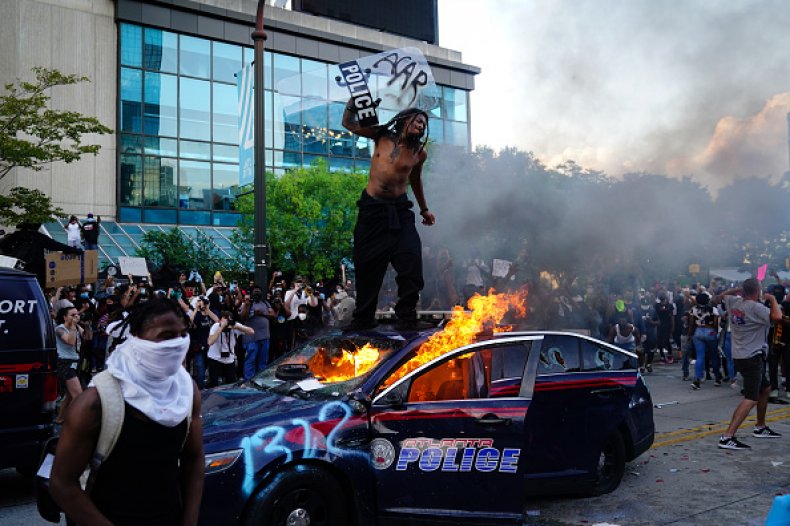 The demonstrations on Friday night have been the latest to unfold as Americans across the nation have joined the efforts in Minneapolis following the death of George Floyd. Minnesota has seen a week of civil arrest after a viral video emerged Monday of a white police officer kneeling on Floyd's neck moments before he died in police custody.
"You are disgracing this city. You are disgracing the life of George Floyd and every other person who has been killed in this country. We are better than this. We are better than this is a city and we are better than this as a country," Bottoms said.
Bottoms said the actions in Atlanta won't change anything.
"It's enough," she said, "We are all angry. This hurts. This hurts everybody in this room. But what are you changing by tearing up a city? You've lost all credibility now. This is not how we change America. This is not how we change the world."
She said seeing change in the country means registering to vote and showing up to the polls.
Entertainers T.I. and Killer Mike joined Bottoms in her messages urging protesters to stop destroying the city and return home.
Bottoms said she understood the frustration being the mother to four black children in America. When she heard rumors there would be protests, she said she called her 18-year-old son telling him: "I cannot protect you, and black boys shouldn't be out today."
She added, "So you're not going to out-concern me and out-care about where we are in America."
As protests became destructive, Georgia Governor Brian Kemp activated as many as 500 National Guard soldiers late Friday night.
"If you care about this city, then go home," Bottoms said.
Newsweek reached out to Bottoms for comment but did not hear back before publication.