Atlanta Mayor Says She'd Give Trump a 'Citation' to Send Him Back to D.C. Over Mask Spat
Atlanta Mayor Keisha Lance Bottoms, said on Wednesday, that she'd give President Donald Trump a "citation" that sends him back to the nation's capital, following a disagreement over wearing a protective face mask.
While appearing on CNN's The Situation Room, Bottoms was asked by host, Wolf Blitzer, if she was going to give Trump a citation for not wearing a mask while at the Hartsfield-Jackson International Airport in Atlanta.
"Just a citation that sends him back to Washington, D.C.," Bottoms answered.
During her appearance on CNN's The Situation Room, Bottoms spoke about Trump's recent visit to Atlanta, and why she believed that he violated the law while not wearing a mask. On Wednesday, Georgia Governor Brian Kemp issued an executive order banning cities and counties across the state from imposing mandatory mask requirements, but Bottoms explained that since the Hartsfield-Jackson International airport is owned by the city of Atlanta, it's within her jurisdiction to enforce the city's mask rules.
"I signed an executive order that requires masks in the city of Atlanta and specifically on city-owned property, which Atlanta Hartsfield-Jackson International airport is," Bottoms said. "So, by not having on a mask, President Trump did violate law in the city of Atlanta, but I am somehow not surprised that he disregarded our rules and regulations in the city."
Bottoms added that Atlanta residents that are caught violating the city's mask rules can receive a citation "and you can be given a fine and up to six months in our city detention center, which won't happen to anyone, but you certainly can be given a citation."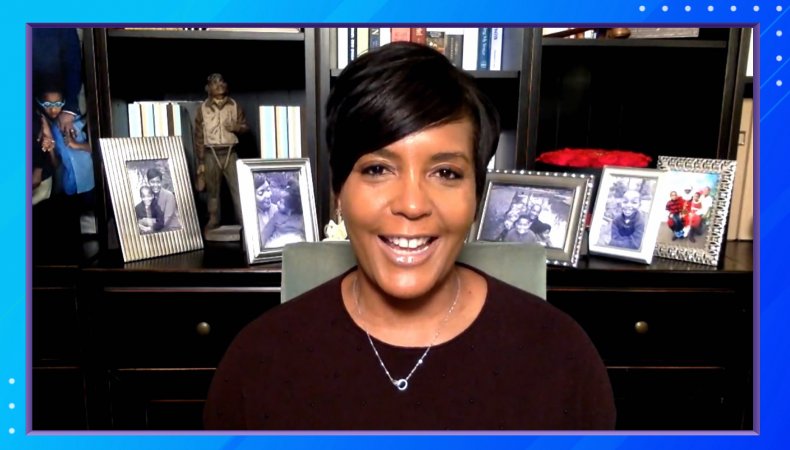 In a statement sent to CNN, White House deputy press secretary Judd Deere said, "the President takes the health and safety of everyone traveling in support of himself and all White House operations very seriously.
"When preparing for and carrying out any travel, White House Operations collaborates with the physician to the president and the White House Military Office, to ensure plans incorporate current CDC guidance and best practices for limiting COVID-19 exposure to the greatest extent possible," the statement continued, according to CNN.
The new coronavirus, which causes the respiratory disease COVID-19, continues to spread throughout the U.S., infecting over 3.4 million people and causing at least 137,419 deaths, according to a tracker provided by Johns Hopkins University. In Georgia, there are currently at least 127,834 confirmed cases of the virus as well as 3,091 deaths.
Newsweek reached out to Bottoms' office and the White House for comment but did not receive a response in time for publication.