Atlanta's 71,000-Capacity Mercedes-Benz Stadium to Be Used for COVID Vaccine Rollout
The Mercedes-Benz Stadium in Atlanta, Georgia, will be used as a COVID-19 vaccination center, as part of a partnership between the stadium and the Fulton County Board of Health.
The COVID-19 vaccine distribution partnership between Mercedes-Benz Stadium and Fulton County came about after the stadium partnered with the county in December to host an early voting site during Georgia Senate Run-Off election, serving more than 10,000 early voters.
For now, the COVID-19 vaccine partnership will run through March with the option of extending the partnership as needed. Mercedes-Benz Stadium and Fulton County officials will discuss expanding the operation to serve more residents as quickly as possible.
"We are very proud to partner with Fulton County Board of Health to offer Mercedes-Benz Stadium to host vaccine distribution," said Steve Cannon, CEO, AMB Sports and Entertainment, in a statement.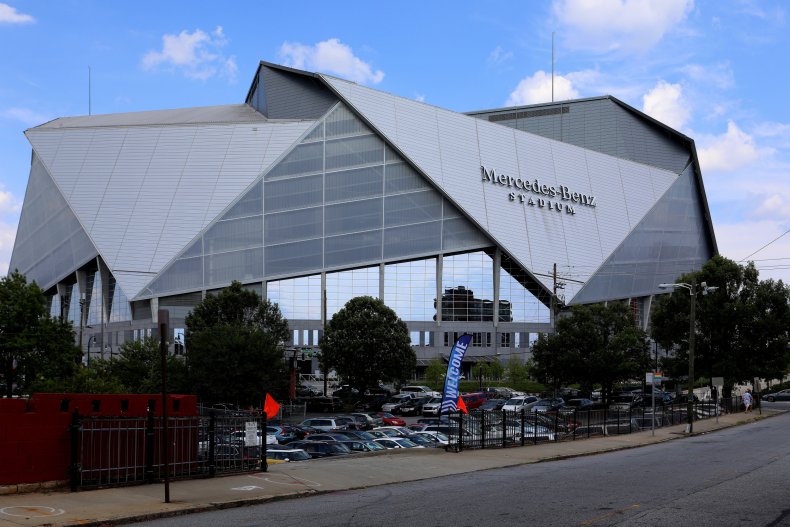 "This is a time for our communities to unite together and do what's right for our citizens. Mercedes-Benz Stadium offers the opportunity to socially distance while servicing large numbers of people at once. We are honored to be a part of this solution and will do it as long as possible to serve our community."
Lynn Paxton, district health director, Fulton County Board of Health, added: "We are overjoyed to partner with such a forward-thinking, community-minded organization as Mercedes-Benz Stadium and AMB Sports and Entertainment."
"Partnerships are essential to public health. These types of collaborations result in positive health outcomes as they ensure the quality and accessibility of health services to our community."
Vaccine distribution in Fulton County began on January 4, with more than 4,000 medical practitioners, front line workers, and first responders receiving vaccinations in the past week as part of Phase 1 of the vaccine rollout. Since January 11, the vaccine has been offered to residents aged 65 and over.
Phase 2 will see individuals in homeless shelters, individuals in congregate settings, individuals in jails, prisons, and detention centers, and all adults aged 41 to 64 be offered the COVID-19 vaccine.
According to the Fulton County COVID-19 dashboard, Phase 3 will include workers in industries "important to the functioning of society and at moderate risk of exposure as listed in executive orders" and young adults aged 16-39.
Finally, Phase 4 will offer vaccines to everyone else residing in Georgia and children, once the vaccine is approved for pediatric use.
According to Johns Hopkins University, Georgia has recorded 67,538 new cases of COVID-19 and 590 new deaths in the past week, with a testing positivity rate of 22.58 percent. Fulton County has reported 65,719 confirmed cases and 825 deaths.
Johns Hopkins University reports that 235,541 vaccination doses have been given in Georgia so far, with 28,641 doses given yesterday.