Atlanta Officer Charged With Felony Murder in Shooting of Rayshard Brooks
Fulton County District Attorney Paul Howard announced the Atlanta officers involved in the fatal shooting of Rayshard Brooks will be charged and that arrest warrants were issued.
Garrett Rolfe, the officer who fired the fatal shot will be charged with felony murder, a charge that carries a possible sentence of life without parole or the death penalty. He will also be charged with three counts of aggravated assault with a deadly weapon, one charge of criminal damage and seven violations of oath of office. Officer Devin Brosnan, who was on the scene, will be charged with aggravated assault with a maximum sentence of 20 years in prison and two counts of violation of oath of office.
Howard asked for Rolfe to not be given a bond and for Brosnan to get a $50,000 bond as he will be a cooperating witness for the state. Wednesday's decision came amid nationwide protests calling for police reforms and Howard said they were able to bring charges because they've spoken to 10 witnesses, reviewed videotapes and evidence.
"We concluded and considered it as one of our important considerations that Mr. Brooks never presented himself as a threat," Howard said.
Brooks was killed on Friday night in the parking lot of an Atlanta Wendy's. Officers were responding to a report of a man sleeping in his car in the drive-thru. After administering the field sobriety test, Brooks struggled with the officers and then ran away with a stun gun he took from one of the officers, Vic Reynolds, director of the Georgia Bureau of Investigation, said.
The 27-year-old appeared to point the stun gun at the officers, at which point, Rolfe fired his gun and hit Brooks twice. Just because he appeared to have a stun gun, L. Chris Stewart, the Brooks' family attorney, said in a statement that it wasn't a reason to use deadly force.
"In Georgia, a taser is not a deadly weapon," Stewart said. "I've had cases where officers have used tasers on victims and they argue with us in court that tasers aren't deadly."
In deciding to charge the officers, Howard said they noted Brooks was "calm," "cordial" and "really displayed a cooperative nature." He added that officers never informed him he was under arrest for driving under the influence, as is required by the department.
Following the shooting, Brosnan was placed on administrative duty and Rolfe was fired from the department. Police Chief Erika Shields resigned on Saturday, saying she offered to step aside out of a "deep and abiding love for this City and this department," but added that the Atlanta police have her full support.
"I have faith in the Mayor, and it is time for the city to move forward and build trust between law enforcement and the communities they serve," Shields said in a statement.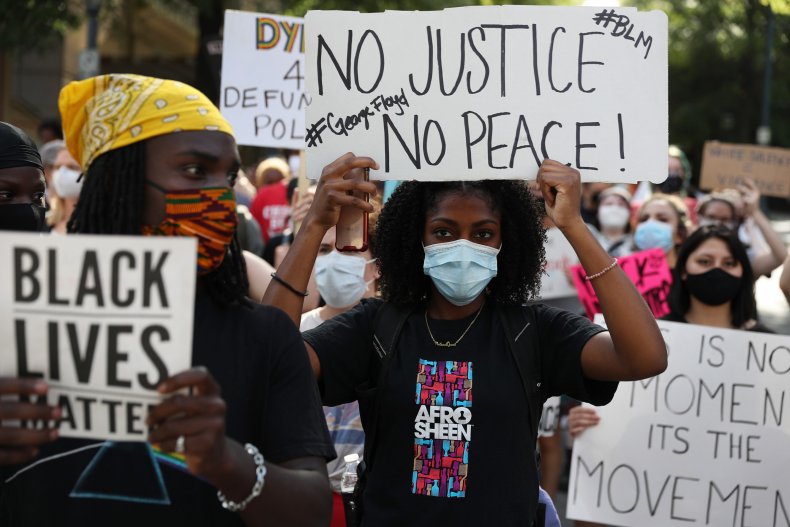 On Monday, the Atlanta Police Department released disciplinary histories for both officers. In 2016, Wolfe received a reprimand following a use of force complaint, NBC News reported. It was the only use of force complaint he received during his career with the department and he has an additional four citizen complaints and he received one oral and one written reprimand for vehicular accidents. Brosnan, who was hired in June 2019, has no disciplinary record.
An autopsy showed Brooks died from blood loss and organ injuries and the medical examiner ruled the death a homicide. Ahead of the Wednesday announcement, Howard said if charges were brought, they'd likely be murder or felony murder because he believed Brooks didn't pose a threat and shooting him was an unreasonable use of force.
Newsweek reached out to L. Chris Stewart and the International Brotherhood of Police Officers union but did not receive a response in time for publication.
Weeks earlier, on June 2, Howard charged six Atlanta police officers for assaulting two college students who were leaving a protest at Centennial Olympic Park after curfew went into effect. During the altercation, officers used tasers on both students, later identified as Messiah Young, 22, and Teniyah Pilgrim, 20.
Vince Champion, southeast regional director for the International Brotherhood of Police Officers union, told Reuters Howard's office referred to a taser as a "deadly weapon" in charging documents for the officers. If a taser is a deadly weapon and Brooks pointed one at officers, Champion said the officer "has authority to use deadly force."
Lance LoRusso, a lawyer defending officers involved in the tasing incident, told Reuters Rolfe was justified in firing his weapon.
"All the officer knew is that he (Brooks) turned, pointed something at him and fired. That's a deadly threat," LoRusso said.
Stewart rejected the taser claim, saying that officers couldn't "have it both ways" by saying Brooks "ran off with a dangerous weapon when you say it's not deadly."
Regardless of the details of the case, Stewart said during a briefing on Saturday that what happened on Friday should never have happened. The reason why it happened was that the value of African American males' lives "doesn't mean too much to officers nowadays."
This story has been updated with additional information on the charges for Rolfe and Brosnan.