Atlanta Officer Who Saw Rayshard Brooks Shooting Won't Be State's Witness
Devin Brosnan, one of two former Atlanta police officers charged in the shooting of Rayshard Brooks, has not agreed to be a state's witness in the case, his attorneys have said.
Fulton County District Attorney Paul Howard announced a felony murder charge against Garrett Rolfe, the officer who shot Brooks outside a Wendy's restaurant, in a news conference on Wednesday.
Brosnan, who Howard said stood on Brooks' shoulders as he lay dying last Friday night, is charged with aggravated assault and violating his oath.
The district attorney also said 26-year-old Brosnan is cooperating with prosecutors and had agreed to testify against his partner.
But Amanda Clark Palmer, one of Brosnan's attorneys, has denied an agreement is in place for Brosnan to act as a witness for the prosecution. She maintained Brosnan would not plead guilty to any charges.
"To be clear, there is no agreement that our client will testify at any hearing," Palmer told CNN's Chris Cuomo on Wednesday night.
Asked if Brosnan would take a deal and act as a state's witness, she responded: "In my view, he doesn't need a deal; he shouldn't have been charged with a crime in the first place.
"He's not a state's witness, he's a witness. He will tell the truth about what he saw and what happened. And he will do so if he gets a subpoena."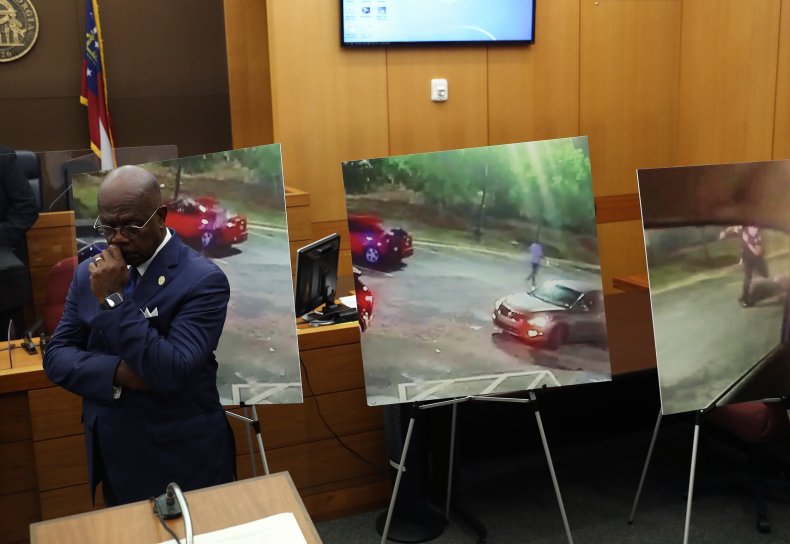 Palmer said Brosnan had actually stood on Brooks' hand, not his shoulder—and said it had been for seconds to make sure he did not have a weapon, according to The Associated Press.
In an email to CNN, Don Samuel, another of Brosnan's attorneys, also said Brosnan had not agreed to act as a state's witness.
"Officer Brosnan has not agreed to testify," Samuel said. "He is absolutely not guilty of any crime and will not plead guilty and has not agreed to be a 'state's witness.'"
In a statement, Samuel said Brosnan had sustained a concussion during a struggle with Brooks and described his conduct on the night of the shooting as "exemplary." Brosnan's attorneys have been contacted for additional comment.
Howard's charging decision came five days after Brooks' shooting sparked fresh anger in Atlanta amid ongoing protests against police brutality following the death of George Floyd in Minneapolis last month.
Howard said Brooks "never presented himself as a threat" to the officers after they found him asleep behind the wheel of his car outside a Wendy's restaurant and a field sobriety test showed he was intoxicated.
"Mr. Brooks on the night of this incident was calm. He was cordial and really displayed a cooperative nature," Howard said.
But after a conversation lasting more than 40 minutes, a scuffle broke out when the officers went to handcuff Brooks. Howard said Brooks was never told he was being placed under arrest for driving under the influence, which is a requirement of Atlanta police officers.
Rolfe shot Brooks after he grabbed a Taser and ran, but fired it from too far away to reach the officer, Howard said. The stun gun had already been fired twice, so it was empty and didn't pose a threat when Rolfe shot him, Howard added.
Howard also noted that it is against the Atlanta Police Department's policy to fire at a suspect who is running away.
Rolfe, 27, and Brosnan then offered no medical aid to the man for more than two minutes as he fought for his life, Howard said. Instead, Rolfe kicked him and Brosnan stood on his shoulder.
"I got him!" Rolfe had said immediately after striking Brooks, according to Howard. The demeanor of the officers after the shooting "did not reflect any fear or danger of Mr. Brooks, but their actions really reflected other kinds of emotions," Howard said.
However, Rolfe's lawyers said he had feared for his life when he shot Brooks.
"Mr. Brooks violently attacked two officers and disarmed one of them. When Mr. Brooks turned and pointed an object at Officer Rolfe, any officer would have reasonably believed that he intended to disarm, disable or seriously injure him," they said in a statement, according to the Associated Press.
Rolfe, who had been with the Atlanta Police Department since 2013, was fired after the shooting while Brosnan was placed on desk duty. Atlanta Police Chief Erika Shields resigned less than 24 hours after the shooting.
The felony murder charge against Rolfe carries a sentence of life in prison without parole or the death penalty if prosecutors decide to seek it. He was also charged with 10 other offenses, including aggravated assault with a deadly weapon.
Arrest warrants have been issued for both Rolfe and Brosnan. They were asked to surrender by Thursday evening.