Atlanta Police Department Fires 2 Officers for Using Excessive Force Against College Students Out Past City Curfew
The Atlanta Police Department has fired two officers for use of excessive force Saturday in the arrest of two college students out past the city's imposed curfew.
Atlanta Mayor Keisha Lance Bottoms made the announcement on Sunday during a press conference.
"Sometime during the night, I saw very disturbing video of two young college students who were in downtown Atlanta yesterday evening," Bottoms said during the press conference. "The use of force is never acceptable."
The arrest of the two students occurred on live television Saturday night, aired by Atlanta CBS affiliate CBS 46. The broadcast video showed two people, identified as Messiah Young and Taniyah Pilgrim, inside a four-door sedan being approached by officers wearing riot gear. One officer pulls open the passenger side door, while another knocks breaks the glass on the driver's side window.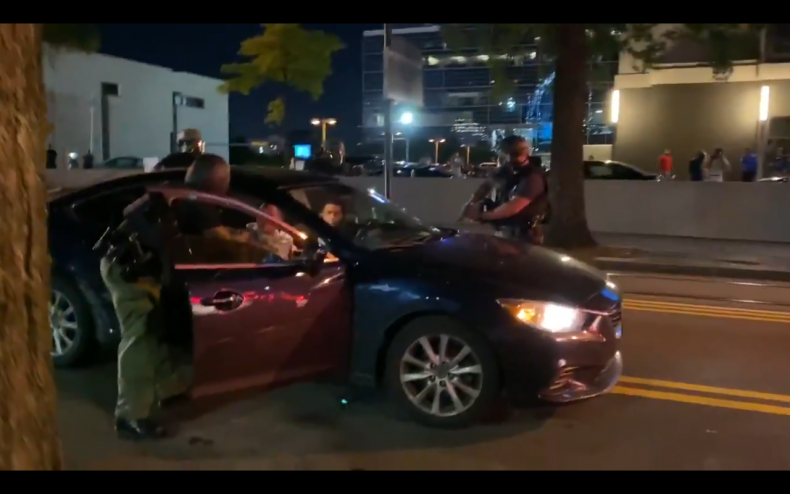 During the altercation, Pilgrim is first pulled from the car by police before Young is tased by two officers and pulled from the vehicle. Both were placed face down on the ground and arrested.
Young and Pilgrim attend Morehouse College and Spelman College, historically black universities in Atlanta. According to a statement from Spelman College's Student Government Association, Pilgrim was released shortly after midnight while Young was taken to a local hospital for an epileptic seizure. He was released from police custody on Sunday morning.
During Sunday's press conference, Bottoms said that five officers were involved in the arrest of Pilgrim and Young, but a review of body camera footage indicated that two of the officers, identified later to Newsweek as Investigator Mark Gardner and Investigator Ivory Streeter, used excessive force. Atlanta Police Chief Erika Shields said that the names of all five officers, as well as the body cam footage, will be released to the public.
Additionally, Shields said, the other three officers have been transferred to desk duty pending further investigation.
"This video was really shocking to watch, how we were manhandling a couple of young people in their car," Shields said. "And, to be fair, I knew it was bad, but I really wanted to believe that the body camera footage would provide some larger view that could better rationalize why we got to this space. Having spent most of the afternoon with the mayor reviewing the footage exhaustively, I knew that I had only one option and that is to terminate the employees."
Shields added that the two officers were "good guys" and that she's known one for over 20 years, but they "made that level of mistake that cannot be rolled back." She later apologized to the victims, saying how the department behaved was "unacceptable."
"I know that we've caused further fear to you in a space that's already so fearful for so many African Americans and I am genuinely sorry. This is not who we are, this is not what we are about and sometimes the only thing you can do as the police chief is to come in and clean up the mess that's before you," Shields said.
Shields did not indicate what charges Pilgrim and Young were arrested on, though Atlanta implemented a curfew at 9 p.m. on Saturday. The announcement of the curfew was made just after 6 p.m. on the city's official Twitter account. Pilgrim and Young were arrested at 9:47 p.m., though Bottoms said Sunday that Pilgrim was not charged and she ordered charges against Young to be dropped.
Bottoms issued an extension of the curfew for Sunday from 9 p.m. until sunrise.
05/31/20, 9:58 p.m. ET: This story has been updating to include the names of the two officers who were fired.