Is the Atlantic Ocean Safe to Swim in Off North Carolina Coast? Hurricane Florence Runoff Taints Water, Organization Says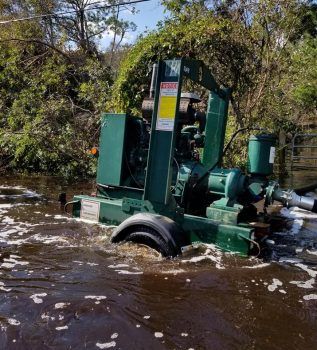 Hurricane Florence has taken quite a toll on North Carolina, with its impact lasting almost two weeks after the storm hit near Wilmington on September 14 and lingered for days, drenching the region that reulted in devastating flooding. Now, North Carolina's ocean waters are apparently unsafe for swimming due to hurricane impact.
An environmental group has joined with state officials in North Carolina telling both residents and visitors that it isn't safe to swim or wade in Atlantic coastal waters off the coast.
The nonprofit North Carolina Coastal Federation said Wednesday that "massive amounts of polluted runoff are still flowing into coastal waterways all along areas of our coast impacted by heavy rains from Hurricane Florence." The group said groundwater levels are at record highs from up to 30 inches of rainfall, producing runoff with "high levels of bacteria and other pollutants that come from natural and human sources."
"Excessive rains and flooding can cause high levels of bacteria in the water that can make people sick," said J.D. Potts, manager of the North Carolina Recreational Water Quality Program, in a release.
The federation said coastal swimming waters contaminated with polluted runoff "carry bacteria, parasites and viruses that can cause many types of illnesses from minor to severe infections. These illnesses include bacterial infections, earaches, hepatitis, skin rashes and respiratory issues. Stormwater runoff is a known cause for these illnesses."
The federation said that North Carolina towns including Pine Knoll Shores and Emerald Isle are telling residents to stay out of standing water due to contamination and possible infections, the Associated Press reported.
The federation said it has observed people swimming in the Atlantic Ocean and surrounding estuaries, which it says are not yet safe.
"The public continues to swim in the ocean and sounds despite these advisories," said Todd Miller, executive director of the federation. "We feel it's vital to let people know that the state has not yet tested any waters to determine if they are safe for human contact."
The federation said the water won't be safe for swimming until it is tested by the state and deemed safe for recreational uses.