Atlantic Storms Might Bring More Rain to Carolinas During Florence Cleanup
It's been just a couple of weeks since Hurricane Florence approached the coastlines of the Carolinas and made landfall, bringing record rain, harsh winds, storm surges and other severe weather. On Tuesday, people were still making their way back to their homes—or what's left of them in some places—when another storm was looming in the Atlantic.
This storm is smaller than Florence, and it wasn't even named as of Tuesday. But with flooding still subsiding and rivers emptying out to just normal levels, any extra rain could be detrimental.
The storm was called "disturbance 1" by the National Hurricane Center (NHC), but it had a 50 percent chance of becoming a tropical depression on Tuesday as it moved northwest in the direction of North Carolina.
The disturbance was about 260 miles south of Cape Hatteras, North Carolina, on Tuesday, the NHC said. It wasn't well organized but had the potential to form into something better organized that could bring heavier rains to the Carolinas.
But even if the storm doesn't turn into a tropical cyclone, the Carolinas may not be off the hook. "Regardless of tropical cyclone formation, this system is likely to bring scattered showers and thunderstorms across portions of northeastern South Carolina and eastern North Carolina later today and tonight," an NHC advisory said Tuesday.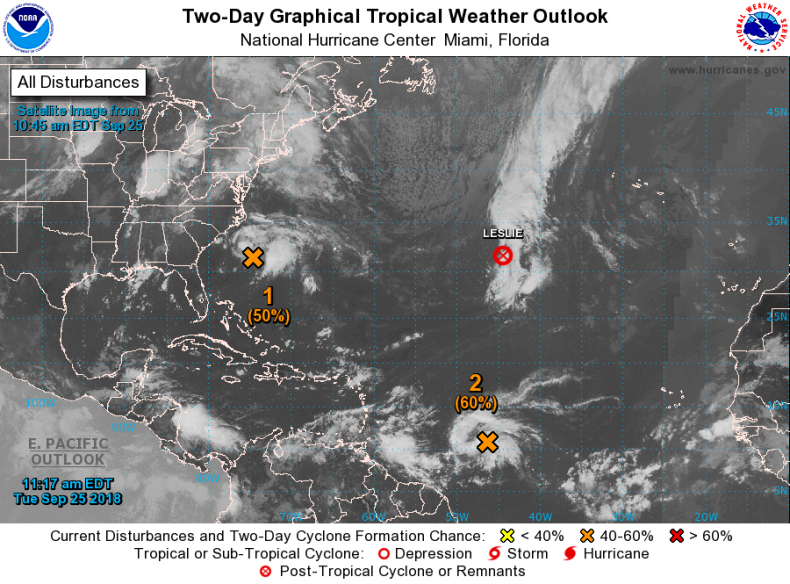 It wasn't only the rain that was a concern for those on the coastline. "In addition, dangerous surf conditions and rip currents are expected along portions of the North Carolina coast today. For more information, please see products from your local National Weather Service office," the advisory said.
In addition to the disturbance 1, the NHC issued advisories for the remains of former Tropical Storm Kirk in the Atlantic, as well as a subtropical depression, Leslie. The leftovers from Kirk are still more than 900 miles from the Windward Islands in the West Indies, but what's left of the storm is moving about 25 miles per hour. While it was the remnants of a storm, it was still bringing thunderstorms and showers to the areas it was traveling over.
Meanwhile, Leslie is more than 1,100 miles west-southwest of the Azores, where it wasn't expected to cause much of a disturbance to any land areas. The storm was producing 35 mile per hour winds over the ocean.