'ATLAS' Release Time & Price - When Will Steam Early Access Servers Go Live?
Update: ATLAS will now go live by 3 p.m. EST Dec. 22. Streaming for select content providers begins Dec. 22 at 12 a.m. EST.
Newsweek subscription offers >
----
ATLAS launches in Steam early access Dec. 19, and we want you to be the first to set sail on the high seas with this massive pirate-themed adventure. Below, we recap the game's likely release times and what you'll be able to experience on day one.
What time does ATLAS release in early access?
As of now, the exact release time for ATLAS early access is in a bit of flux. While the game's Steam page suggests deployment begins around 1 p.m. EST Dec. 19, its official website has a countdown timer currently set to conclude at 6 p.m. EST Dec. 19. For now, keep an eye on both those times. It's possible both may be correct, in that downloads go live at 1 p.m. EST but servers will remain offline until 6 p.m. EST.
Newsweek subscription offers >
We'll do our best to update this story with the confirmed launch time as we learn it, but when you're dealing with an early access game, and a studio that's an offshoot of Studio Wildcard, it can sometimes be difficult to nail down exact details. After all, ATLAS was initially announced for release Dec. 13 and had to be delayed for last-minute tweaks. Still, we'd be more inclined to trust the developer's official timer as opposed to the Steam one.
What will ATLAS feature at launch & how much does It cost?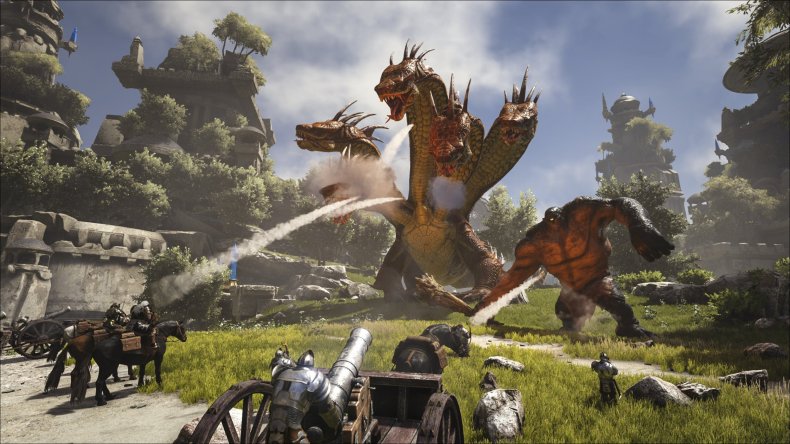 Despite its early access roots, ATLAS will be a full-featured experience with more content than most players probably expect. Similar to ARK: Survival Evolved, ATLAS will be $29 for early access buyers and $59 once the development period ends. Here are some more key bullet points.
The map is 45,000 square kilometers, with 700 land masses capable of supporting more than 40,000 simultaneous players.
Ship upgrades, different weapon types and character customization
300 skills spread across 15 different classes
Quests, subquests and PvP
Land claim features
50 varied creatures to interact with
This is just the beginning for ATLAS, as the project will remain in development for the next two years. That means there's plenty more to be added to this list after you start playing. As this is an early access experience, the download will only be available at the time of release. In other words, it's not possible to preload.
ATLAS arrives on Steam early access during the afternoon of Dec. 19. It comes to Xbox Game Preview in 2019.
Will you be playing ATLAS as soon as it releases? What excites you the most about this upcoming MMO? Tell us in the comments section!
'ATLAS' Release Time & Price - When Will Steam Early Access Servers Go Live? | Gaming