Atletico Madrid Vs. Arsenal: What We Learned From Arsene Wenger's Last Stand
Diego Costa's first-half strike was enough to beat Arsenal and send Atletico Madrid through to the Europa League final in Lyon
Atletico will face Marseille at the Stade des Lumieres on May 16 after the French side overcame Red Bull Salzburg in extra time in the other semifinal.
Diego Simeone's team had an away goal advantage after a late equalizer at the Emirates Stadium last week, and Arsenal were unable to do the same in Madrid.
Here, Newsweek takes a look at what we learned from the encounter:
Woe For Wenger
His eyes glossed over as he faced the cameras and realization sunk in.
Arsene Wenger's final game as Arsenal manager will be at Huddersfield, fighting for sixth place against Sean Dyche's Burnley. This was not the ending he imagined.
"It is very, very sad," Wenger told BT Sport, "but unfortunately you have to go through this in our game. It can be very cruel but sometimes it is nice. The suffering is very strong tonight."
And the suffering at Arsenal will continue, as Wenger's successor—whoever that may be—is left with a meek squad that will have to compete on Thursday nights again next season.
It is not the end Wenger envisaged.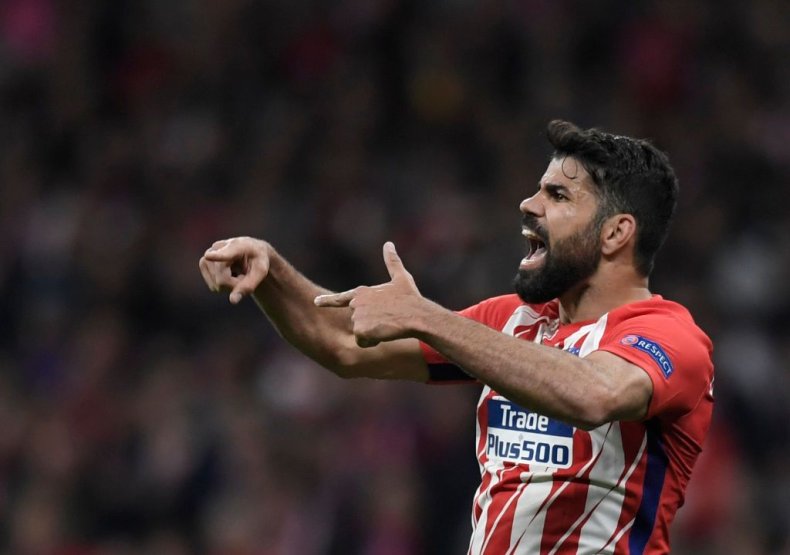 Pain in Spain
To make matters worse for Arsenal, the new manager will likely have to begin next season without Laurent Koscielny.
The French center-back and captain on the night was left writhing around in agony on the floor in the first-half with a suspected torn Achilles.
Koscielny may not be Nemanja Vidic, but he's the closest thing Arsenal have.
Diego Costa comfortably man-handled Nacho Monreal, Hector Bellerin and Shkodran Mustafi with ease. Koscielny was the only one up for the fight.
A small degree of comfort to the Arsenal fans will have been Koscielny's replacement Calum Chambers rising to the occasion.
Having entered a game of that magnitude, up against two of Europe's most lethal frontmen, in an atmosphere such as that, Chambers had the coolest head in the Arsenal team.
Costa's Punching Bag
For the majority of the first leg at the Emirates Stadium last week, Diego Costa prowled the touchline.
A hamstring injury meant he wasn't quite ready but, warming up alongside Fernando Torres, Costa looked desperate to get on.
It is nine months since the Spaniard left Chelsea and returned to Atletico. There is probably little Costa misses from the English game, but Arsenal were clearly high on the list.
Three goals in six appearances against the Gunners turned into four in seven on Thursday night. But those numbers only tell half the story.
Costa left his mark on Arsenal, both physically and mentally. The nadir of this rivalry came in 2015 when the striker got Gabriel sent off and was involved in more than one altercation with Koscielny.
But on Thursday he was back to haunt them once again.