'Attack on Titan' Season 4, Episode 2 Release Date and How to Watch Online
Attack on Titan Season 4 is currently airing in its native Japan, with the premiere of the beloved anime's new season airing on NHK on Monday at 12:10 a.m. JST, and coming to Hulu, Funimation and Crunchyroll soon afterward. Fans loved the first episode, and have been left eagerly anticipating the next installment of the anime. Luckily, Attack on Titan Season 4, Episode 2 is airing very soon.
Attack on Titan Season 4, Episode 2 release date
Attack on Titan Season 4, Episode 2 is expected to air in Japan on Monday, December 14 at 12:10 a.m. JST. However, due to the time difference between Japan and the U.S., the episode, titled "Midnight Train," will actually come to American streamers the previous day, Sunday, December 13.
If the episode follows the release schedule of the Season 4 premiere, then it will be released on Hulu and its other U.S. streaming homes at 3:45 p.m. ET / 2:45 p.m. CT / 12:45 p.m. PT, about five hours after each episode airs on NHK.
Hulu might be the best bet for viewers who want to watch "Midnight Train" as soon as it is available. While Funimation and Crunchyroll also got the premiere of Season 4 on Sunday, December 6, fans reported that the demand to watch the episode crashed both of those services. Though some viewers also had problems watching on Hulu, most viewers were able to watch as soon as the episode was released.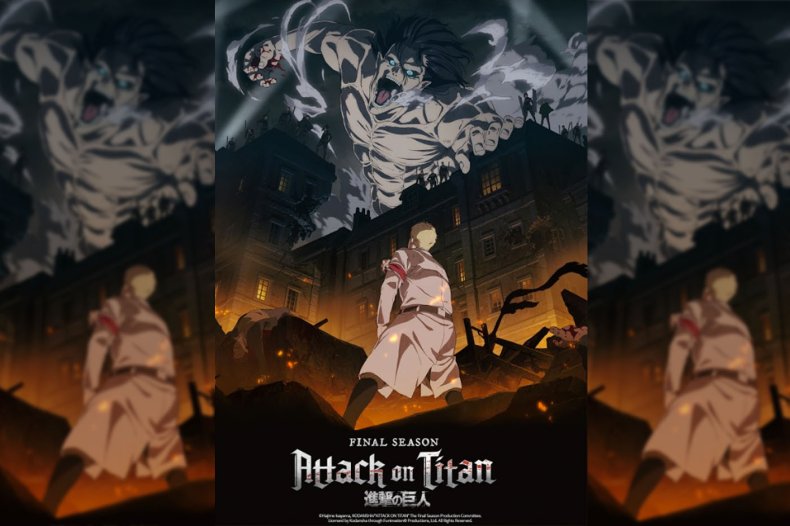 There are a number of ways in which viewers can watch Attack on Titan Season 4, Episode 2 for free. Hulu, for example, offers a 30-day free trial for most of its packages, after which time the service costs $5.99 a month with ads (or $59.99 a year) or $11.99 a month with no commercials.
Crunchyroll is airing Episode 2 on December 13 in the following territories: U.S., Canada, U.K., Ireland, South Africa, Australia, New Zealand, Iceland, Sweden, Norway, Denmark, Finland, the Netherlands, Latin America, UAE, Iran, Saudi Arabia, Oman, Syria, Yamen, State of Qatar, Jordan, Kuwait, Iraq, Bahrain, Lebanon, Palestine and Russia.
Some viewers, meanwhile, will be able to watch the episode on Netflix. Though Netflix in Europe and America will not get Attack on Titan Season 4, the streamer's Philippines Twitter account posted that the first episode is coming to the service on December 11—meaning, presumably, that the second episode will come on December 18.
Attack on Titan Season 4, Episode 2 airs on Sunday, December 13 on Hulu, Crunchyroll and Funimation and on Monday, December 14 on NHK.