'Attack on Titan' Season 4 Dub Release Date Confirmed for January
Fans of Attack on Titan have begun to see how the story of Eren, Mikasa and the rest of the Scouts comes to a close in this final season. If you've been waiting for the English dub of Attack on Titan's final season to debut, Funimation has good news—there's now a proper premiere date.
According to the official Funimation blog, the first episode of Attack on Titan Season 4 will drop on the anime streaming service on January 10, 2021. Subsequent episodes of the anime will be delivered to the service via Funimation's "Dub from Home" updates.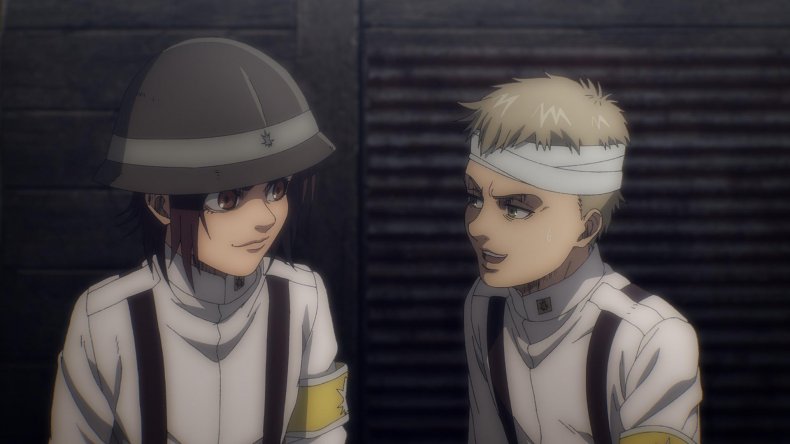 Interestingly enough, Toonami—Cartoon Network's block of anime—announced on its official Facebook page that the first episode of Attack on Titan Season 4 will premiere as part of that programming slate on Saturday, January 9, at 12:30 a.m. local time. That's a full day before it premieres on Funimation.
However, anime fans will get to watch the first English-dubbed episode—and all episodes of Attack on Titan's final season—whenever and wherever they want using the Funimation app.
Attack on Titan Season 4 premiered in Japan and anime streaming services (with English subtitles) on December 6. At the time of this writing, there have been three episodes that have premiered with English subtitles, with a fourth scheduled for Sunday, December 27.
Following the release of the fourth episode, Attack on Titan will go on a short hiatus for the holiday season before returning on January 10.
If you don't have a subscription to Funimation and you're a new customer, you can get a 14-day free trial of the streaming service. For those who need reminding, the FunimationNOW app is available on iOS and Android devices, as well as the PlayStation and Microsoft stores.
The first episode of Attack on Titan's final season is titled "The Other Side of the Sea" and bears the following synopsis: "As Marley battles the Mid-East Alliance to end a four-year war, a group of Warrior candidates on the front lines compete to be the successor of the Armored Titan."
Season 4 of Attack on Titan has revolved around the origins of the Titans and the backstory of what started this war between the humans and the gargantuan beasts.
Are you excited for the dubbed version of Attack on Titan's final season to arrive in January? What do you think of Season 4 of Attack on Titan so far? Let us know in the comments section.