Franklin Graham, an evangelical pastor with ties to President Donald Trump, insisted Thursday that Pope Francis' support for same-sex civil unions violates traditional Catholic principles. In a lengthy statement shared to his Facebook account, Graham said the pope's comments were "unthinkable in light of the Word of God."
"For Pope Francis to attempt to normalize homosexuality is to say that Holy Scriptures are false, that our sins really don't matter, and that we can continue living in them," Graham wrote in his post. "If that were true, then Jesus Christ's death, burial, and resurrection wouldn't have been needed. The cross would have been for nothing. No one has the right or the authority to trivialize Christ's sacrifice on our behalf."
Graham's statement came one day after newly released documentary footage showed Francis endorsing civil union laws for gay couples, becoming the first acting pope to do so. Francis previously voiced support for same-sex civil unions while serving as the cardinal-archbishop of Buenos Aires, according to The New York Times, although he pushed back against Argentina's then-pending marriage equality legislation. The legislation was ultimately passed in 2010.
During an interview featured in Francesco, a documentary film that premiered Wednesday at the Rome Film Festival, Francis articulated more overtly his position on LGBTQ partnerships and whether they should be legally recognized.
"Homosexual people have the right to be in a family. They are children of God," he said. "You can't kick someone out of a family, nor make their life miserable for this. What we have to have is a civil union law; that way they are legally covered."
Francis' remarks in the documentary drew positive responses from religious leaders and LGBTQ advocacy groups, who saw them as productive steps toward more tolerance within the Catholic Church. But some, like Graham, criticized the pope for what they saw as an impossible deviation from the church's previous teachings. A document published by the Vatican in 2003 stated that while "respect for homosexual persons" aligned with Catholic ideals, personal and legal recognition of same-sex relationships did not.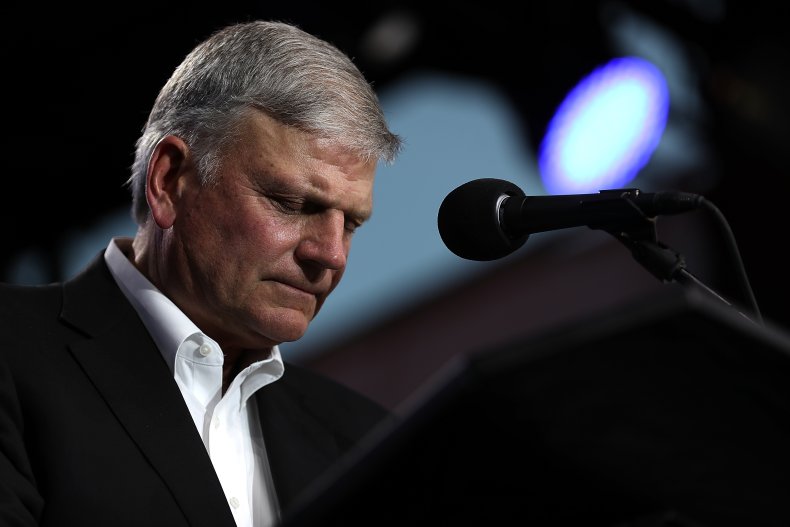 Speaking to CBS News on Thursday, Fordham University theology professor Patrick Hornbeck said Francis' statement about civil unions was important because it could prompt Catholic leaders "who want to be pastoral, as he's been, in affirming LGBTQ people and their families and their loves" to do that. However, Hornbeck told CBS that he did not expect Francis' remarks to catalyze any large-scale shift in church doctrine in the foreseeable future.
Newsweek reached out to Samaritan's Purse, a humanitarian aid organization of which Graham is CEO, for further comment but did not receive a reply in time for publication.