Attendee Punches Protester Outside Louis C.K. San Jose Improv Show
A group of around 30 protesters gathered outside Louis C.K's improv show in San Jose, California Wednesday night, prompting an attendee to throw a punch according to Datebook. A man was seen punching a protester who was speaking into a bullhorn. The man then seemed to enter the comedy club.
The man who was punched was allegedly not a part of the 30-member mass, linked to the Enough Is Enough Voter Project. He appeared in his own protest with one other person. The larger protest chanted "shame" and "San Jose, not Man Jose" outside of the club as attendees arrived. It's unclear what the man who was punched was saying into his bullhorn.
The San Jose Improv released a statement supporting Louis C.K.'s "right to perform." "We want them to perform without scrutiny," the statement said of their guests, as published by Mercury News. "We trust that our audiences can decide for themselves what their limits are. We understand that not everyone will agree with our decision and we respect their right to protest. We also respect Louis C.K.'s right to perform."
Protestors were unforgiving. "We do not think it's appropriate to welcome him back as a celebrity as if he has not caused all of this harm," founder of Enough Is Enough Michele Dauber told Mercury News. "He does not appear to really be accountable or be sorry for what he's done."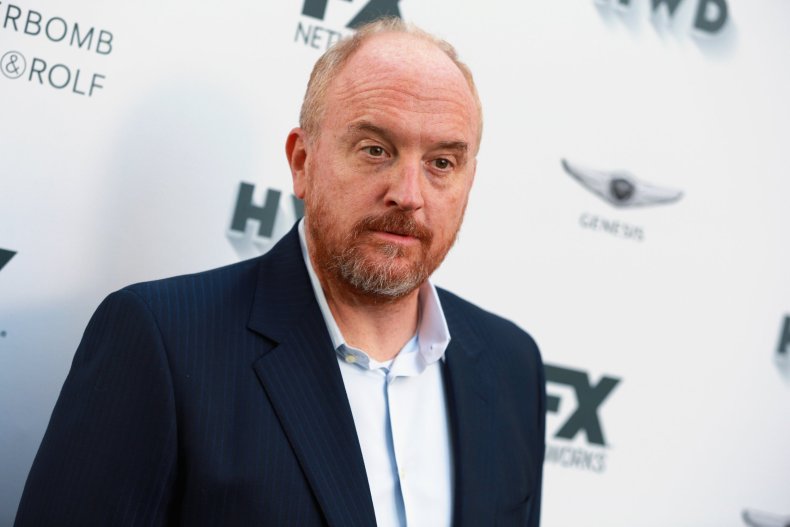 Louis C.K. was shamed in the #MeToo movement after being accused of sexual harassment by five women in November 2017, which was first reported by the New York Times. Accounts claimed the comedian had asked to masturbate in front of a handful of women, or had done so. Louis C.K. did not deny the allegations.
"These stories are true," he wrote, as reported by the New York Times November 10, 2017. "At the time, I said to myself that what I did was O.K. because I never showed a woman my d*** without asking first, which is also true. But what I learned later in life, too late, is that when you have power over another person, asking them to look at your d*** isn't a question. It's a predicament for them."
Louis C.K.'s statement concluded with the comedian saying he would "step back and take a long time to listen." He caught backlash from some when he re-entered the comedy scene just a year after the allegations.
In December, the comedian caught heat for jokes made about the Parkland school shooting survivors. "You're not interesting because you went to a high school where kids got shot," C.K. said at a New York show on December 16 according to Variety. "Why does that mean I have to listen to you? How does that make you interesting. You didn't get shot. You pushed some fat kid in the way. Now I gotta listen to you talking?"
Attendee Punches Protester Outside Louis C.K. San Jose Improv Show | Culture